Friday, December 1, 2017
Page 1
C.A. Restricts What Private Court Reporters May Charge
Justice Chavez Says That in Providing Transcripts of Court Proceedings, They Are Limited To the Same Statutory Transcription Fees Prescribed for Court-Employed Reporters
By a MetNews Staff Writer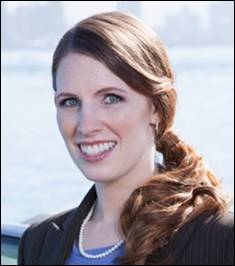 TARA R. BURD
San Diego attorney
Court reporters who are self-employed or work for private companies, when brought in to transcribe court proceedings, do so only if appointed by a judge as "official reporters pro tempore," and the statutorily prescribed transcription fees applicable to court-employed reporters apply equally to them, the Court of Appeal for this district has held.
Justice Victoria Chavez of Div. Two wrote the opinion, filed Wednesday.
The court's decision is expected to have a major impact on private court reporters. Acting pursuant to stipulation and court order, they are commonly retained by litigants nowadays in light of the scarce availability of court-employed reporters following cut-backs during the budget crisis that began in 2008.
Chavez's opinion reverses Los Angeles Superior Court Judge Amy D. Hogue's judgment on the pleadings in favor of defendant Barkley Court Reporters, Inc. Hogue's view is that there is a lack of express statutory authority for regulating what private court reporting firms charge for providing transcripts of court proceedings, and an absence of a legitimate governmental interest in fixing the rates, mean that charges are subject to private negotiations.
Clear statutory language, Chavez said, points to a contrary conclusion.
Government Code Provisions
Barkley was sued by San Diego attorney Tara R. Burd because its $587 bill for a transcript of June 27, 2013 proceedings in Los Angeles Superior Court was higher than what a court-employed reporter would be allowed to charge. She cited Government Code §69950, applicable to fees for paper transcripts, and §69954 of that code, dealing with fees for electronic transcripts.
Burd was charged $6.10 per page for the transcript (plus other costs, including $250 for half-day attendance), while the statutory cost would be 85 cents for every 100 words (for the original transcript, and less for copies).
By assessing a fee higher for transcripts than permitted by these statutes, she asserted in her putative class action lawsuit, Barkley committed a violation of the Unfair Competition Law (Business & Professions Code §17200 et seq.).
Hogue's View
Hogue pointed out in her Jan. 8, 2016 order granting Barkley's motion for judgment on the pleadings that the Government Code sections upon which the plaintiff relied are located in Art. 9 of title 8, chapter 5 of the code. She pointed to §69947, contained in that article, which provides:
"Except in counties where a statute provides otherwise, the official reporter shall receive for his services the fees prescribed in this article."
Neither §69950 nor §69954 refers to "official reporter" or "official reporter pro tempore," she noted.
Hogue wrote:
"[B]ecause the Legislature omitted the term 'official reporter pro tempore' from section 69947, the Court finds that the fee provisions of Article 9 do not apply to private reporters appointed pro tempore."
The judge remarked that Art. 9 predates the layoffs of court employed reporters and that "it was not written with the understanding or expectation that, with diminutions of the courts' budgets, many of the courts' salaried reporters would be eliminated and replaced by private reporters appointed on a case by case basis."
Policy Considerations
Burd argued that public policy would be furthered by applying price limits to private court reporters because this would make official recordings of proceedings "accessible" to litigants. Hogue countered that it wasn't clear that even at the statutory rate, all litigants can afford a transcript, pointing out that alternative means are provided of showing an appellate court what occurred below, in the form of a settled statement or an agreed statement.
She added:
"The Court is concerned, moreover, that government regulation of private reporter rates compromises strong countervailing public policies favoring free enterprise and competition. The Court also agrees with Defendant that regulating the rates for private reporters may have additional impacts on the free market and potentially reduce the economic incentive for highly qualified private court reporters to serve as official reporter pro tempore thereby creating a shortage of qualified reporters available to serve pro tempore."
Hogue continued:
"As the Board of Court Reporters explained in its Fall 2012 newsletter, '[t]he Statutory transcript rates were set with the idea in mind that official court reporters are already receiving a salary and additional benefits such as health insurance and retirement.'…As a matter of public policy, it makes sense to impose uniform, regulatee rates for public employees who provide additional services for a fee. With taxpayers…no longer providing official court reporting services to all litigants and private reporters generating their own salaries, insurance and benefits, it is difficult to justify regulating private reporter rates as a matter of public policy."
Chavez's Opinion
While Hogue's view was that Art. 9's fee provisions do not apply to pro tem court reporters because they are not expressly mentioned in the relevant sections setting fees, Chavez proclaimed that the provisions do apply because these pro tems are not expressly excluded. She explained:
"Neither section 69950 nor section 69954 distinguishes between court reporters employed by the superior court and privately retained court reporters. Section 69950 does not use the terms 'reporter,' 'official reporter,' or 'official reporter pro tempore.' The statute prescribes the fee for transcription of an original and subsequent copies of a transcript without reference as to what sort of court reporter—official, pro tempore, court employed, or privately retained—performs the transcription….Section 69954 refers only to a 'reporter' generally, and does not use the terms 'official reporter' or 'official reporter pro tempore.'…The plain language of the statutes indicates that the prescribed transcription fees are intended to apply to court reporters generally, and are not limited to court reporters employed by the superior court."
Chavez said that Hogue erred in concluding that §69947's omission of reference to "official reporters pro tempore" meant that the article's fee provisions are not intended to apply to private reporters. She reasoned:
"The trial court's construction of sections 69947, 69950, and 69954 is premised on the assumption that only official reporters are employees of the courts and that all official reporters pro tempore are privately retained by the parties. That assumption is incorrect."
Court personnel not regularly employed as official court reporters could also be assigned on a pro tem basis, the jurist explained.
Public Policy
In discussing policy considerations, Chavez confined her attention to those raised by Barley and amici curiae.
Finding no merit in a "freedom of contract" argument raised on appeal, Chavez said:
"Sections 69950 and 69954 regulate only transcription fees for proceedings in the superior court. The statutes do not prevent a private reporter from charging contract rates for court appearances and costs incurred while serving as an official reporter pro tempore or for producing deposition transcripts.
"Defendant and its amici acknowledge that freedom of contract is not absolute and unqualified, but is subject to a variety of restraints, including the exercise of legislative authority….Unless it is shown that the restraints imposed by the statutes at issue are unreasonable or unjustifiable, we must presume that the legislature determined them to be necessary for the general welfare of the people."
She added:
"Privately retained reporters who serve as official reporters pro tempore do so under appointment by the superior court….By accepting that appointment, persons serving as official reporters pro tempore become ministerial officers of the court and are subject to the jurisdiction of the court during the period of their appointment to the same extent as an official reporter."
Reducing Availability
Addressing a point raised by Barkley and by amici on appeal, as well as by Hogue, that holding private reporters to the statutory fee schedule would reduce availability of such reporters in court, Chavez said:
"The plain language of sections 69950 and 69954 apply the statutory transcription rates to reporters serving as official reporters or as official reporters pro tempore in the superior courts, regardless of whether they are employed by the court or privately retained by a party. If application of the statutes results in unintended adverse consequences, it is for the legislature, and not the courts to remedy the problem."
In a footnote, Chavez related that "[c]ourts have been statutorily authorized to appoint official reporters pro tempore since 1953" but noted, citing a 1933 Court of Appeal opinion, that "pro tempore reporters have served in California courts since at least the early 1930s."
The case is Burd v. Barkley Court Reporters, Inc., 2017 S.O.S. 5904.
James R. Patterson and Allison H. Goddard of the Patterson Law Group and Todd D. Carpenter of Carlson Lynch Sweet Kilpela & Carpenter were Burd's counsel on appeal. Marc V. Allaria and Joseph P. Tabrisky of Lichtfield Cavo and Jeffrey G. Huron, Phu C. Nguyen, and Jyoti P. Avila of Dykema Gossett represented Barkley.
Adverse Reaction
Huron said yesterday:
"We are disappointed the Court of Appeal has chosen to reverse the trial court's well-reasoned opinion that the statutory rate caps for transcripts of court proceedings do not apply to private court reporters. The Legislature treated official court reporters and private (pro tem) reporters differently because they are different. Unlike government employed court reporters, private reporters hired by attorneys to appear in court do not receive a salary, paid time off, health benefits or pension plans."
He continued:
"The rate caps are controlled by Government Code section 69947—which applies only to official court reporters—not pro tem reporters. If the Legislature intended the rate caps to apply to pro tem reporters it would have simply included them in section 69947 as it did in several other related statutes."
Huron noted that the decision will affect "the income of all private court reporters within California" and that Barkley Court Reporters will seek review in the California Supreme Court.
Monyeen Black, president of the California Deposition Reporters Association, which represents freelance reporters, commented yesterday:
"By imposing one size fits all price regulation on thousands of small businesses without a shred of legislative intent to do so, the decision will immediately cause dramatic confusion in the administration of justice in every courtroom and evidences a profound misunderstanding of the reporting profession."
Decision Hailed
Horvitz and Levy, a leading appellate firm, filed an amicus brief in support of Burd. Lisa Perrochet, an author of the brief (along with Eric S. Boorstin), remarked:
"It's great that the Court of Appeal reinforced the fact that court reporters are officers of the court. I've known a lot of court reporters who treat their professional and public obligations very seriously. They abide by the statutes that are written to protect the integrity of the judicial system. They engage in fair and honest negotiations when contracting for those fees that aren't governed by statute. And they deserve respect for the important and difficult job they do.
"This opinion may be a disappointment to other reporters who've tried to extract fees that are higher than what the statutes allow, but those who've been following the rules will now be on an even playing field. And litigants who are paying the fees will have the predictability they need to ensure fair access to the transcripts that are essential to conducting business in the courts. I think those are good outcomes."
Perrochet added:
"Being an appellate lawyer, my attention was caught by the court's footnote declining to address how its analysis plays out in the context of reporters' charges for appellate transcript fees. The reasoning about reporters being ministerial officers of the court would apply equally there, I'd think. The Advisory Committee comments to the applicable rule of court refer to the same code sections that the court of appeal was construing, so I doubt any different rule would apply to reporters who transcribe trial court proceedings and are then preparing them as official transcripts on appeal. In fact, both parties in the Burd appeal agreed that appellate transcripts are governed by the statutory rate schedules."
Copyright 2017, Metropolitan News Company