Friday, December 22, 2017
Page 1
C.A.: Wrongful Foreclosure Action Against Plaintiff's Ex-Lawyer May Proceed
Says Judgment of Dismissal in Prior Action Isn't Res Judicata
By a MetNews Staff Writer
A lawyer who gained dismissal by a judge of an action brought by a former client against him when he undertook to foreclose on her apartment building based on an unpaid debt, and secured affirmance of that dismissal by Div. Two of this district's Court of Appeal, must nonetheless defend against the woman's new action for wrongful foreclosure, under a fresh decision by the division that previously sided with him.
Justice Nora Manella—who wrote the 2015 opinion—said in one filed Wednesday that while attorney David Freeman's foreclosure effort was alluded to in the prior decision, the gist was that causes of action against him were time-barred. That, she explained, was not a decision on the merits, a fact that precludes application of the doctrine of res judicata.
For the same reason, she said, Freeman has no defense to the second action, filed July 16, 2015, based on plaintiff Paula Boyd having split her causes of action.
"Boyd's second action did not contravene the rule against splitting a cause of action," she wrote, "as the judgment in her first action was not 'on the merits' with respect to the key primary right underlying her claims in the second action," the allegedly wrongful foreclosure.
The opinion reverses a judgment of dismissal following Los Angeles Superior Court Judge Teresa A. Beaudet's sustaining of demurrers without leave to amend.
The controversy harks to 2005 when Boyd, then represented by Freeman as her lawyer, received a $425,000 loan from him. She executed a promissory note, secured by a deed to her apartment building.
Freeman, in February 2007, gave Boyd notice that she was behind in her payments, and proceeded to institute foreclosure proceedings. He dropped those efforts after they entered into a settlement under which Boyd obtained a cut in the interest rate and waiver of fees and penalties that had accrued.
With Boyd remaining in arrears on payments, Freeman again instituted foreclosure proceedings. On June 5, 2012, Boyd sued him, under various theories.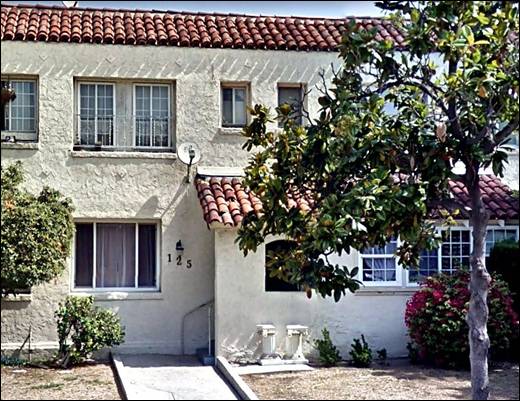 The Court of Appeal for this district has given the green light to litigation against an attorney based on a former client's contention that he caused the wrongful foreclosure on her 1931 Glendale apartment building, pictured above.
She alleged that his wrongful conduct "continued to occur after the settlement" and he "continued to use his legal status and his usurious loan terms to try to take the property illegally and wrongfully from" her.
Boyd sought, unsuccessfully, to block a foreclosure sale. On July 16, 2012, it took place, with Freeman making a full credit bid, obtaining the 16-unit apartment building for $591,397.64.
Stroebel's Decision
On Aug. 19, 2013, Los Angeles Superior Court Judge Mary Stroebel sustained demurrers, without leave to amend, to all three of Boyd's causes of action.
With respect to a cause of action for breach of fiduciary duty, the judge said that it could be construed from the initial pleading and from the first amended complaint that Boyd "either knew or should have known of any claim for breach of fiduciary duty she had against Defendant in connection with the loan transaction and/or foreclosure proceeding by February 2007."
Boyd had one year from then to sue, under the relevant statute of limitation, Stroebel said, and the cause of action brought on June 5, 2012 "is time-barred on the face of the complaint."
The plaintiff also sued under the state constitutional ban on usury. Applying a one-year "catch-all" statute of limitation, Stroebel said:
"Given that the transaction in question dates back to 2005, this cause of action is time- barred on its face."
Boyd's remaining cause of action was under the Unfair Competition Law. One of three alternative predicates for the UCL is a violation of a statute, and Boyd cited the Consumer Legal Remedies Act—which Strobel found inapplicable to the loan because it did not involve a sale of a good or service. Too, she noted, any such action was time-barred under a three-year statute.
Manella's 2015 Opinion
Stroebel was affirmed by Div. Four in a May 19, 2015 unpublished opinion by Manella.
That opinion said, with reference to Boyd's allegations of wrongful foreclosure:
"Here, Boyd invokes the continuing violation doctrine, arguing that she can allege certain claims—namely, for wrongful foreclosure…—predicated on Freeman's conduct relating to the 2012 foreclosure sale, which she maintains is continuous with his misconduct from 2005 through 2007. However, although she refers broadly to 'irregularities in the...sale' and inadequacy of the sale price, she offers no allegations detailing the purported misconduct, and no legal authority showing that any such misconduct supports the proposed claims or is properly viewed as part of a 'continuing pattern' encompassing Freeman's alleged breaches of fiduciary duty, for purposes of the continuing violation doctrine. She has thus failed to demonstrate that the proposed claims are viable and that the doctrine applies."
Manella pointed out in Wednesday's opinion that Boyd's allegation in the first action as to wrongfulness of the foreclosure—"which constituted a key basis for her claims in her second action—was not disallowed on the merits, and is not precluded.
The case is Boyd v. Freeman, 2017 S.O.S. 6378.
Attorneys on appeal were Chandler A. Parker of Ivie, McNeill & Wyatt for Boyd and Guy E. Jamison for Freeman.
Parker's Comment
Parker commented yesterday:
"Appellant agrees with the well-reasoned decision by the Second District Court of Appeal to reverse the judgment dismissing the lawsuit against her former attorney, David Freeman. The doctrine of res judicata is a very complicated legal concept and can result in a miscarriage of justice when applied incorrectly. The Court of Appeal determined the trial court erred when it applied the doctrine of res judicata to bar Appellant from pursuing the lawsuit. After fighting over five years in the courts to hold her former attorney accountable for his alleged unethical and illegal conduct, Appellant is pleased to know she will finally have a fair opportunity to prove her case at trial."
Jamison did not respond to a request for comment.
Copyright 2017, Metropolitan News Company