Friday, September 8, 2017
Page 1
Federal Prosecutor Ryan Bounds Nominated to Ninth Circuit
From Staff and Wire Service Reports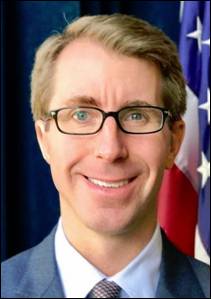 RYAN BOUNDS
Assistant U.S. Attorney
President Donald Trump yesterday nominated Assistant U.S. Attorney Ryan Bounds of the District of Oregon to a seat on the Ninth Circuit Court of Appeals.
If confirmed, he will fill a vacancy created when Judge Diarmuid O'Scannlain assumed senior status Dec. 31.
He is the first nominee by Trump to the Ninth Circuit. There are four other vacancies.
After graduating from the law school at Yale, Bounds, 44, served as a law clerk to O'Scannlain.
Before becoming a federal prosecutor in Portland, he was a special assistant to President George W. Bush for justice and immigration policy, and served as chief of staff and deputy assistant attorney general for the Department of Justice's Office of Legal Policy in the District of Columbia.
Copyright 2017, Metropolitan News Company