Monday, November 13, 2017
Page 1
Maxwell Blecher, Attorney for 62 Years, Dies
Termed 'Legendary Antitrust Litigator'
By a MetNews Staff Writer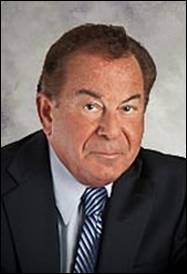 MAXWELL M. BLECHER
1933-2017
Maxwell M. Blecher, founding partner of Blecher Collins & Pepperman, and a leading antitrust attorney who was in law practice for 62 years, has died.
He was 84.
The death occurred Oct. 25, it was learned Thursday. He had suffered complications following back surgery.
Lundberg Comments
G. Andrew Lundberg, of Latham & Watkins LLP, in reporting the death to members of the Chancery Club, which he chairs, remarked Thursday:
"To say that Max was a legendary antitrust litigator is an understatement. He was unusually passionate about antitrust law, and trained and inspired a generation or two of lawyers in the art of the plaintiff's antitrust claim.
"In 1998—43 years after his admission to the bar, a point when most lawyers have hung up their spurs—he was honored as the California State Bar Antitrust Section's Antitrust Lawyer of the Year. Amazingly, nearly 20 years later—this year—Best Lawyers in America named him Los Angeles Antitrust Litigator of the Year."
Distinction Cited
According to a State Bar announcement of the 1998 award:
"Since beginning a career in antitrust with the Department of Justice in 1956, Maxwell Blecher has tried more antitrust cases than any other lawyer, including numerous groundbreaking cases."
In 1966, he received the Legal Aid Foundation of Los Angeles's Maynard Toll Award.
Born May 27, 1933 in Chicago, Blecher received his undergraduate degree from DePaul University, in that city. His law degree was awarded by USC in 1955.
He was admitted to practice on June 17, 1955.
Case Against NFL
Among his many celebrated cases was one in which he represented the Los Angeles Memorial Coliseum in its successful battle with the National Football League over its rule requiring required three-quarters approval by the member teams before could move into the home territory of an existing team. He prevailed in the Ninth Circuit in 1984 under the Sherman Act.
The Raiders had already moved to Los Angeles in 1982, pursuant to a trial court ruling, but the Ninth Circuit ruling resulted in the evaporation of the rule.
More recently, Blecher represented controversial then-Los Angeles Clippers owner Donald Sterling in an antitrust lawsuit against the National Basketball Association.
He was a fellow of the American College of Trial Lawyers and the American Board of Trial Advocates.
Blecher is survived by his wife of 64 years, Sally Blecher, and two children.
Copyright 2017, Metropolitan News Company