Wednesday, May 10, 2017
Page 1
Bill to Regulate Judicial Ballot Designations, SB235, Advances in California Senate
By a MetNews Staff Writer
A bill to regulate the way judicial candidates may designate themselves on the ballot advanced yesterday in the California Senate.
SB235, by Sen. Ben Allen, D-Santa Monica, was approved by a 6-1 vote in the Judiciary Committee, after having been approved previously by the Committee on Elections and Constitutional Amendments. The lone dissenting vote was cast by Sen. Joel Anderson, R-El Cajon.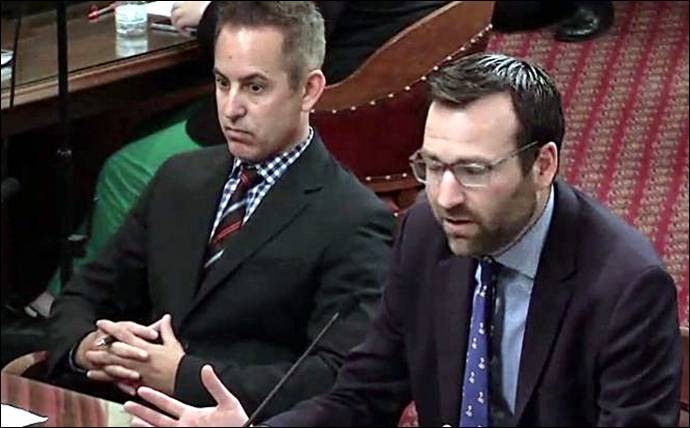 Los Angeles Superior Court Judge Daniel Lowenthal, left, sits by Sen. Ben Allen, D-Santa Monica, author of SB235, before testifying in favor of the bill.
The committee acted following a brief hearing at which Allen spoke, alongside Los Angeles Superior Court Judge Daniel Lowenthal and Century City attorney Aaron Weissman.
Weissman, a civil litigator at Novian & Novian, ran for a Superior Court open seat last year. He finished last in a field of four, with 14.77 percent of the vote.
"I was the best qualified candidate," he told the committee, citing his extensive experience as a judge pro tem. The reason he failed to do better in the election, he explained, was that his ballot designation "Small Business Attorney," failed to capture voters' attention in the way his opponents did.
The other candidates for Office No. 84 were a "Supervising Criminal Prosecutor," a "Criminal Fraud Prosecutor," and a "Gang Murder Prosecutor." Weissman read to the committee an email he received from MetNews Editor/Co-Publisher Roger Grace, opining that his candidacy suffered from the contrast between his ballot designation and those of his opponents.
The newspaper endorsed another candidate, the "fraud prosecutor," Susan Jung Townsend, who eventually won the seat in a runoff. Besides the potent ballot designation, she was by far the highest spender in the race, and had the endorsement of the Los Angeles Times.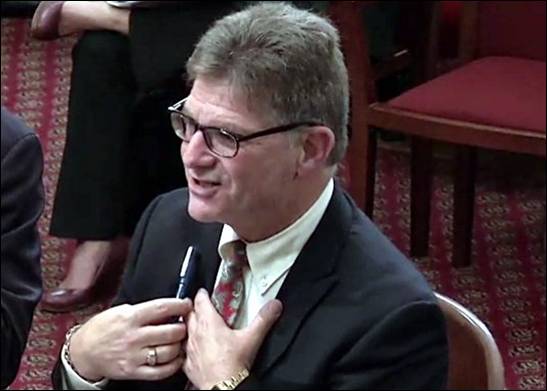 Attorney Aaron Weissman, an unsuccessful candidate for judge last year, complains of the disadvantage he was under, competing with three deputy district attorneys with creative ballot designations.
The bill would prevent prosecutors from using the "boutique" ballot designations that have become commonplace in recent years. It would allow government attorneys to use their actual titles, as set forth in the applicable federal, state, or local legislation.
It would also require city and county officials or employees to identify the city or county, require officials performing quasi-judicial functions—such as State Bar Court judges—to fully identify the agencies they serve.
As originally introduced, the bill also contained provisions designed to prevent part-time and non-practicing attorneys from designating themselves as if they were full-time practitioners. The committee, however, approved amendments requested by Allen to delete those provisions.
The amendments were requested, the committee staff's analysis explained, because the provisions "could disadvantage qualified candidates," and because "there was concern that these provisions may have disproportionately impacted women due to existing societal norms frequently resulting in women being expected to balance more familial obligations alongside their career."
The analysis said the amendments "do not impact the effect this bill will have on ensuring greater honesty in ballot designations."
Representatives of the California Judges Association and the Conference of California Bar Associations were present at yesterday's hearing and expressed support for the bill. It has also been endorsed by the Los Angeles County Bar Association and the Alliance of California Judges.
The only witness to express opposition to the bill yesterday was Bradley Hertz of the Sutton Law Firm, a veteran of numerous legal battles over ballot designations in judicial and non-judicial races. He questioned whether the bill deprived government lawyer candidates of their equal protection rights, and said existing law has "served as well" and contains sufficient safeguards against the use of unfair and misleading designations.
The bill is unfair, he elaborated, because it would restrain prosecutors but not civil attorneys. He cited the example of a civil lawyer handling domestic violence cases, who could run as "Domestic Violence Litigator," even though a prosecutor handling such cases could not use a similar appellation.
The committee chair, Sen. Hannah-Beth Jackson, D-Santa Barbara, hailed the bill. She said she was tired of the "game-playing that goes on" with judicial candidate designations "and that's got to stop." She said she doubted that any civil attorney could come up with a potent enough ballot designation to match those that prosecutors have been using in recent years.
"What's going to appeal to the public?," she asked rhetorically. "'Trusts and Estates Attorney'? That's a winner."
In other news, the same committee voted 6-0 to approve SB 36, Jackson's bill to set State Bar dues for 2018 and 2019 at the 2016 rate, spin off the practice sections and California Young Lawyers Association into an independent nonprofit organization, and replace the 19-member Board of Trustees into a 13-member body made up of seven lawyers and six public members.
State Bar President James Fox endorsed the bill, as did a representative of the Council of Sections.
"So you're agreeing to the terms of your surrender"?, Sen. John Moorlach, R-Costa Mesa, asked Fox. "It's my white flag," Fox, who had earlier called the bill "a perfect solution," responded.
Advancing the bill "has not been easy, and..has not been fun," Jackson commented. But it will return the State Bar to its core mission of protecting the public, she said.
Copyright 2017, Metropolitan News Company