Tuesday, January 3, 2017
Page 1
Ninth Circuit Holds:
No Immunity for Majority of Jail Officers In Fatal Maricopa County Beating
By a MetNews Staff Writer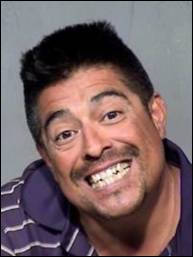 This booking photo of Ernest Atencio was released by the Sheriff's Department to the news media. Officers allegedly encouraged him to make comical faces.
The Ninth U.S. Circuit Court of Appeals on Friday affirmed a denial of qualified immunity to several officers who allegedly clobbered and tasered a mentally ill prisoner at a Maricopa County, Arizona jail, resulting in his death.
Survivors of the man, Ernest "Marty" Atencio are suing former Sheriff Joe Arpaio—who billed himself as the "toughest sheriff in America"—the county, nine detention officers, and others, for civil rights violations, as well as wrongful death. The plaintiffs claim that Atencio, an Army veteran diagnosed with schizoaffective disorder, was taunted and bullied by officers owing to his odd behavior, with the badgering escalating into violence, described by plaintiffs as a "a jailers riot."
Atencio, 44, died at a hospital five days after the Dec. 16, 2011 beating.
He was arrested when Phoenix police officers spotted him kicking at an apartment door.
Friday's opinion affirms an order denying summary judgment on the issue of qualified immunity to all but two of the detention officers. One officer was found entitled to such immunity in connection with the issue of excessive force, and the other with respect to a substantive due process claim for loss of familial association.
Qualified immunity is unavailable where a public official has violated a constitutional right, and that right was clearly established at the time of the official's action, the memorandum opinion said. Disputed facts, the opinion noted, are taken in a light favorable to the party claiming an injury.
Excessive Force
The three-judge panel recited that a videotape of the beating provides this evidence as to excessive force:
•Officer Nicholas French "appeared to apply what might be perceived as a carotid hold on Atencio when he was already physically subdued by several officers and arguably posed no immediate threat."
•"Several officers" (Jaime Carrasco, Adrian Domin­guez, Christopher Foster, Jose Vazquez, and Craig Kaiser) formed a "dog pile" on top of the prisoner,
•Officer Anthony Hatton "delivered a knee strike to Atencio's upper body, and possibly his head, even though Atencio was handcuffed and being held in a prone position on the ground by several officers."
The judges commented:
"Under these circumstances, a reasonable jury could conclude that some or all of those actions were objectively unreasonable."
The opinion added that "there was clearly established precedent that would have made it sufficiently clear to reasonable officials that the acts here constituted excessive force."
Two Accorded Immunity
The panel did find qualified immunity was erroneously denied to two defendants.
"Sergeant [Anthony] Scheffner could not be liable as a matter of law under any of these theories because, even though he may have seen Hatton deliver the knee strike, there is no evidence that Sergeant Scheffner directed or otherwise knew that the solitary knee strike would occur, physically participated in the knee strike, or had a realistic opportunity to stop the knee strike from happening," the opinion said.
It also said that Officer Patrick Hanlon is entitled to qualified immunity as to the substantive due process claim for loss of familial association, The judges declared:
"Hanlon could not have reasonably foreseen that his use of a wrist lock would cause or would trigger events ultimately leading to Atencio's death."
They said in a footnote:
"None of the other Defendants, apart from Officers Hanlon and French, appealed the denial of qualified immunity as to the substantive due process claim. Although the Defendants attempted to incorporate each other's arguments by reference, Officers Hanlon's and French's arguments regarding the substantive due process claim were limited to their own conduct, so they do not apply to the other Defendants."
The panel was composed of Judges Richard Clifton and Paul Watford, along with Eighth Circuit Judge Michael Melloy, sitting by designation.
The case is Atencio v. Arpaio, No. 15-15451.
In February 2013, the Maricopa County Board of Supervisors voted to offer a $550,000 settlement, but the plaintiffs declined the offer.
Copyright 2017, Metropolitan News Company