Thursday, March 30, 2017
Page 1
Retired Justice Betty Barry-Deal Dies at 95
By a MetNews Staff Writer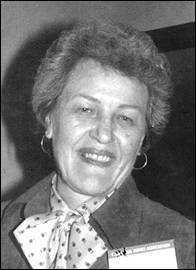 BETTY BARRY-DEAL
1912-2017
Retired Court of Appeal Justice Barry-Deal, the first woman to serve on the First District Court of Appeal, has died at age 95, the Judicial Council press office said yesterday in a release.
Barry-Deal died in Ventura March 12, the release said. She served on the appellate court from 1980 until her retirement 10 years later.
Barry-Deal was born in Nevada but grew up in Susanville, where her family had settled decades earlier and where her father, Hardin Barry, practiced law. She graduated from UC Berkeley in 1944 and married law school classmate John Deal the following year.
The couple lived in Susanville and later Salt Lake City before settling down in Berkeley. After John Deal's sudden death in 1951 at age 33, Barry-Deal finished her law degree at what was then called Boalt Hall. Like many women lawyers of that era, she did not get a job in private practice and worked as a research attorney and editor at Continuing Education of the Bar between 1955 and 1963.
She took the job "very grudgingly," she once told an interviewer. She felt she was getting "second-rate" treatment, she explained, "but it was the only thing that was feasible."
It was not until years later that she realized "what a wonderful job it was," she said in the interview.
While raising two children, she practiced from a home office from 1963 to 1970, and then accepted a partnership at a firm in Oakland. She mostly practiced family and juvenile law before then-Gov. Jerry Brown appointed her to the Alameda Superior Court in 1977.
Brown elevated her to the appeals court three years later, prior to which The First District was the only appellate district that had never had a woman justice.
According to an obituary placed in the East Bay Times:
"In retirement she continued her interest in genealogy, corresponding with distant relatives throughout the country, often touring graveyards with her children and grandchildren, regularly reminding them that they were related to Daniel Boone. She took great pride in her colonial style home and spent hours researching period appropriate paint colors and furnishings for homes from the 18th and 19th century. She had a passion for gardening and hummingbirds."
Barry-Deal is survived by her children, as well as by six grandchildren and eight great-grandchildren. No public services are planned, the obituary said.
Copyright 2017, Metropolitan News Company