Thursday, October 26, 2017
Page 1
Appeals Court Affirms $94,000 Award Against Unsuccessful Plaintiff in FEHA Suit
By a MetNews Staff Writer
The Court of Appeal for this district yesterday affirmed an order to an African American medical doctor, who was discharged from his post as provost of a predominently African American university and sued for racial discrimination claiming falsely that he is Chinese, to pay $94,017.50 to the university to cover attorney fees it incurred in defeating his action.
Justice Victoria Chavez of Div. Two wrote the unpublished opinion, which affirms an order by Los Angeles Superior Court Judge William F. Fahey.
The issue was whether Fahey abused his discretion in finding that the lawsuit by Dr. Richard S. Baker was "unreasonable, frivolous and meritless"—the requirement for an attorney fee award to a defendant sued under the Fair Employment and Housing Act—and Chavez said he did not.
Summary judgment granted by Fahey to the defendant, Charles R. Drew University of Medicine and Science, was upheld in an opinion by Chavez filed May 25 of last year. At the point summary judgment was granted, the causes of action that remained were for age discrimination, failure to prevent discrimination, whistle-blowing, and retaliation.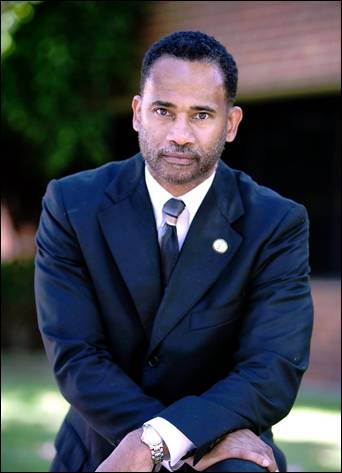 RICHARD S. BAKER
Medical Doctor
Fahey had earlier sustained demurrers, without leave to amend, in favor of the university, its president, and its chief operating officer to a cause of action for harassment and the demurrer of the two individual defendants to a cause of action for wrongful termination.
Baker's allegation of racial discrimination was withdrawn before the hearing on the motion for summary judgment.
Explains Affirmance
In explaining the affirmance of the attorney fee award, Chavez said:
"Appellant is correct that the trial court focused on appellant's lack of evidence to support his claims. However, in this case, appellant's lack of evidence supports the trial court's implicit conclusion that appellant had no objective basis for his claims.
"For example, appellant's allegations that he was 'born in China and is of Asian descent,' that he 'has an accent' and that his 'primary language is Chinese' were central to appellant's racial discrimination claim. Because there was no evidence that appellant was of Asian descent, appellant had no objective basis to claim racial discrimination on the grounds of Asian descent. In fact, appellant is African-American, the same race as his superior and his replacement.
"There was no evidence that anyone made any derogatory comments about appellant's race."
Chavez went on to say:
"Nor did appellant provide evidence to support his age discrimination claim. Specifically, appellant provided no evidence that he was replaced by a significantly younger person. In fact, appellant was replaced by an individual who was only four years younger than appellant, and who was, like appellant, over 40."
Not a 'Typo'
With respect to Baker's claim that he is Chinese, Chavez said in a footnote:
"Appellant protests that this was a 'typo in the Complaint.' A 'typo' is generally a small spelling or punctuation error. This was a detailed, two-sentence description of appellant, and is not accurately described as a 'typo.' "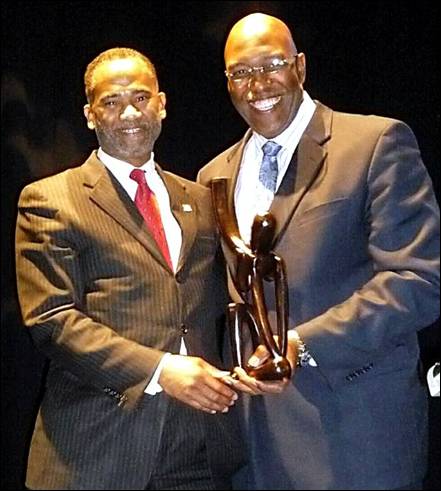 Dr. Richard S. Baker, at left, receives the Distinguished Alumni Award from Dr. James Kyle II, of St. Mary Medical Center in Apple Valley at a ceremony in 2010. Baker was dean of the College of Medicine at Charles R. Drew University of Medicine and Science; he was appointed the following November to serve additionally as provost of the university. Yesterday, the Court of Appeal affirmed an award to the university, against Baker, for attorney fees incurred in defending against his action over his discharge.
Baker remains a professor in the university's College of Medicine.
The case is Baker v. Charles R. Drew University of Medicine and Science, B270973.
Attorneys on appeal were Brad A. Mokri and Jennifer N. Harris of Mokri & Associates and Eric V. Luedtke for Baker and Eric M. Gruzen and Kerri Sakaue of Peckar & Abramson for the university.
Copyright 2017, Metropolitan News Company