Wednesday, August 30, 2017
Page 1
One-Year Period for Complaining to DFEH Began on Last Day of Employment—C.A.
By a MetNews Staff Writer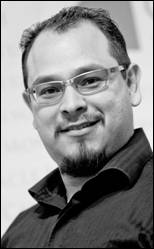 GUILLERMO AVILES-RODRIGUEZ
Teaching Assistant
The Court of Appeal for this district yesterday declared that a professor who was denied tenure by the Los Angeles Community College District brought a timely action alleging racial discrimination, holding that the one-year period for filing a complaint with an administrative agency commenced on his last day of employment.
Justice Nora Manella of Div. Four wrote the opinion. She broadly hinted that if the Court of Appeal were at liberty to do so, it would find that the allegedly unlawful practice took place at an earlier point, triggering the one-year period.
Her opinion reverses a judgment of dismissal which was entered after Los Angeles Superior Court Judge Barbara Ann Meiers sustained a demurrer without leave to amend to the third amended complaint.
It resuscitates the action brought by Professor Guillermo Aviles-Rodriguez, who had taught in the Chicano Studies Department at California State University, Northridge. He is now a teaching assistant at UCLA's Cesar E. Chavez Department of Chicana & Chicano Studies.
Government Code §12960(d)
At issue in the case was an interpretation of Government Code §12960(d) which provides, with exceptions that aren't applicable, that it is too late to file a complaint with the Department of Fair Employment and Housing ("DFEH")—a prerequisite to suing—"after the expiration of one year from the date upon which the alleged unlawful practice or refusal to cooperate occurred…."
Cal State's Tenure Review Committee on Nov, 21, 2013, voted to deny Aviles-Rodriguez tenure; the Board of Trustees on Feb. 26, 2014, upheld that action; the professor received written notice of the denial of tenure on March 5, 2014; his last day of employment was June 30, 2014; on June 29, 2015, he filed a complaint with the DFEH and sued when he received a right-to-sue letter.
"Were we writing on a blank slate," Manella said, "we might conclude that the one-year limitations period to file a DFEH complaint begins to run on the date the employee is notified of the final tenure decision."
Supreme Court Decision
However, she noted an impediment to so ruling: the 1996 California Supreme Court decision in Romano v. Rockwell International, Inc. There, the high court held that an at-will employee had one year from his last day on the job to file a complaint with the DFEH for an unlawful termination.
Then-Chief Justice Ronald George wrote:
"The Court of Appeal concluded that the statute of limitations begins to run on all the alleged causes of action on the date employment actually is terminated, but defendant asserts, primarily on the basis of related federal authority, that the statute of limitations should run from the date the employee is informed unequivocally that his or her employment will be terminated….[W]e conclude that the Court of Appeal was correct, and that its judgment should be affirmed."
There, Rockwell International told an employee on Dec. 6, 1988, that his employment was to be terminated, but it did not actually end until May 31, 1991.
He reasoned:
"If the administrative complaint must be filed within one year 'after' the unlawful practice—here, a discharge—'occurred,' then for the purpose of that complaint, the administrative cause of action must accrue and the statute of limitations must run from the time of actual termination. It would not run from the earlier date of notification of discharge, because on that date the unlawful practice (that is, the discharge) had not yet 'occurred.' "
Manella wrote:
"[A]lthough Romano did not involve a wrongful termination resulting from the denial of tenure, we read its discussion of both federal and state cases involving the denial of tenure or analogous facts as a clear directive that its holding should be applied here. In light of Romano, we conclude the one-year limitations period for appellant to file a timely DFEH complaint began to run from the last day of his employment."
She went on to say:
"We acknowledge that both case law and rational policy considerations may militate in favor of a rule that in cases involving an allegedly discriminatory denial of tenure, the statute of limitations for filing an administrative complaint runs from the date the employee is notified of the final tenure decision. Had our Supreme Court in Romano merely distinguished denial-of-tenure cases from the case before it, we might well adopt such a rule. But we cannot ignore the language of Romano or the fact that our highest court expressly questioned and unequivocally criticized cases adopting that approach. Until our Supreme Court indicates otherwise, we take the language of Romano as a directive and apply its reasoning to the facts before us."
The case is Aviles-Rodriguez v. Los Angeles Community College District, B278863.
André E. Jardini, Gwen Freeman, and K.L. Myles of Knapp, Petersen & Clarke acted for the community college district.
Copyright 2017, Metropolitan News Company