Monday, August 14, 2017
Page 1
C.A. Hands Victory to Airbnb in Tenants' Challenge
First District Panel Says There's No Cause of Action Based on Nuisance or Unfair Business Practices
By a MetNews Staff Writer
Airbnb—the online service that facilitates short-term rentals in residences and elsewhere—has prevailed in the First District Court of Appeal by gaining affirmance of a trial court decision that long-term San Francisco apartment dwellers and hotel residents have no cause of action against it for nuisance or unfair competition.
Div. Five, in an opinion filed Thursday and not certified for publication, affirmed a judgment of dismissal following the sustaining of demurrers to a second amended complaint, without leave to amend.
The would-be class action was filed Sept. 3, 2014, by attorneys for Louis Gamache, who had resided in the Sheldon Hotel for 16 years, and Danielle McGee, who has lived there for nine years. The facility, near Union Square, is a single-room occupancy hotel for persons of low income.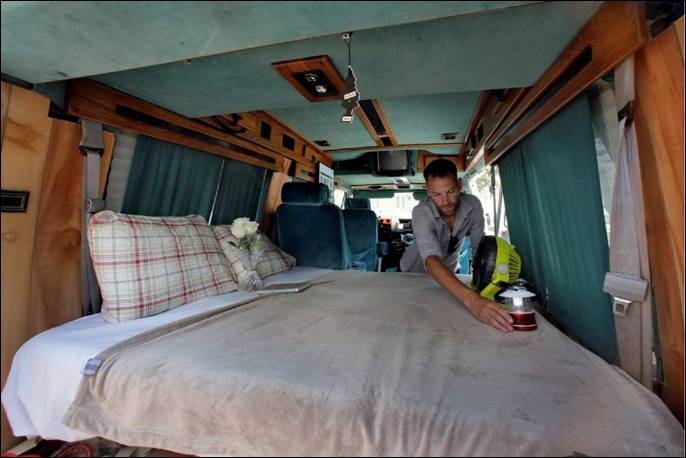 —AP
Jonathan Powley, who rents parked vehicles on Airbnb, prepares a 1995 Chevrolet conversion van, one of his offerings, in the Queens borough of New York.
Airbnb has been arranging for short-term rentals there, as throughout San Francisco.
Although Airbnb has international operations, it is not only headquartered in San Francisco but has, according to the complaint, a particular impact there. The opinion, by Acting Presiding Justice Mark B. Simon, explains that, under the allegations, accepted as true in reviewing the sustaining of demurrers:
"In San Francisco, demand for housing far exceeds availability. The conversion of residential units into short-term rentals has contributed to this housing crisis, and more than 5,000 residential properties are unlawfully being rented as short-term rentals. Increased short-term rentals in apartment buildings also 'create security problems, increased foot traffic, and far more noise than would otherwise exist'; and the short-term guests are 'inconsiderate, destructive, violent, smoke in prohibited areas, [and] have more guests than allowed.' "
Causation Not Shown
 Allegations as to private and public nuisance in the operative pleading, Simon wrote, "are insufficient to support causation." He set forth:
"First, the direct cause of the harm is either the short-term renters themselves (the harms of smoking, noise, etc.) or the Plaintiffs' landlord (the harms of failure to ensure guests adhere to the tenant policies and the inability to obtain timely assistance from the landlord). Second, Plaintiffs do not allege that all short-term renters—or any of the short-term renters who caused the nuisance activity—secured their rentals through Airbnb. Third, even assuming some of the offending renters used Airbnb, Plaintiffs make no allegations that Airbnb operated its online platform in a manner that encouraged the nuisance activity in any way. Airbnb's facilitation of some number of short-term rentals in Plaintiffs' building, which may or may not have involved renters who smoked more or made more noise than long-term tenants, does not render Airbnb a proximate cause of the alleged harms."
With respect to the alleged violation of the Unfair Competition Law, Simon declared that the plaintiffs failed to show an element of a cause of action under the statutes: personal economic harm. They pled that they had, for years, paid rent, a portion of which was based on maintenance of the premises, but that the bills paid by short-term renters did not reflect contributions toward maintenance.
"These allegations are insufficient to establish injury in fact," the jurist said, elaborating:
"First, Plaintiffs do not allege they paid any additional money for repair or upkeep of the common areas as a result of the short-term renters. Second, for the reasons explained in connection with the nuisance claims (ante, part I), any damage allegedly from short-term renters was not caused by Airbnb: the direct cause was the short-term renters or Plaintiffs' landlord; Plaintiffs do not allege that any short-term renters who damaged the building's common resources secured their rentals through Airbnb; and Plaintiffs do not allege that Airbnb operated its online platform in a manner that encouraged damage to the building's common resources. Accordingly, Plaintiffs have failed to demonstrate standing under the UCL."
Further Pleading Barred
Also rejected was the plaintiffs' contention that filing of their proposed third amended complaint—alleging Airbnb's aiding and abetting of lessors' violations of San Francisco ordinances—should have been allowed. Simon said:
"Plaintiffs do not contend that the ordinances expressly impose liability for aiding or abetting violations by owners or lessors. Instead, Plaintiffs rely on the common law rule imposing liability for aiding and abetting a tort….
"Courts have declined to apply common law aiding and abetting liability to statutes absent a basis for such liability in the language of the statute itself….Because the relevant ordinances do not provide for aider or abettor liability, and because we decline to read such liability into the statute absent a textual basis to do so, we reject Plaintiffs' claim."
The case is Gamache v. Airbnb, A146179.
Other Cases
Airbnb has been in frequent litigation, some instigated by it. Litigation has largely focused on cities' attempts to regulate the activities.
•The United States District Court for the Northern District of Illinois said in a March 13 opinion:
"In recent years, home sharing has become a popular alternative to the typical short-term rental options—hotels, inns, and bed-and-breakfast establishments. Home sharing usually involves individuals renting out their homes or apartments to guests in exchange for compensation. Although the concept of home sharing is not new, its popularity has increased due to the proliferation of internet platforms like Airbnb, VRBO, and HomeAway, which allow hosts to post listings of their units and connect easily with guests who would like to rent those units online.
"As home sharing has increased in popularity with little oversight, cities across the country have sought to regulate the industry."
The court there rejected a challenge to a Chicago ordinance requiring registration of available temporary residence units.
•July 21 set of findings and recommendations of a magistrate judge of the United States District Court for the District of Oregon—which notes that "Airbnb has members and listings in 35,000 cities around the world"—calls for the case not to be remanded to state court. The plaintiff is alleging that Airbnb promotes housing discrimination against African Americans by requiring that users of its service provide photographs of themselves, and vesting in hosts the prerogative of rejecting applicants for accommodations.
•An action similar to the one filed in  Oregon came before the U.S. District Court for the District of Columbia. In a Nov. 1, 2016 opinion giving effect to an arbitration clause in Airbnb's online terms and conditions, the court recited: "Plaintiff Gregory Selden, who is African American, signed up with the popular residential rental service Airbnb in advance of a weekend getaway to Philadelphia. He created the required user profile, including his photograph, and contacted an Airbnb 'host' about a promising listing. The host allegedly responded that the residence was not available. Smelling a rat, Selden created a second account under a pseudonym, with a photograph of a white person in the user profile, and contacted the same host about the same accommodation. This time, Selden claims, the host was only too happy to rent the residence."
•The Appellate Division of the New York County Supreme Court on May 23 held that a tenant engaged in profiteering in connection with her rent-stabilized apartment and was properly evicted. The opinion declares: "Defendant does not dispute that she sublet her apartment to 93 different customers recruited through the Airbnb website, for 338 days spread over a period of 18 months….[¶] The evidence in the record from the Airbnb website reveals that the blatancy of defendant's commercialization of her apartment was comparable to that of tenants who have been evicted for profiteering in prior cases….
•A Feb. 15 decision by the U.S. District Court for the District or Oregon deals with an action by an apartment building to evict a tenant who, the court said, "had multiple unauthorized roommates and had listed the apartment on AirBnB, which reduced the security of the building and disturbed neighboring tenants who had to deal with unauthorized persons in the complex."
•The United States District Court for the Northern District of California on Nov. 8, 2016 denied a preliminary injunction barring enforcement of a San Francisco ordinance rendering it a misdemeanor to provide booking services for unregistered rental units. The action is pending.
New Accounts
Airbnb is also in the news.
•An article last Thursday in the Boston Globe says: "Without a doubt, Airbnb, the company that offers often novel alternatives to staying in a hotel while traveling, has opened up a world of unusual accommodations from teepees to treehouses….In New England alone, there are at least four churches that have been converted into homes and listed on Airbnb. Looking further afield, travelers can find former churches to book in New York, Chicago, Texas, even as far away as Scotland."
•The New York Times last Wednesday told of a white nationalist rally then slated to take place in Charlottesville, Va., on Saturday(since cancelled) and said: "Airbnb has canceled a number of accounts and bookings associated with the Unite the Right Free Speech Rally, which 'seeks to affirm the right of Southerners and white people to organize for their interests,' " according to an event description on Facebook."
•Robin Abcarian's column in the Los Angeles Times on Wednesday notes: "InsideAirbnb is a website that tracks how Airbnb impacts city rental stock. It estimates that at least 76% of Airbnb rentals in Venice are entire homes or apartments, which means, essentially, that those units have been removed from the rental market at a moment when the city's housing shortage is Topic A on the lips of every politician."
•The New York Post reported Aug. 3: "In a first-of-its-kind decision, a Manhattan judge has ordered that an independent manager take over two Midtown properties where the owner has allegedly continued to let renters sublease apartments on Airbnb—flouting multiple citations and an injunction ordering him to stop."
•The London Daily Mail on July 2 told readers: "Police are warning owners of rental properties to be on their guard against Airbnb pop-up brothels. [¶] Officers have made several arrests after visiting ten properties across Cheltenham and Gloucester, many of which are allegedly being rented out short term without the original landlords knowing. [¶] The worrying new pop-up trend sees sex workers across the country hiring holiday homes through Airbnb as a base from which to sell their services."
Copyright 2017, Metropolitan News Company