Monday, October 31, 2016
Page 1
Superior Court Judge Van Sicklen to Retire
By a MetNews Staff Writer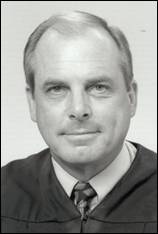 STEVEN VAN SICKLEN
Los Angeles Superior Court Judge
Los Angeles Superior Court Judge Steven Van Sicklen is retiring, effective tomorrow, the judge told the MetNews Friday.
Van Sicklen, an 18-year veteran of the court, said he and his wife decided a few months ago that they should spend more time together. But he said he will make himself available for assignments, beginning in January, and hopes to come back on a regular, but less than fulltime, basis.
He also said he hopes to do "as much traveling as possible."
The experience of serving on the court has been "fantastic," Van Sicklen, who recently turned 70, said, noting that he tried about 230 cases, including three capital murders, to verdict. He has sat in Compton, at the Airport Courthouse, and in Torrance, along with two separate stints downtown, he noted.
He has been the Southwest District supervising judge for the past three years. He served as assistant supervising judge of the criminal courts downtown in 2005 and 2006, and as supervising judge in 2007 and for part of 2008, before transferring to a trial court assignment in Torrance.
He also served for a time as the Airport Courthouse site judge.
An Oakland native, Van Sicklen was appointed to the Superior Court by then-Gov. Pete Wilson in 1998. Before his appointment to the court, he was a partner at Baker, Silberberg & Kenner in Irvine, where he did civil defense work for 13 years.
He had previously worked for firms in Los Angeles, Santa Ana, and Monterey, and brought to the bench 26 years of trial experience, including three years as a deputy district attorney for Alameda County.
Van Sicklen graduated from USC, having worked his way through school as a model and an actor. But his priorities changed, he once told an interviewer, when he was accepted at McGeorge School of Law.
"Acting was not a career option," he said. "I wanted to be an attorney."
The shift, he said, "delighted" his father, Frederick Van Sicklen, who was an Alameda Superior Court judge at the time. He died in office in 1973, a year after his son was admitted to the State Bar.
As a civil practitioner, he defended a number of claims by high-profile plaintiffs, including jockey Willie Shoemaker, who was severely injured in an auto accident; the estate of actor/comedian Freddie Prinze, who died of a drug overdose; and Loyola Marymount University basketball star Hank Gathers, who collapsed and died during a game.
Copyright 2016, Metropolitan News Company