Thursday, December 22, 2016
Page 1
Supreme Court Will Not Review Denial of Parole To Charles Manson Follower Van Houten
By a MetNews Staff Writer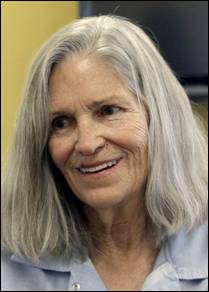 —AP
Former Charles Manson follower Leslie Van Houten confers with her attorney during a break from her parole hearing at the California Institution for Women in Chino, Calif., on April 14, 2016.
The California Supreme Court yesterday left intact Gov. Jerry Brown's denial of parole to the youngest defendant convicted of the notorious Tate/LaBianca murders.
The justices, at their weekly conference in San Francisco, unanimously declined to review lower court rulings that there was sufficient evidence to support the chief executive's decision to overrule the Board of Parole Hearings and keep Manson Family member Leslie Van Houten, now 67, behind bars.
A parole board panel concluded in April that Van Houten's prison record made her a suitable candidate for release. But Brown exercised his veto power in July, citing Van Houten's "role in these extraordinarily brutal crimes and her inability to explain her willing participation in such horrific violence."
Los Angeles Superior Court Judge William Ryan found that Brown's decision could not be overturned under the deferential "some evidence" standard enunciated by the state high court, and denied Van Houten's habeas corpus petition. Div. One of this district's Court of Appeal summarily denied relief.
This year's decision by the parole board was its first in Van Houten's favor, after turning her down 20 times, the most recent in 2013.
Van Houten admitted her involvement in the August 1969 murders of Leno and Rosemary La Bianca in their Cielo Drive home. She was 19 years old at the time.
One day earlier, actress Sharon Tate and four others were murdered at the home Tate rented with her husband, director Roman Polanski, who was in Europe.
Van Houten was convicted of the La Bianca murders. She was not present during the Tate murders but was convicted of conspiracy to commit them.
Rosemary La Bianca was stabbed a total of 42 times, and Van Houten said at various times that she had herself stabbed the woman 14 or 16 times. Another Manson Family member testified that Van Houten admitted stabbing La Bianca after she was already dead and said "the more she did it the more fun it was."
Van Houten was portrayed at trial by her defense lawyers as the youngest and least culpable of those convicted with Manson, a young woman from a good family who had been a homecoming princess and showed promise until she became involved with drugs and was recruited into Manson's murderous cult.
During the penalty phase, she confessed to joining in stabbing Rosemary La Bianca after she was dead Van Houten has previously been commended for her work helping elderly women inmates at the California Institution for Women. She earned two college degrees, in philosophy, while in custody.
"I know I did something that is unforgiveable, but I can create a world where I make amends," Van Houten told the parole board at an earlier hearings. She acknowledged that Manson, who remains incarcerated at the age of 82, "could never have done what he did without people like me."
All efforts to release Van Houten and the other imprisoned members of the family have been resisted by the Los Angeles County District Attorney's Office and relatives of Tate and the LaBiancas, who have testified at hearings and gathered tens of thousands of signatures on petitions.
Copyright 2016, Metropolitan News Company