Monday, August 29, 2016
Page 1
Ninth Circuit Reinstates Trademark Suit Against Owner of Canada's 'Pirate Joe's'
From Staff and Wire Service Reports
A U.S. court has the authority to hear a trademark lawsuit by grocery chain Trader Joe's against a man who purchased the company's products and resold them in Canada at "Pirate Joe's," a store designed to mimic a real Trader Joe's, the Ninth U.S. Circuit Court of Appeals ruled Friday.
The panel overturned a district judge's decision to dismiss California-based Trader Joe's Lanham Act claims, saying Senior District Judge Marsha J. Pechman of the Western District of Washington erred in treating the question of the statute's extraterritorial reach as one of jurisdiction, rather than statutory interpretation.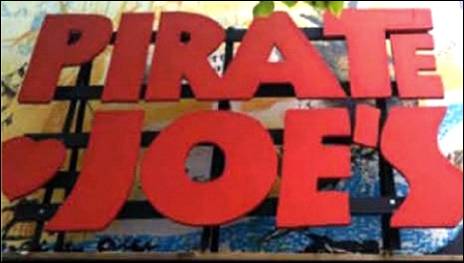 This photo of Pirate Joe's store in Vancouver, B.C., Canada was attached as an exhibit to Friday's Ninth Circuit opinion.
Judge Morgan Christen, writing for the Ninth Circuit, said defendant Michael Hallatt's conduct could harm Trader Joe's reputation, decreasing the value of its American-held trademarks.
"According to Trader Joe's, Hallatt's poor quality control practices could impact American commerce if consumers who purchase Trader Joe's-brand products that have been transported to Canada become ill, and news of such illness travels across the border," the judge explained. "…Trader Joe's argues its risk of harm is particularly high because Pirate Joe's displays Trader Joe's trademarks, which leads consumers to believe that it is an authorized Trader Joe's retailer. There is nothing implausible about the concern that Trader Joe's will suffer a tarnished reputation and resultant monetary harm in the United States from contaminated goods sold in Canada. Incidents of food-born illness regularly make international news, and Trader Joe's alleges that it is aware of at least one customer who became sick after consuming food sold by Pirate Joe's."
Trader Joe's has also alleged that Hallatt's store has poor customer service, and that his markups are so high that U.S. customers visiting the store will associate Trader Joe's with high prices.
Judges Richard Paez and Jay Bybee concurred in the opinion.
Hallatt's Seattle attorney, Nathan Alexander, said in an email to The Associated Press he and Hallatt disagree with the ruling and are evaluating their options.
Hallatt disputed his store looks like a Trader Joe's and said he has no intention of backing down.
"We're here to see it through, and that means doing this for the people who want this stuff," he said.
Trader Joe's does not have stores in Canada. The company sued Hallatt in 2013, alleging he drove across the border to a Trader Joe's store in Washington state, bought the company's products and resold them at higher prices at his Vancouver store.
A Trader Joe's store in Bellingham, Wash. stopped selling to Hallatt after he admitted what he was doing with the goods, but he put on disguises to avoid detection, shopped at other stores as far away as California and hired others to shop for him, the company said in its complaint. It estimated Hallatt had spent more than $350,000 on its products.
In court documents responding to the lawsuit, Hallatt said his business was lawful, and he provided a service to Canadians who wanted Trader Joe's products but didn't want to go through the trouble of traveling to the U.S. to get them. Hallatt also said he never represented himself as an authorized reseller of Trader Joe's products or as an affiliate of Trader Joe's.
The case is Trader Joe's Company v. Hallatt, 14-35035.
Copyright 2016, Metropolitan News Company