Friday, November 18, 2016
Page 1
Sally Suchil Resigns as LACBA's CEO
By a MetNews Staff Writer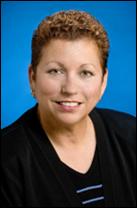 SALLY SUCHIL
Los Angeles County Bar Association CEO
Sally Suchil, the embattled chief executive officer of the Los Angeles County Bar Association, yesterday resigned her position, effective Jan. 13.
Suchil has been under fire over the past year—largely from members of the Council of Sections—for assertedly micro-managing the association and for a perceived lack of responsiveness of the staff she leads. She has been widely derided for routinely showing up at work at 4 p.m.
Controversy has also surrounded her salary. Former LACBA President Charles Michaels has pointed oiut that Suchil's annual remuneration has swelled from $197,851 in 2010 to $374,261 in 2013.
She went to work at LACBA Dec. 1, 2009.
A hint that Suchil's resignation would be forthcoming was provided by LACBA President-Elect Michael E. Meyer on Nov. 7. He told section leaders, assembled at a meeting of the Council of Sections, that "in the next two weeks," there would be a development that "will make you happy."
The desire for Suchil's departure has been a frequent topic of discussion among critics of how the association has been operating over the past few years. Hopes have also been voiced that General Counsel Clark Brown would leave his post.
Dissension within the ranks has been so widespread that a "reform" slate of candidates won election in June to all officer positions on the ballot and to all contested seats on the Board of Trustees.
LACBA President Margaret P. Stevens yesterday made the announcement of the resignation at a retreat, at which section leaders met with officers for the purpose of mending relations. Robust discussions reportedly took place.
Stevens Quoted
A press release yesterday afternoon quoted Stevens as saying:
"It is with regret that we accept Sally's resignation. She brought a much-needed business perspective to LACBA when she started in 2009, stepping into a challenging situation at our bar association immediately after the recession. She has worked tirelessly to move LACBA forward, and we have all benefitted from her business background and hands-on approach to helping reorganize staff and resources. She will be greatly missed."
Suchil Comments
The press release quoted Suchil as commenting:
"Serving as LACBA's CEO has been one of the most challenging and rewarding positions that I have ever had the pleasure of holding. I am immensely proud of the work I have accomplished at LACBA. I've truly enjoyed working side-by-side with LACBA staff and volunteers. While it has not always been easy, the things we've done to improve and upgrade LACBA's operations, technology, website and the merger resulting in Counsel of Justice, among other things, are achievements we can all be proud of.
"This was not an easy decision. It has been something I've been thinking about for some time and discussed with Margaret, who asked me to stay on as she took over the presidency. I felt now was the right time to leave LACBA in order to pursue other interests that I have put off for a number of years. I look forward to seeing LACBA's continued success."
Meyer, who chairs the Los Angeles offices of DLA Piper LLP, said he thanks Suchil for her services and wishes "her well as she enters the next chapter of her life."
Stevens said she will appoint a search committee and also will retain an executive search consultant.
In 2009, there was a nation-wide search, with former state Attorney General John Van de Kamp heading the search committee.
Suchil's initial title was "executive director."
Previously, she served as the director of corporate and legal affairs for the Hammer Museum, and before that was general counsel for the California Endowment.
She is a former president of Women Lawyers Association of Los Angeles and has served as a LACBA trustee.
This year, as in past years while she has led staff operations, Suchil was appointed by the president as LACBA secretary.
Copyright 2016, Metropolitan News Company