Thursday, October 27, 2016
Page 1
Vaino Spencer, Trailblazing Lawyer, Judge, Appeals Court PJ, Dies at 96
Jurist Was First African American Female Appointed to the Bench in California, Third in the Nation;
Starting on the Los Angeles Municipal Court, She Served on the Bench for 46 Years
By a MetNews Staff Writer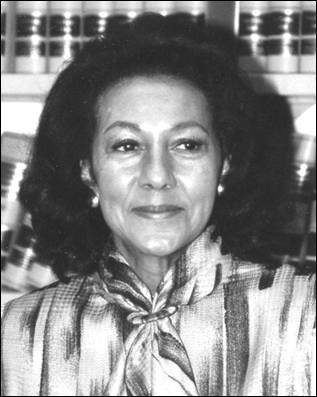 VAINO SPENCER
1920-2016
Retired Court of Appeal Presiding Justice Vaino Spencer—who led this district's Div. One for 27 years and was the first African American woman appointed to the bench in California—has died.
She was 96. Spencer died in her sleep, at her home, on Tuesday.
The woman who was to become one of the longest-serving jurists in California's history—46 years—earned her law degree from Southwestern School of Law in 1952. She was admitted to practice that same year, gaining the distinction of being the third African-American woman admitted to practice in California.
For nine years, she was in general law practice, and was involved in local political activities. In 1961, Gov. Edmund G. "Pat" Brown appointed her to the Los Angeles Municipal Court, marking the first appointment in California of a person of her race and gender, and third such appointment in the nation.
In 1976, Gov. Edmund Brown Jr. elevated Spencer to the Los Angeles Superior Court.
Spencer faced an election challenge in 1978 from Los Angeles Superior Court Commissioner Virginia Chernack (since deceased), who levelled various allegations—including excessive absenteeism and extravagance in decorating her chambers at taxpayer expense—for which substantiation could not be found. In the end, Chernack admitted that her charges were based simply on "gossip."
Spencer prevailed handily at the polls.
In 1980, Gov. Jerrry Brown handed Spencer the post of Court of Appeal presiding justice.
When the MetNews interviewed her in 1991, in connection with honoring her as "person of the year," Spencer said her proudest accomplishment was co-founding, with then-Presiding Justice Joan Dempsey Klein of Div. Three (now retired), the National Association of Women Judges. Klein was the group's first president, and Spencer was the second.
She was also a founder of the Black Women Lawyers Association.
Chief Justice Comments
California Chief Justice Tani Cantil-Sakauye yesterday said:
"Justice Spencer was a double pioneer—a pioneer for women on the bench and a pioneer for people of color on the bench in Los Angeles, statewide, and nationally. Her roles with California Women Lawyers and the National Association of Women Judges laid the groundwork for women like me to even consider a career in the legal profession, to advance within the profession, and to embrace positions of leadership. She leaves a legacy as a jurist in her opinions and as a role model in the person she was."
Former Los Angeles County Supervisor Yvonne Burke termed Spencer "a leader in the fight for women in the Justice system," and commented:
"I am greatly indebted to her for decades of support and friendship. She was a relentless fighter for equality and the rights of people of color. She was involved in the early fight for the election of African Americans to positions in government. We will miss her, her dedication and grace."
Words of Colleagues
Robert M. Mallano, who served as an associate justice in Div. One while Spencer was presiding justice, and succeeded her as head of the panel, said:
"I loved Vaino dearly and appreciated all the support she gave me. I appeared before her in 1966 when she was on the Municipal Court and was struck with her poise and grace on the bench. Her voice was always even and in control. She sought to do justice in all of the cases I was on.
"Later I had the great pleasure to serve with her on the court of appeal. She was always open to discussion and collegial, and was an excellent administrator, making certain that Division One's work was done in a timely fashion."
Court of Appeal Presiding Justice Arthur Gilbert of this district's Div. Six said of Spencer:
"Inspirational, indefatigable, indomitable, individualistic, and, at times, indivertible. No matter what letter of the alphabet I choose, similar adjectives come to mind. Altruistic, activist, argumentative (for the good cause), angry (in defense of the good cause), articulate, admirable. Rather than go through the entire alphabet, let us jump to X where I found something applicable in Webster's Third International Dictionary, 'xtry: abbreviation for extraordinary.'
"Justice Vaino Spencer's commitment to justice was reflected in her opinions, and in her support for court staff and employees. She exuded elegance, but could forcefully mix it up and argue her cause in a spirited debate. That we did not always agree did not affect our close and warm friendship. I miss her, but will not forget her. She made a difference."
Another former colleague on the Second District Court of Appeal, Norman Epstein, the presiding justice of Div. Four, said:
"Justice Spencer had a keen sense of justice, and was one of those who made a difference, especially with respect to successful encouragement of qualified women to join the legal profession and to seek the appointment to the bench."
Retired Court of Appeal Justice Elizabeth Baron remarked:
"Vaino was beautiful, elegant, gracious and kind. She was in the vanguard of women in the law and worked tirelessly to help women lawyers all across America achieve their potential as judges and partners in law firms.
"Vaino was one of a kind and will be sorely missed by all of us who are grateful for the life she lived."
Bar Leaders' Comments
"Justice Spencer was an inspiration to generations of women and minorities," Los Angeles County Bar Association President Margaret P. Stevens observed, adding:
"She graduated from law school at a time when women—to say nothing of minorities—became secretaries, not attorneys. Her repeated elevations, finally to a presiding justice of the Court of Appeal, attest to her continued trailblazing role in our profession."
Former Los Angeles County Bar Association President Patricia Phillips, of Phillips Jessner LLP, reflected:
"Vaino Spencer was a formidable jurist whose words and deeds cemented her role as one of our most respected justices. Not many judges can match Justice Spencer's natural ability to even look the part of a judge the way she did. Yet her stately appearance belied her kind and friendly personality. And while achieving perfection in her judicial career she always remained a sympathetic listener and friend."
Retired U.S. District Court Judge Dickran Tevrizian, who served with Spencer on the Los Angeles Superior Court, hailed his former colleague as "an outstanding judge" who "had class, grace and presence."
Los Angeles Superior Court Judge Eric Taylor said:
"Vaino was a friend and a constant source of inspiration and encouragement for me as a young African American lawyer, and during my time on the bench. She was brilliant inside and out."
Los Angeles Superior Court Judge Allen J. Webster Jr. had these recollections:
"I had the pleasure of knowing Justice Vaino Spencer since I was 15 years old and I'm now in my seventies. She was a friend of the family. She has been a role model, mentor and inspiration to me as well as a legal giant and pioneer in the legal profession.
"I was honored that she attended my enrobing party in 2001."
Webster, a past president of the National Bar Association, added:
"On many occasions I consulted with Justice Spencer concerning various legal issues including judicial appointments. I always received complete, insightful and comprehensive opinions and sage advice. She was truly a bellwether and leaves an indelible legacy. She will be sorely missed but never forgotten."
1991 Tributes
Various well-wishers provided tributes to Spencer, published in the Dec. 31, 1991 MetNews "person of the year" issue.
Chief Justice Malcolm Lucas declared:
"Justice Spencer's commitment to excellence and fairness in the courtroom serves as an example of judicial integrity."
California Supreme Court Justice Stanley Mosk wrote:
"With her quiet dignity, Justice Spencer has been an admired member of the judiciary for the past three decades. She takes the task seriously and is consistently aware of the demands of society and individual litigants for justice tempered with reasonable compassion."
Court of Appeal Presiding Justice Mildred Lillie offered these words:
"Many women—lawyers and judges—can thank her for so much of the success they have achieved because of her encouragement and sponsorship in their early careers."
(Lucas, Mosk, and Lillie are now deceased.)
Early Life
Spencer was born in Los Angeles on July 22, 1920, as Vaino Hassan.
In 1935, she appeared as a dancer in the Laurel and Hardy movie, "Bonnie Scotland," in which her father, Abdul Hassan, also appeared.
She graduated from Los Angeles Polytechnic High School in 1938, and was class valedictorian.
There was a delay between Spencer graduating high school and entering college. At 19, she took a job in a real estate office.
In 1949, Spencer graduated summa cum laude from Los Angeles City College.
Her experiences at Southwestern imbued in her a lasting attachment to the school. An Oct. 17, 2007 press release from the school, noting her retirement, said:
"Throughout the years, Justice Spencer has remained closely involved with Southwestern. She served on the boards of the Alumni Association, the Tom Bradley Scholarship Endowment Fund, and the planning committee for the Gilbert and Theresa Lindsay Scholarship Endowment Fund. She received the 'Outstanding Judicial Officer' award from Southwestern in 1989, and an honorary Doctor of Laws degree from the law school in 1996."
At the time of her appointment to the Municipal Court, she was married to real estate broker Lorenzo Spencer. They were divorced in 1967.
She noted in a 1987 interview with the Women Lawyers Association of Los Angeles, as part of its oral history project, that she had been wed in her first year of law school, and that this was her second marriage. She said she had been "married before I ever decided to go to law school, for a short time."
For the past several years, Spencer has lived alone in her house in Lafayette Square, without receiving visitors, but expressing the hope that someday she would summon the energy to invite her longtime friends and hold a "reunion." That day never came.
A reunion might, however, yet occur. Although there will be no funeral services, at Spencer's request, plans for a celebration of her life are being formulated, according to a close friend of the jurist.
Copyright 2016, Metropolitan News Company