Friday, September 23, 2016
Page 1
Court of Appeal Declares:
Actor's Diminished Income Didn't Justify Child Support Reduction
By a MetNews Staff Writer
The Court of Appeal for this district has reversed an order slashing child support payments from actor Ronn Moss from $2,500 a month to $555, holding that the trial court improperly based its ruling on the father's diminished income without considering the best interests of the child.
Writing for Div. Two, Justice Judith Ashmann-Gerst agreed with the ex-wife, actress Shari Shattuck, that Los Angeles Superior Court Judge Patrick A. Cathcart must redetermine the matter based on a consideration of the needs of a daughter, born in 1998. Another daughter born to the couple has now reached majority.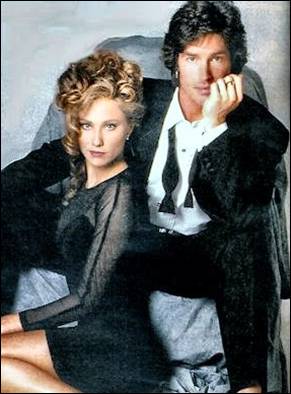 Shari Shattuck and Ronn Moss are seen in a publicity shot during their marriage.
Moss, who had been a player on The Bold and the Beautiful, a soap opera, from 1987 to 2012, left the series after spurning an offer of a new contract at $400,000 a year. He had been drawing $700,000 a year.
His income dropped to $174,238 in 2013.
Cathcart granted Moss's bid for a reduction in payments last year after finding that the actor's earning capacity was "much less in 2015 at the age of 63" and that he "did not deliberately terminate his employment contract" in connection with the soap opera "in an effort to avoid his financial responsibilities."
But, Ashmann-Gerst said, Cathcart's "statement of decision is silent on the issue of the best interest of the minor child."
She pointed to Family Law Code §4058(b) which says:
"The court may, in its discretion, consider the earning capacity of a parent in lieu of the parent's income, consistent with the best interests of the children."
That means, she said, a court may "impute" to a parent income he or she could have earned.
The jurist observed:
"[A] payor parent does not have the right to divest himself of his earning ability at the expense of minor children…. That said, a parent may voluntarily leave a job for one paying less so long as the children's reasonable needs are satisfied…."
She wrote:
"As pointed out by Shattuck, it appears that the trial court here did not consider what was in the minor child's best interests when it decided not to impute income to Moss 'on any theory of earning capacity.' Because the minor child's best interests were paramount, we reverse the trial court's order and remand the matter for further proceedings."
The case is Shattuck v. Moss, B265684. The opinion, filed Tuesday, was not certified for publication.
Laurel B. Brauer and Hogan W. Song of Brauer Law Corporation acted for Shattuck. Moss was not represented.
Copyright 2016, Metropolitan News Company