Monday, November 14, 2016
Page 1
Retired Superior Court Judge Howard J. Schwab Dies
By a MetNews Staff Writer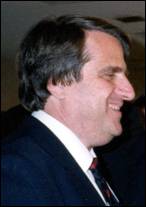 HOWARD J. SCHWAB
1943-2016
Howard J. Schwab, who served as a judge of the Los Angeles Superior Court for nearly 21 years, died Thursday morning of heart failure, at the age of 74.
Services were slated for yesterday.
He retired Feb. 14, 2005, a day after his 63rd birthday.
Schwab, who was a Democrat, was appointed to the Los Angeles Municipal Court by Republican Gov. George Deukmejian on April 11, 1984, and elevated by Deukmejian to the Superior Court on May 17, 1985.
A deputy attorney general from 1969 until his appointment to the bench, Schwab was co-counsel with Deukmejian, then the state attorney general, in People v. Frierson (1979) 25 Cal. 3d 142, in which the California Supreme Court upheld the constitutionality of the death penalty.
Philibosian Comments
Deukmejian personally argued the case before the high court. However, Robert H. Philibosian, who was chief assistant attorney general at the time, said Thursday that Schwab wrote the brief.
He hailed Schwab as a "brilliant legal mind" and an "outstanding judge, in every respect."
Los Angeles Superior Court Judge William A. MacLaughlin, a former presiding judge, remarked:
"I did have the great pleasure of serving with Howard for a number of years. He was the finest colleague that one could have. He was always supportive, ready to undertake any challenge and always made himself available to his fellow judges.
"He was a person of great intelligence, great intellectual curiosity and courage as well as common sense. He also had a wonderful sense of humor and took great delight in interchanges with all of us."
Retired Los Angeles Superior Court Judge Burt Pines termed Schwab "a real mensch," and "one of the great scholars on our court."
He said Schwab "always had time for his colleagues," who considered him a "resource."
Another retired judge of the Los Angeles trial court, Bruce J. Sottile, said of Schwab:
"He was an outstanding jurist, a judges' mentor, always willing to render assistance on difficult issues. He had tremendous recall for name of cases and citations.
"He was at all times willing to share his wealth of knowledge and wisdom on legal issues pertaining to either criminal or civil matters. He was a true student of the law, an incredible kind and all giving individual who will be sorely missed by all those who had the good fortune to have known him.
West Virginia Native
Schwab was born in Charleston, West Virginia, in 1943, and moved with his family to Los Angeles at the age of 10. He attended schools in Van Nuys, before becoming an undergraduate at UCLA, where he received a bachelor's degree, with honors, in history in 1964.
Three years later, he was conferred with a law degree there.
He did legal work at Litton Industries for a short time, did a stint in the Los Angeles City Attorney's Office, and then joined the Office of Attorney General.
While in that office, he not only worked on the Frierson case, but argued before the U.S. Supreme Court on behalf of the state in Faretta v. California (1975) 422 U.S. 806, in which the right of self-representation in criminal cases was established.
He also represented the state in several Charles Manson "family" appeals of murder convictions.
Schwab is survived by his wife, Michelle Schwab—whom he wed on July 4, 1970—and by a son, Joshua, and a daughter, Bethany.
Copyright 2016, Metropolitan News Company