Wednesday, August 3, 2016
Page 1
C.A. Affirms Anti-SLAPP Motion Won by TMZ, Harvey Levin
By a MetNews Staff Writer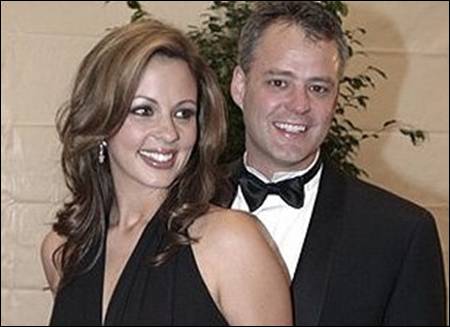 —AP
Singer Sara Evans is seen in a photograph with then-husband Craig L. Schelske.
The Court of Appeal for this district yesterday affirmed an anti-SLAPP order in an action brought by country singer Sara Evans' ex-husband against TMZ Productions, Inc. and its lawyer/producer/reporter Harvey Levin for alleging that, while married, he had on his cell phone hundreds of photographs of himself having extramarital sex.
The allegation was made on June 17, 2014, on the TMZ TV show, as well as on the TMZ website, that Evans instituted divorce proceedings against husband/manager Craig L. Schelske after finding the cache of photographs. This was stated as background information in a report centering on Schelske's bankruptcy filing.
Yesterday's opinion affirms a decision by Los Angeles Superior Court Judge Michael L. Stern terminating Schelske's action.
Public Issue Found
Writing for Div. Two, Justice Judith Ashmann-Gerst readily found applicable the first prong of the anti-SLAPP statute: that the action arises from speech in connection with a public issue. She wrote, in an unpublished decision:
"Here, a public issue was implicated because plaintiff was in the public eye and his divorce was a matter of public interest. While plaintiff contends that his personal life (his alleged cheating) does not concern a public issue, the record shows otherwise—the public was widely interested in plaintiff's divorce from Evans…and plaintiff took steps to keep the circumstances surrounding and following his divorce in the public eye."
Turning to the second prong of the statute, Ashmann-Gerst said that Schelske failed to show a probability that he would prevail at trial. As a limited public figure, she said, he was required to show actual malice—that the defendants knew the statement was false or acted in reckless disregard of the truth—and that no such evidence was put forth.
Limited Public Figure
Rejecting Schelske's contention that he was a private figure, the jurist said:
"Here, plaintiff repeatedly injected himself into the public eye on issues related to his divorce. He wrote a book that he sought to have published. He met with at least one producer and one production company to have a film made to tell his story. He gave an interview on HuffPost Live. He gave an interview on Dadsdivorce.com. He appeared on Anderson Cooper's nationally syndicated show. And, he publicized his lawsuit and subsequent settlement with [Evans' attorney, whom he sued for slander]. Taken together, these facts establish that plaintiff was a public figure for purposes of his defamation action."
The reporter who uttered the allegation concerning the photographs, Shevonne Sullivan, did get the facts somewhat wrong. Evans had alleged in her 2006 petition for dissolution of marriage that her husband had "at least 100 photographs" of himself with a portion of his anatomy extended and that he had "several photographs showing" him "having sex with other women."
Ashmann-Gerst wrote that Sullivan "captured the 'gist' of the allegations in Evans's divorce complaint," and thus, "defendants could not have made the on-air statement with malice."
Doubts Not Established
She continued:
"Plaintiff also asserts that defendants entertained serious doubts regarding the truth of their claim that plaintiff took 100 photographs of himself cheating on Evans; therefore, defendants had a duty to investigate….But plaintiff offers no evidence to support his supposition regarding defendants' alleged doubts."
To the contrary, Evans said in a declaration that she genuinely thought that what she reported accurately reflected the allegation in the petition.
The case is Schelske v. TMZ Productions, B262173.
R. Rex Parris, Jason P. Fowler, John M. Bickford, and Sean J. Lowe of the R. Rex Parris Law Firm represented Schelske. Linda M. Burrow, Arwen R. Johnson, and Amy E. Pomerantz of Caldwell Leslie & Proctor acted for TMZ, another production company, and Levin.
Copyright 2016, Metropolitan News Company