Thursday, December 1, 2016
Page 1
Court of Appeal Voids Order That Probationer Stay Away From His Church
Says That Such a Condition of Probation Cannot Be Imposed Simply Because Parents of the Child Defendant Attempted to Kidnap Worship There; Further Findings Required
By a MetNews Staff Writer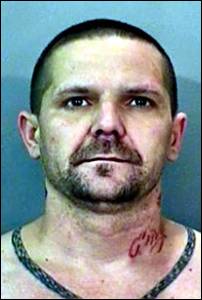 SALTEKOFF
—Redding Police Department booking photograph
The Third District Court of Appeal yesterday reversed a condition of probation that an attempted kidnapper not only stay away from the infant he tried to abduct and his family, but also that he not come nearer than 100 yards from the church to which the family belongs—although it is also the defendant's place of worship.
Remanding the matter for further findings, the appeals court said the order impinges on the defendant's constitutional right of religious freedom and cannot stand given "the paucity of facts in the record regarding the victim's and defendant's connection to the church—as well as the dimensions and operations of the church itself, and whether it is possible that all involved families could worship there but at separate times or at a sufficiently safe distance."
Justice Elena J. Duarte wrote the opinion, which was not certified for publication. The case is People v. Saltekoff, C080288.
Child in Restaurant
Defendant Jonathan William Saltekoff appeared to be fixated on the victim, a 9-month-old boy, who was with his parents in a restaurant in Redding. When the infant started fussing, his father, identified in news reports as Carmody Homan, took him outside in his stroller.
Saltekoff followed and started to walk off with the stroller when the father was momentarily distracted. He went only about two or three feet before Homan grabbed the stroller back, taking his son back into the restaurant, and then joining police in a search for Saltekoff.
Shasta Superior Court Judge Cara Beatty sentenced Saltekoff—who pled no contest to attempted kidnapping, with a prior serious felony, after a jury deadlocked—to 10½ years in prison, but suspended execution of the sentence and placed him on five years of formal probation.
Objection to Condition
Saltekoff's lawyer objected to the condition that the defendant keep clear of Bethel Church. He acknowledged that the victim's family attended services there, but argued that Saltekoff and his family also belonged to the church.
Beatty snapped: "Well, he can't go there."
The lawyer continued:
"And just for the record, we're objecting to that because he does have a freedom of religion, and that is his family's church."
Duarte said in yesterday's opinion that Beatty "did not undertake the proper analysis to justify banning defendant from Bethel Church under any and all circumstances." She continued:
"Because the trial court did not undertake the required analysis, the record is insufficient. Further facts and findings are required…."
It must be determined on remand, she said, whether "the condition meets the strict constitutional standards" which apply where a constitutional right is curtailed.
"A probation condition that burdens a constitutional right is permissible only if it is necessary to serve the purposes of rehabilitation and public safety," Duarte wrote, adding:
"The challenged condition is not a facially neutral law of general application that impacts defendant's free exercise of religion only incidentally….
"Here, we assume the challenged condition burdens defendant's exercise of religion, because it bars him completely from going to his family's church. This bar is in place regardless of whether the victim is present or not. The record supports a restriction on defendant's occupying the same space as the victim at any given time, but it likely does not support banning defendant from his family's church absent the victim's presence there. Of course, the church itself may choose to place limits and restrictions on its attendees. But government restrictions on defendant's free exercise of his religion must be narrowly tailored to support a compelling state interest. The trial court made no such findings here, and the record is not sufficient for us to fill in the gaps."
Copyright 2016, Metropolitan News Company