Friday, June 10, 2016
Page 1
Ninth Circuit, in En Banc Ruling, Upholds Concealed Carry Limits
From Staff and Wire Service Reports
State and local governments may ban or restrict the carrying of concealed firearms in public, the Ninth U.S. Circuit Court of Appeals said yesterday in an en banc decision.
"The right of a member of the general public to carry a concealed firearm in public is not, and never has been, protected by the Second Amendment," Judge William A. Fletcher wrote. "Therefore, because the Second Amendment does not protect in any degree the right to carry concealed firearms in public, any prohibition or restriction a state may choose to impose on concealed carry—including a requirement of 'good cause,' however defined—is necessarily allowed by the Amendment."
By a vote of 7-4, the court upheld a California law that says applicants must cite a "good cause" to obtain a concealed-carry permit. Typically, people who are being stalked or threatened, celebrities who fear for their safety, and those who routinely carry large amounts of cash or other valuables are granted permits.
Panel Decision
The court granted en banc rehearing following a 2-1 2014 decision in favor of the California Rifle and Pistol Association and four individuals on their Second Amendment claim against San Diego County and Sheriff William Gore. The panel majority said the county's policy of equating good cause with "special need," such as the existence of specific dangers or threats, infringes on the right to "bear Arms" as the framers of the amendment envisioned it.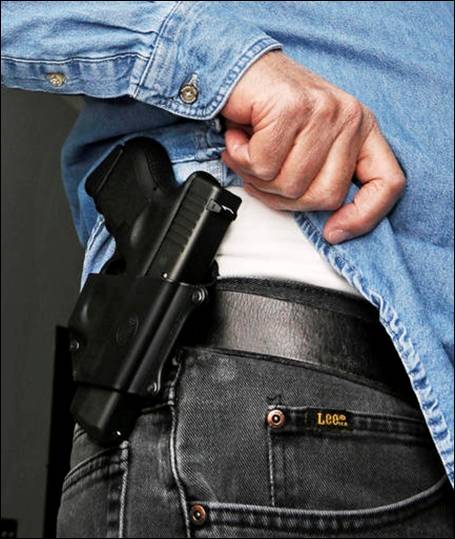 In this Feb. 27, 2013 file photo, Edward Peruta displays his handgun which was concealed under his shirt, in Fresno.  (AP Photo, Al Behrman, File)
Fletcher, however, cited hundreds of years of English and American precedent upholding restrictions on concealed carry of firearms in public. The U.S. Supreme Court's Second Amendment case law, culminating in District of Columbia v. Heller (2008) 554 U.S. 570 and McDonald v. City of Chicago (2010) 130 S.Ct. 3020, does not hold otherwise, he said.
Chief Judge Sidney R. Thomas, Senior Judge Harry Pregerson, and Judges M. Margaret McKeown, Richard A. Paez, Susan P. Graber and John B. Owens joined the opinion. Graber, joined by Thomas and McKeown, added a separate concurrence opining that even if the Second Amendment applied to concealed carry in public, the San Diego restrictions—and those adopted by Yolo County in a consolidated case—would be constitutional.
Dissenting Opinion
In a dissent, Circuit Judge Consuelo M. Callahan argued that "under Heller, states cannot prohibit both open and concealed carry, thus eviscerating the right to bear arms in public for self-defense." The history of the amendment, she said, does not support the holding that it is limited to possession inside the home.
Judge Carlos T. Bea joined Callahan's dissent, while Judges Barry G. Silverman and N. Randy Smith joined in part.
The Second, Third, and Fourth circuits have ruled similarly to the en banc panel, while the Seventh Circuit struck down Illinois' complete ban on carrying concealed weapons. California and Hawaii are the only states in the Ninth Circuit that require good cause for a concealed carry permit, while the other seven states allow anyone with a clean criminal record and no history of mental illness to get a permit.
NRA Unhappy
The National Rifle Association called yesterday's ruling "out of touch."
"This decision will leave good people defenseless, as it completely ignores the fact that law-abiding Californians who reside in counties with hostile sheriffs will now have no means to carry a firearm outside the home for personal protection," said NRA legislative chief Chris W. Cox.
Gun control advocates and others hailed the ruling.
"This is a significant victory for public safety and for local jurisdictions that apply sensible policies to protect the public," said California Sen. Dianne Feinstein, a Democrat. Attorney General Kamala Harris—the frontrunner in Tuesday's primary election to succeed Sen. Barbara Boxer— called the decision "a victory for public safety and sensible gun safety laws" and said it "ensures that local law enforcement leaders have the tools they need to protect public safety by determining who can carry loaded, concealed weapons in our communities."
Harris intervened in the action after San Diego officials declined to seek rehearing.
The San Diego Sheriff's Department said yesterday that since the three-judge panel tossed out the law two years ago, it has received 2,463 applications from people seeking a concealed-weapon permit without having to show good cause. Sheriff's lawyer Robert Faigan said the department hasn't processed those applications and will continue to hold on to them while it waits to see what the Supreme Court does.
The case is Peruta v. County of San Diego, 10-56971.
Copyright 2016, Metropolitan News Company