Tuesday, November 1, 2016
Page 8
PERSPECTIVES (Column)
LACBA Seeks to Promote Candidacies of Three Judicial Aspirants
By ROGER M. GRACE
Over a period of 50 years, the Los Angeles County Bar Association endorsed judicial candidates, on the basis of a balloting-by-mail plebiscite. It even purchased space in newspapers to publicize its recommendations. But that was in days gone by. The last plebiscite took place in 1970, and since 1976, LACBA has, through a committee, rated candidates for judgeships in the primary and released its report to the public, without endorsing. Now, absent any official action authorizing it, LACBA is once again promoting candidates, in the Nov. 8 run-off election, and doing so on the basis of what is akin to an electronically transmitted slate mailer.
The propriety of this action is questionable, given that it lacks official sanction. And some of the ratings arrived at, by what appears to be an ill-constituted Judicial Elections Evaluation Committee, are, in my view, quite off base.
LACBA on Oct. 21sent the email appearing above to its members.
The association asks members to take the "guide" into the polls with them—and that request obviously does not contemplate the member merely keeping the "guide" in a pocket or purse while voting; it calls for looking at the guide, and casting a ballot in the judicial races in conformity with LACBA's ratings. Plainly, the instruction is: "Vote for Schreiner, Aceves, and Nguyen—and you're on your own in the Perez/Townsend race."
The email urges the recipient to share the "guide" with "friends, family, colleagues, and social organizations." Implicit in that is prescribing that lawyers utilize it as a basis for advising clients who, as is common, make inquiry as to who to vote for in judicial races. Whether an obliging LACBA member forwards the Oct. 21 email to others, or uses it as a basis for orally counseling people on how to vote, the message to be imparted is: Vote for Schreiner, Aceves, and Nguyen.
By the way, I personally do intend to vote for Schreiner and Aceves—based on this newspaper's independent evaluations of the candidates, not the LACBA ratings. As to its call for a vote for Nguyen over Berger: phooey!

In responding to my question, posed in an email, as to who devised the Oct. 21 email and who approved it, LACBA President Margaret P. Stevens provided a statement, published below. She says that there have been similar advisories in recent years, including one on June 1 (prior to the primary), and that LACBA is merely seeking to publicize its ratings.
While I do appreciate Stevens' responsiveness (something LACBA staff, of late, fails to display on many fronts, in many contexts), I would suggest she's missing the point. The point is that LACBA has gone beyond its authorized mission, under the rules, of evaluating judicial candidates and releasing its results.
When her husband, appellate lawyer Robin Meadow, was JEEC chair in 1984, the committee's ratings were released at a press conference during the primary, at which Meadow (who was to become 2003-04 LACBA president) participated along with that year's County Bar president; the news media reported the findings; and LACBA sat back, as an observer, hoping that its findings would be a factor taken into account by voters, but not reverting to its role as an advocate.
The approach in the four election years preceding 1984 was the same: unveil the report, count on it to have an impact, don't promote candidates. That approach persisted through the years.

What I recall LACBA doing in at least the last two judicial elections, after the primary, was to show each of its judicial ratings on its website and indicate who won or got into a run-off. There did appear to be a correlation between the rating and success—though this was in all probability coincidental. (What counts most is being on slate mailers, having a strong-sounding ballot designation such as "child molestation prosecutor," and not having a foreign sounding name like Dzintra Janavs, as well as the endorsement of the Los Angeles Times.)
This year, it's not taking that same approach. Why? It is clear that the ratings do not sway voters. In the race for Office No. 42, it rated three candidates "well qualified" and one—Alicia Molina—"not qualified"; Molina in is a run-off. For Office No. 158, it adjudged two candidates "well qualified," two candidates "qualified," and one candidate—David Berger—"not qualified"; Berger is in the run-off.
Stevens notes that the "notice" issued on Oct. 21 was the same as one dispatched on June 1. The email of that date did say: "PLEASE PRINT OUT THESE JUDICIAL RATINGS AND TAKE THEM WITH YOU TO THE POLLS ON JUNE 7." That email, however, did not at all resemble a slate mailer. There were ratings of 23 candidates in seven races, and in each of the four open-seat contests, two or more candidates had the same rating.
By contrast, the "guide" above shows:
Archuleta—Qualified; Schreiner—Well Qualified
Aceves—Well Qualified; Molina—Not Qualified
Berger—Not Qualified; Nguyen—Well Qualified
This communicates a recommendation on how to vote just as effectively as a slate mailer reading:
[X] Schreiner
[X] Aceves
[X] Nguyen
In 1996, each LACBA member was sent a copy of the JEEC report containing the ratings and an explanation of the criteria and procedures. A cover letter says "The Association and the Committee neither endorse nor oppose the election of specific candidates." The Oct. 21 email creates a contrary impression.
This contravenes the decision made 40 years ago, after a thorough study of options, to cease advocating for the election of judicial candidates, and just rate them. Deviation from that is a change that was made without discussion, let alone action, by the Board of Trustees.

This year, and two years ago, some of the ratings JEEC came up with struck me as bizarre, in light of information gathered by this newspaper in covering the judicial races, and observations of the candidates in interviews.
Over the past several years, many prosecutors who had been unable to gain appointment to the bench have attained judgeships through election. Some thought it was too many. The 2014 ratings appeared to reflect a bias against deputy district attorneys, a conscious or unconscious penalization of them, in points, based on the jobs they held. Some of the questions asked of candidates who were DDAs, as recounted by them, were peculiar.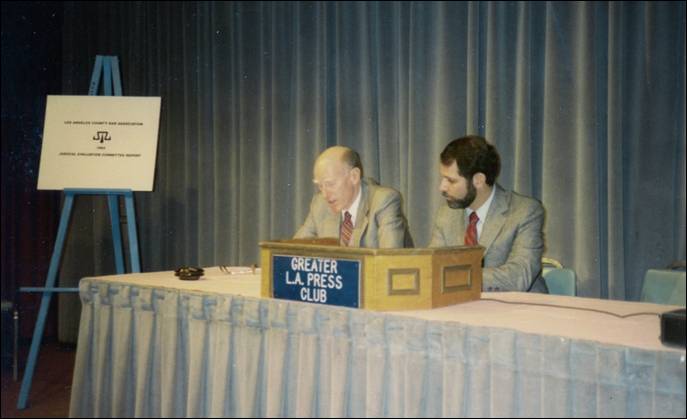 1984 LABCA President Gavin Miller, left, appears at a press conference with JEEC Chair Robin Meadow (later president of the association) to announce the candidate ratings.
This year, some of the ratings in the primary were puzzling, indeed.
So far as the labels affixed to candidates in the race for Office No. 158, my own assessment would be that four of the candidates received ratings that were excessively generous, and one was wrongfully dinged.
For JEEC to term Deputy District Attorney David Berger "not qualified" causes me to think that it is the members of JEEC who are unqualified, so far as issuing candidate ratings. Berger, by any objective measurement, has such experience, intelligence and temperament as to render him, clearly, "well qualified."
By contrast, his opponent, Deputy Attorney General Kim L. Nguyen, has never tried a case. She is a delightful, bright, and energetic young woman who some day will in all probability be worthy of the post she seeks. But her time has not come.
Nguyen's claim of entitlement to being elected centers on the fact that, if placed on the bench, she would be the only Vietnamese American to sit there. Uh huh. So, we should elect her, notwithstanding her lack of requisite experience, because the almighty cause of "diversity" would be better satisfied by electing a Vietnamese American to the bench, rather than a native of Great Britain?
I find that rationale unconvincing. I agree with Stevens that we should seek to "to get the most qualified jurists on the Los Angeles bench." That surely means not discriminating against any individual based on ethnicity, gender, religion, or sexual orientation—or discriminating in favor of any individual on any of those bases.

So, why was Berger assigned LACBA's lowest rating? From what I understand, he was railed against by a loud member of JEEC, both at the subcommittee and committee level, who, in addition to practicing law, is a disc jockey of opera recordings at KUSC FM.
Berger's transgression, as it was perceived to be, was his exercise of his First Amendment rights in denigrating then-Los Angeles City Attorney Carmen Trutanich during his ill-fated 2012 bid for election as district attorney. Berger employed satire—in the tradition of his native Britain's magazine "Punch," or the U.S.'s "Harvard Lampoon" or "Mad Magazine"—deriding the politico's buffoonery by superimposing a clown's hat on his noggin.
Never mind his performance in a courtroom, his knowledge of the law, his urbane and soothing manner. Look at his political activity. Or so would JEEC's approach suggest.
I do not grasp how publishing robust political commentary on the Internet disqualifies an attorney from judicial office. There are numerous persons who held partisan political offices and displayed no political bias in performing subsequent judicial duties. Among them are Fifth District Court of Appeal Justice Charles Poochigian and the late Justice James Cobey of this district's Court of Appeal, who had served as state senators…oh, and U.S. Chief Justice William Howard Taft, a former president.
The sedate and objective nature of Berger's blog in its references to the current judicial election should alleviate any concerns, based on pure speculation, that he would engage in unseemly political activity if he became a judge.
Yet, he has been branded by LACBA (JEEC ratings automatically become those of the association) as unqualified. I repeat: phooey!
Tomorrow, I'll take a look at the composition of JEEC.



FOOTNOTE: I was heartened to see this comment by Stevens in her email to me:
"In drafting this response, I went to our website to confirm what the process involved. I found that the JEEC handbook was password-protected, and immediately asked that the document be made accessible to the public."
The erstwhile inaccessibility to the handbook by anyone other than JEEC members and candidates was asinine, though typical of the prevailing LACBA penchant for secrecy. It is to Stevens' credit that she lifted the restriction.
It is to be hoped that the minor epiphany experienced by her upon seeing that the JEEC Handbook was hidden from view, except as to a few persons, presages further "declassification" of documents of a non-sensitive nature. There is, indeed, no valid reason why agendas, minutes, and bylaws should be kept secret.
Oh, yes, it should be noted that the association bylaws are no longer totally secret. While you cannot access them on the LACBA website, or gain any guidance on how to obtain them by typing "bylaws" in the search block on the main page, you can, if you happen to type "corporate governing documents," gain a link to a page that says: "For members who have inquiries about corporate governance documents, please contact LACBA General Counsel at cbrown@lacba.org or (213) 627-2727."
Stevens has taken some positive steps since assuming office on July 1, and there are rumblings of other intended changes. But she simply has not stepped lively enough, to date, in response to the results of the LACBA election in which members overwhelmingly rejected the establishment's slate of candidates, repudiating the status quo. Stevens, as president-elect, automatically ascended to the presidency; were that ascension not mandated by the bylaws, it cannot be doubted that she would have been downed by voters as part of a leadership that was widely perceived as ill-serving the association.
She needs to decide whether she will be a meaningful part of the reform process, bringing openness and fiscal responsibility to LACBA, or will merely seek to placate critics with token changes and silly moves like hiring a "facilitator"—as she has, at an undisclosed expense—to inquire as to the concerns of the sections, which have already been clearly and forcefully articulated.
Her declassification of the JEEC Handbook is a positive sign. More than that is needed.
_________________________________________________________________________________________
LACBA's President Responds to Question in Email
Having read your newspapers for years, I know how much you value competent and qualified jurists, and that you appreciate the critical need in what has become the largest judicial system in the world, issuing opinions that affect members of our community every day. The Metropolitan News-Enterprise also offers recommendations for candidates, as it does in this election. On this we share common ground: You and LACBA believe it is important for the general public to have recommendations regarding candidates.
LACBA devotes resources to two committees regarding candidates for the superior court bench – the Judicial Appointments Committee, which is the local equivalent of the State Bar's Commission on Judicial Nominees Evaluation, and the Judicial Elections Evaluation Committee ("JEEC"). The volunteer members of these committees devote hundreds of hours each year to closely scrutinizing potential candidates, and they offer the candidates the opportunity to be interviewed so they can present their qualifications in person.
In your email today, you note that LACBA has been involved with judicial elections for many decades, but take issue with LACBA's notice to its members from [Oct. 21].
Specifically, you state that this notice somehow constitutes promotion of the candidates, and you ask who wrote and/or approved this statement. The notice is nothing new. It's the same notice we issued on June 1, and very similar to notices to members about the JEEC's ratings in prior years. It continues a long-standing practice of trying to get our ratings in the hands of as many voters as possible. The specific email approach was developed by the JEEC and staff, in response to concerns and criticisms that LACBA wasn't adequately promoting the ratings. These date back at least as far as 1996 when the Metropolitan News-Enterprise quoted [political consultant] Joe Cerrell [now deceased] chiding LACBA "for failing to adequately publicize its judicial candidate ratings" and saying that LACBA "makes the 'single most important endorsement in judicial races.'"
If you are questioning the process used by the JEEC (comprising some 40 volunteers), I can assure you that every precaution is taken to provide neutral evaluations of every candidate. The ultimate rating given to any candidate depends on the qualifications and factors examined by the JEEC in its process. Candidates are not compared to one another, and are not ranked – each receives an individual rating. That is why multiple candidates can receive the same rating. Also, anyone whose tentative rating is less than "well-qualified" has an opportunity to appeal to the full committee. (In drafting this response, I went to our website to confirm what the process involved. I found that the JEEC handbook was password-protected, and immediately asked that the document be made accessible to the public.)
I disagree with your comment that publicizing the JEEC's ratings constitutes the promotion of any type of slate. That could not be true, given that—as is the case with Office No. 84 in this election, and with multiple candidates in the primary—multiple candidates have the same ratings. The reason for promoting these ratings is to reach the same goal you have espoused for many years now – to get the most qualified jurists on the Los Angeles bench. We strongly believe that this is central to LACBA's mission, and one of the most important services LACBA renders to the bench, bar and general public.
MARGARET P. STEVENS
President
Los Angeles County Bar Association
Copyright 2016, Metropolitan News Company