Thursday, January 7, 2016
Page 1
C.A. Imposes $5,000 Sanction on Pro Per Attorney
Says Katerina F. Perreault Filed Frivolous Appeal, Driven by Vindictiveness
By a MetNews Staff Writer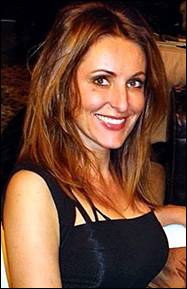 KATERINA F. PERREAULT
Attorney
The Court of Appeal for this district yesterday affirmed the trial court's denial of a motion by a self-represented attorney to disqualify her opposing counsel, and socked her with a $5,000 sanction for bringing a frivolous appeal.
Div. Two, in an opinion by Presiding Justice Roger Boren, ordered North Hollywood attorney Katerina F. Perreault pay the money to Lenny Janner, the lawyer for the special administrator of the estate of her late ex-husband, who died during pendency of the appeal.
The opinion also affirms a $1,350 sanction imposed on Perreault by Los Angeles Superior Court Judge Virginia Keeny for bringing a meritless motion to disqualify Janner on the unsubstantiated ground that he "forged" a restraining order against her.
Boren pointed out in a footnote:
"Ms. Perreault does not dispute that she is the subject of a criminal restraining order issued in 2012, following her conviction for domestic violence against her former husband, Andre Perreault. The opening brief indicates that there is also a 2014 civil restraining order against Ms. Perreault."
Although the opinion only lightly touches on the nature of the litigation, Boren provides a glimpse at the factual setting by stating:
"We fail to see how a restraining order that was supposedly altered to include the family dogs and a stay-away requirement has any continuing effect on judicial proceedings."
Superior Court records show that the underlying action, which Perreault filed May 28, 2013, was for contractual fraud. The case was related by the court to the dissolution of marriage action filed by her husband on Nov. 21, 2011.
Inadequate Appellate Record
Explaining the affirmance of Keeny's denial of Perreault's motion to disqualify Janner, Boren said she failed to provide an adequate record on appeal, noting:
"The appendix is comprised of disjointed bits and pieces. There are multiple copies of the criminal restraining order against Ms. Perreault; a copy of a civil lawsuit brought by appellant; an attorney bill; and several proofs of service and declarations that are unattached to any motion or opposition papers."
Boren went on to say:
"The only proper items before this Court are the trial court's minute order denying appellant's motion to disqualify and the reporter's transcript of the hearing on the motion. The trial court found 'no evidence' to support disqualification and characterized the motion as 'an effort to make Mr. Perreault needlessly spend his resources and energy and to divert the court and the petitioner's resources from the real issues before the court.' "
He noted that the $1,350 sanction was not appealable, pointing out that under Code of Civil Procedure §904.1, only sanctions in the amount of $5,000 or more can be appealed. Boren continued:
"Even if we treat this as an attempted writ petition, we uphold the trial court's sanctions. In the trial court, Ms. Perreault provided 'no evidence' to support disqualification, just as she has provided this Court with no admissible evidence of any link between Attorney Janner and any claimed alterations to the restraining order. A motion to disqualify made without any supporting evidence of wrongdoing or ethical conflict is frivolous on its face."
Reasons for Sanction
The jurist set forth why the court was imposing a monetary sanction, on its own motion:
"We have no difficulty concluding that this appeal is totally and completely without merit. The trial court found no evidence in appellant's motion to support disqualification. On appeal, Ms. Perreault has doubled down on a bad bet by failing to present this Court with either the motion to disqualify or the opposition to it, thereby insuring that there would be no evidence on which to even review the trial court's ruling. Apart from submitting an inadequate appendix to this Court, Ms. Perreault's brief is incoherent, replete with vindictiveness rather than legal reasoning.
"Focusing on appellant's bad faith, we conclude that this appeal was prosecuted for an improper motive. We observe that Ms. Perreault has a history of tormenting her former husband, the now-deceased Andre Perreault, to the point of physically assaulting him, resulting in her criminal conviction for domestic violence. Though Ms. Perreault was prevented from physically attacking decedent as a result of restraining and protective orders, we may infer that her baseless attack on decedent's counsel, Mr. Janner, was intended to harass decedent, even as he was dying of cancer, and to force decedent to needlessly expend his energy and financial resources to fend off Ms. Perreault."
Boren added:
"Ms. Perreault's conduct falls far short of the professionalism expected of a lawyer. She has lost sight of her responsibilities as an officer of the court while waging a vendetta against her former husband and his family, wasting judicial resources in the process."
The opinion, in compliance with two provisions of the Business & Professions Code, orders that upon issuance of remittitur, the clerk send a copy of the opinion to the State Bar.
Neither Perreault (also known as Flener) nor Janner responded to an emailed request for comment.
The case is Perreault v. Lebowski, B261082.
Copyright 2016, Metropolitan News Company