Wednesday, October 19, 2016
Page 1
Retired Superior Court Judge Michael Farrell Dies at 78, Services Set for Monday
By a MetNews Staff Writer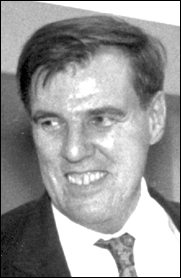 MICHAEL P. FARRELL
1938-2016
Services will be held Sunday and Monday for retired Los Angeles Superior Court Judge Michael P. Farrell, who died Sunday at the age of 78.
Farrell was appointed to the Los Angeles Municipal Court by then-Gov. George Deukmejian in 1986 and was elevated to the Superior Court more than two years later. He sat mostly in the San Fernando Valley, including a two-year stint as Northwest District supervising judge followed by a term as site judge in Chatsworth.
He was initially assigned to a civil courtroom in Pomona. But after commuting 60 miles each way daily from his Northridge home, he agreed to take over a backlogged criminal calendar in Van Nuys, despite his lack of criminal law experience.
"I had never even done a traffic ticket until I became a judge," he once told an interviewer.
He soon heard the high-profile murder case of Mark Alan Bradford, who convicted of the grisly torture murder of a Ventura Boulevard motel manager. He sentenced Bradford to death in 1990, calling the circumstances "appalling"—the victim had been raped, strangled, and stabbed—and rejecting the defense argument that Bradford's lack of a serious prior conviction was a sufficient mitigating circumstance.
He also presided over the month-long trial of Debra Cummings, a babysitter acquitted of killing a 9-month-old. The trial was broadcast live on Court TV, and the judge subsequently commented that the only effect of television coverage on the proceedings was that the attorneys were inspired to prepare better.
He retired from the court in 2006.
A child of Irish immigrants, Farrell was born in New York City, but his family moved to Los Angeles when he was 10 years old.
He attended local schools, graduating from Loyola High School, studying engineering at Loyola University before graduating from UCLA and Loyola Law School. He worked at a personal injury firm, at San Fernando Valley Legal Services, and at a restaurant management company before joining Global Marine, Inc., for which he worked in the Philippines for five years.
In 1985, he was named by then-U.S. Attorney General Ed Meese as a bankruptcy trustee for the Central District of California, a post he held until Deukmejian named him to the bench.
Farrell served on a number of court committees and was active in a number of legal groups, including the Irish American Bar Association, which he cofounded in 1980. He was known for wearing an illuminated green bow tie in the courthouse every St. Patrick's Day.
Survivors include his brother, retired Los Angeles Superior Court Judge John Farrell. The brothers served together at the Van Nuys Courthouse for a number of years, and it was John Farrell, then a Los Angeles Municipal Court judge, who administered the oath when his brother was appointed to the Superior Court.
Other survivors include his wife of 50 years, Susan Farrell; his children Michael S. Farrell, Erin Mansoor, Colleen Ehrlich, Kathleen Dupin, and Kevin Farrell; his 12 grandchildren; and sister Mary Cancel.
The rosary will be said Sunday at 7 p.m. at Utter McKinley San Fernando Mission Mortuary, 11071 Columbus Avenue, Mission Hills. Funeral mass will be Monday at noon at San Fernando Mission Church, 15151 San Fernando Mission Blvd. in Mission Hills.
Copyright 2016, Metropolitan News Company