Friday, September 9, 2016
Page 1
Memorial Service Set for Retired Judge Smith
By a MetNews Staff Writer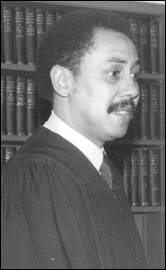 SHERMAN W. SMITH JR.
1944-2016
A memorial service has been scheduled for Sept. 17 for retired Los Angeles Superior Court Judge Sherman W. Smith Jr., who died Sunday at the age of 72.
Smith's passing came after a long battle with cancer, Presiding Judge Carolyn Kuhl said in an email to colleagues.
The jurist, who retired in 1999, was born in Washington, D.C., where his father—who later served on the Los Angeles Municipal Court and the Los Angeles Superior Court—was attending Howard University. The younger Smith obtained his undergraduate and law degrees from Howard, then was admitted to the State Bar of California and joined the Los Angeles County Public Defender's office in 1969.
He remained there until 1976, when he moved to the Los Angeles City Attorney's Office, first as an appellate lawyer and then as special counsel to City Attorney Burt Pines. He began his career on the bench when he was appointed to the Los Angeles Municipal Court by Gov. Jerry Brown in 1979—16 years after Brown's father appointed Smith's father to the same court.
Smith quickly rose through the administrative ranks of the court, serving as supervising judge in West Los Angeles in 1981, assistant presiding judge of the entire court in 1982, and presiding judge in 1983.
After losing his electoral bid for an open seat on the Los Angeles Superior Court in 1984, he made a second try and was elected in 1988. He was assigned to Juvenile Court in 1989, then took a criminal assignment in 1991.
Smith was then assigned to the Compton Courthouse in 1992, and transferred to Central Civil in 1994. He retired in April 1999 and joined JAMS as a private judge the following year.
Smith's Sept. 17 memorial service is scheduled for 11 a.m. at St. James' Episcopal Church, 625 S. St. Andrews Place, Los Angeles, CA 90005. The phone number is (213) 382-2315.
Copyright 2016, Metropolitan News Company