Friday, February 19, 2016
Page 1
Military Service Set for Retired Judge Emerson
By a MetNews Staff Writer
A military funeral service has been scheduled for Feb. 29 for retired Downey Municipal Court Judge Leon Emerson.
Emerson retired in 1985 but later sat on assignment. He died Feb. 11 at the age of 90.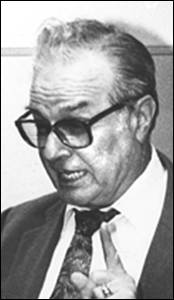 LEON EMERSON
1925-2016
A native of Oklahoma, he came to California during World War II. After completing his service in the Navy, he earned degrees from both Loyola University, as it was then known, and Southwestern Law School in 1951, after earlier attending Compton College.
He joined an existing law practice in Downey the following year, handling personal injury, corporate, and estate planning matters, along with "a lot of people problems," he once told an interviewer.
He also joined the local Democratic Party, and helped steer the 1956 incorporation of the City of Downey. He was named to the Downey Municipal Court in 1961 after getting friends to write letters to then-Gov. Pat Brown, he once explained.
Emerson was best known for his efforts to treat alcoholism. He said he became seriously interested in the topic when he attended an Alcoholics Anonymous meeting in 1963 at the behest of a former drunk-driving defendant he had ordered into the program.
He subsequently attended "hundreds" of meetings, was asked to address AA's world conference in 1980, lectured to judges and attorneys throughout the state, chaired Los Angeles County's alcoholism advisory board and the State Bar's Committee on Alcohol Abuse, and co-founded the agency now known as the Southern California Alcohol and Drug Programs.
He has also been credited with developing the "court card" used by judges to verify that defendants ordered to attend AA meetings have complied.
He also founded a counseling center in his hometown of Downey, and served as president of the Downey Chamber of Commerce and the Exchange Club of Downey.
His efforts to deal with substance abuse through creative sentencing in his courtroom drew both praise and criticism. He once told a reporter that he was disqualified from about one case every day because many defendants did not want to submit to what they considered to be onerous treatment conditions.
He explained his philosophy in handling criminal cases as being grounded in the belief that "people who are criminals should be punished, but the people who are sick should be treated."
After retiring from the court, he continued his work on substance abuse treatment, and served as an assigned judge in the Los Angeles Superior Court from 2000 to 2005, and later in the Orange Superior Court.
Theodore Cohen, a founder of the attorney self-help group The Other Bar and the ABA Commission on Impaired Attorneys, praised the judge for having "dedicated his life to helping, lawyers, judges, and individuals whose lives had been devastated by alcoholism (and other forms of chemical dependency)" and done so "long before it was fashionable."
He "was one of the first judges, if not the first, to initiate a program for drunk drivers to earn their way out of jail time by agreeing to attend meetings of Alcoholics Anonymous and therapy groups," Cohen told the MetNews. "Leon was instrumental in getting the State Bar and the L.A. County Bar to establish Committees on Alcohol Abuse to encourage lawyers and judges who had a problem with alcohol to come out of the closet to get help and he encouraged us to establish recovery groups for lawyers and judges (and now law students."
Emerson is survived by sons Donald and David Emerson, daughter Julia Emerson, three grandchildren, two great-grandchildren, and sister Cleo LeVally of Oklahoma, according to the Downey Patriot, which reported his death yesterday.
His daughter told the Patriot he wanted a "fun funeral." She encouraged his friends to honor him, whether they attend the service or not, by wearing "bright, fun colors on Leap Year day" and to "smile to remember the loud jackets and ties he often wore under his dark judicial robes."
The Feb. 29 service will be held at 11:45 a.m. at the Riverside National Cemetery, 22495 Van Buren Blvd., Riverside, CA 92518; (951) 653-8417.
Copyright 2016, Metropolitan News Company