Thursday, February 18, 2016
Page 4
Services Set for Retired Judge Robert Roberson Jr.
By a MetNews Staff Writer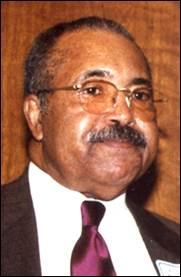 ROBERT L. ROBERTSON
1931-2016
Services are scheduled for next week for retired Los Angeles Superior Court Judge Robert L. Roberson Jr., who died Tuesday at the age of 84.
"Judge Roberson will be sorely missed by those of us who knew him and valued his friendship," Presiding Judge Carolyn Kuehl said in an email.
A native of Los Angeles, Roberson graduated from what is now Pepperdine University, earned his law degree from USC in 1958, and went into private practice the following year as a member of the firm of Broady, Scarlett & Roberson, later Scarlett & Roberson.
He did criminal, family, personal injury, and probate work there, and also served as a trustee of the Los Angeles County Bar Association; president of the USC Law Alumni Association, the John M. Langston Bar Association, and the Criminal Courts Bar Association; and a director of California Attorneys for Criminal Justice.
The son of an accountant, he was the sole African-American member of his law school graduating class. He once told an interviewer that he had never suffered on account of his race, and that while he was not naïve and knew that "people around me" had suffered discrimination, he had been "lucky" and "shared in the American Dream."
Gov. Jerry Brown appointed him to the court in 1979. He sat in both the criminal and civil trial courts through 1987, and then was appointed to the Appellate Department in 1988, serving as presiding judge of the department from 1991 to 1996.
Roberson retired from the bench in January 1999.
A viewing will take place next Wednesday from 4 to 7 p.m. at Woods–Valentine Mortuary, 1455 N. Fair Oaks Ave., Pasadena, CA 91103; (626) 798-8941. The funeral will be next Thursday at 12:30 p.m. at Altadena Seventh-day Adventist Church, 2609 Lincoln Ave., Altadena, CA 91001; (626) 794-3953.
Copyright 2016, Metropolitan News Company