Thursday, September 15, 2016
Page 3
State Supreme Court Names Jorge Navarette Clerk/Administrator
By a MetNews Staff Writer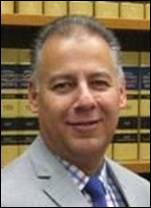 JORGE E. NAVARRETE
Assistant Clerk/Administrator
The state Supreme Court has named Jorge E. Navarrete as its clerk/administrator, effective Oct. 1, Chief Justice Tani G. Cantil-Sakauye said yesterday.
Navarette is a military veteran who has worked for the Supreme Court since 1996. He is currently the assistant clerk/administrator.
The chief justice said in a statement:
"I am delighted to announce the appointment of one of our long-serving court staff members as the Supreme Court's new, and first Latino, Court Administrator and Clerk. Jorge has been a dedicated public servant for over twenty years and has unique, first-hand experience with every aspect of the court's operations. His personal story is truly inspiring and reflects the richness and diversity, not only of our bench, but also of the State of California."
Naverette will succeed Frank A. McGuire, who is retiring after 25 years with the judicial branch.
A native of Guadalajara, Mexico, Navarrete immigrated to the United States in 1987. He enlisted in the U.S. Army in 1989, attended basic training at Fort Sill, Okla. and the Air Assault School at Fort Ord in Monterey County.
He received three promotions during his service, and then an honorable discharge in 1993. Prior to joining the Supreme Court staff as an office assistant in the file room, Navarrete was a security officer and later a supervisor at the firm that provided security services to the Supreme Court and the First District Court of Appeal.
Navarette said in a statement:
 "It is a tremendous honor and privilege to have been selected by the court to serve as its twenty-seventh Court Administrator and Clerk. I appreciate the confidence and trust reposed in me by the Chief Justice and the Associate Justices of the court. Having served three chief justices, twelve associate justices, and three previous court administrators during my twenty years with the court, this appointment truly is the pinnacle of my career and my proudest professional accomplishment."
Navarrete is a certified court manager, having completed the National Center for State Courts, Institute for Court Management, Court Management Program. Prior to enlisting in the Army, he also studied business administration and accounting at San Francisco City College.
Copyright 2016, Metropolitan News Company