Thursday, October 12, 2016
Page 1
Judge Daviann Mitchell Affirmed Four Times in Two Days
Three Opinions, in Unrelated Appeals, Were Handed Down the Same Day, All Penned by the Same Justice
By a MetNews Staff Writer
Los Angeles Superior Court Judge Daviann L. Mitchell had nearly a triple win in this district's Court of Appeal on Monday, with two outright affirmances and a third judgment affirmed with a remand for the purpose of dotting some "i"s—and then yesterday, she was affirmed in a fourth case.
The opinions, in unrelated cases, were not certified for publication. The three handed down on Monday were all written by Presiding Justice Dennis Perluss of Div. Seven, and yesterday's decision was authored by Justice Sandy Kriegler of Div. Five.
In the case in which there was a limited-purpose remand, the appeals court affirmed Jose DeJesus Santana Aguilar's conviction on 12 counts of sexual molestation of a child, "C." It rejected the contention by the defendant—referred to as "Santana"—that Mitchell erred in declining to strike a prior conviction for a serious felony which, according to the defendant, was too remote in time.
'Utterly Unconvincing' Contention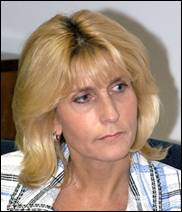 DAVIANN MITCHELL
Los Angeles Superior Court Judge
Perluss responded:
"Santana's theory is utterly unconvincing. Santana was 31 years old at the time of his 1994 conviction and continued to stalk his victim through 1995. He began abusing C. in 2007 when she was 12 years old and continued until 2013, when she was 18 and moved away. Even giving him the benefit of the lack of evidence he abused any other child during the 12 intervening years (for six of which he was incarcerated), he continually abused minors for at least nine of the 18 years before his arrest. The trial court's rejection of the contention his prior conviction was too remote and fell outside the purpose of the three strikes law was not an abuse of discretion. The record reveals the court properly considered the relevant factors…and concluded Santana fit well within the letter and spirit of the three strikes law."
Spurning a contention that there must be a reversal based on instructional error, Perluss said:
"[I]n light of the jury's clear rejection of Santana's sole defense that C. fabricated her testimony," the jurist wrote, "any error in the use of the incorrect unanimity instruction was harmless beyond a reasonable doubt."
Explaining the remand, Perluss wrote:
"At the sentencing hearing the trial court ordered Santana to pay various fines and assessments but improperly failed to specify the statutory basis for certain of those orders….Santana argues, the Attorney General concedes and we agree the matter must be returned to the trial court to correct this omission."
The case is People v. Aguilar, B263935.
Plea Properly Entered
In People v. Herran, B265707. Div. Seven affirmed a conviction for mayhem with use of a deadly weapon. Defendant Nick Herran argued that Mitchell erred in denying his motion to withdraw a "no contest" plea because he was unrepresented when he entered it and was confused.
Mitchell denied the motion after reviewing the transcript, hearing testimony from the prosecutor, Deputy District Attorney Carolyn Yeh, and relying on her own recollection. She found that the defendant was represented by attorney Jesus Zuniga when he pled and not confused "in any way, shape, or form" as to "what was happening, what his actions were, what his choices were."
Perluss wrote:
"On this record the court's decision to deny Herran's motion was well within its discretion."
A claim of insubstantiality of the evidence was rejected on Monday in People v. Dennis, B267237. The opinion affirms convictions for attempted murder and aggravated assault.
Yesterday's decision affirms Mitchell's order to a burglar to pay $250 to his victim for reprogramming of his garage door and gates.
"The trial court acted well within its considerable discretion in awarding the $250 requested, and substantial evidence supports that determination," Kriegler said in People v. Adkins, B269743.
Copyright 2016, Metropolitan News Company