Wednesday, April 20, 2016
Page 1
Attorney Robert H. McNeill Jr. Dies at 75
By a MetNews Staff Writer
Robert H. McNeill Jr., a Los Angeles lawyer for more than three decades and name partner in the law firm of Ivie, McNeill & Wyatt, has died at age 75.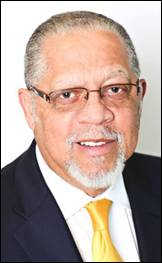 ROBERT McNEILL
1941-2016
A firm spokesperson said McNeill died Sunday.
"Bob tried numerous jury trials during his outstanding and versatile legal career," the firm said in a statement. "He successfully litigated many cases in both federal and state courts and in a wide range of practice areas, including medical malpractice, contract, business commercial disputes, real estate, criminal, construction defect, civil litigation, and family law. He served as co-counsel in a highly successful litigation involving a multimillion dollar health care class action lawsuit which changed the terms of insurance coverage on behalf of insured men and women in California. He successfully defended several death penalty cases in the Los Angeles County Superior Court, including one in which he obtained not guilty verdicts on all charges, consisting of four counts of first degree murder with special circumstances."
McNeill, a graduate of Virginia State University and Southwestern Law School, was a deputy county assessor from 1963 to 1977 before being admitted to the State Bar in 1979. He served as a Los Angeles deputy city attorney and a Los Angeles County deputy district attorney before joining the firm, which became Ivie & McNeill in 1980 and took its present name in 1991.
He held a number of positions in public life, including membership on the Los Angeles County Commission on Narcotics and Dangerous Drugs, on which he served for 15 years. He was a member of the Los Angeles County Capital Case Fee Committee from 1993 to 1998 and of the Board of Directors of the California Science Center in Exposition Park from 2001 to 2005.
He was inducted into the John M. Langston Bar Association's Hall of Fame last year.
He was previously selected as one of L.A.'s Most Influential African-Americans by Los Angeles Wave Magazine, received the He received the 2014 Outstanding Alumni Award from the Black Law Students Association at Southwestern and the Outstanding Lifetime Achievement and Dedication to Society Award from Virginia State.
He was a legal commentator during the O.J. Simpson trial and served as a legal consultant for National Cable Television News.
Information on services was unavailable late yesterday.
Copyright 2016, Metropolitan News Company