Tuesday, December 27, 2016
Page 1
C.A. Limits Judicial Disqualification Statute
Panel Says Right to Second Recusal After Appeal Does Not Apply to Interim Ruling
By a MetNews Staff Writer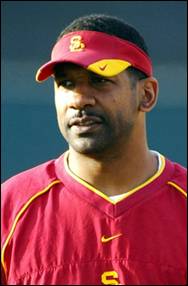 —AP
In this file photo, Former USC running backs coach Steve McNair is shown.
A statute permitting a party to recuse a judge on remand following a successful appeal, even if it has previously used its one allowed peremptory challenge against another jurist, only applies where the appeal was from a final order, the Court of Appeal for this district ruled Friday.
Div. Three ruled that the National Collegiate Athletic Association cannot recuse Los Angeles Superior Court Judge Frederick Shaller from Todd McNair's defamation suit under Code of Civil Procedure §170.6(a)(2).
McNair, former running backs coach at USC, sued the governing body of college sports after it linked him to a scandal involving former USC, now Buffalo Bills, running back Reggie Bush.
The school's football program was stripped of 14 victories and a Bowl Championship Series title after the NCAA found that Bush and family members had received improper benefits from a would-be sports marketer in 2004 and 2005. McNair claims he was falsely accused of knowing about the relationship between Bush and Lloyd Lake, and of stonewalling the association's investigation.
The NCAA barred McNair from contacting recruits, and issued a one-year "show cause" penalty, meaning that any school that hired him would have been subject to sanctions. USC did not renew his contract for the 2010 season, after six years, and no school has hired him since.
In 2011, the NCAA exercised a peremptory challenge to Los Angeles Superior Court Judge Ralph Dau, who was hearing the case at the time, and the case was reassigned to Shaller. The NCAA then filed an anti-SLAPP motion, which Shaller denied.
The judge found that McNair's defamation causes of action arose from protected activity, but that claims for negligence and interference with business relations did not, and that McNair had shown a sufficient likelihood of prevailing to avoid having the defamation claims stricken. On appeal, the panel ordered the business relations counts stricken, but allowed the remainder of the action to proceed.
The NCAA then brought a §170.6 challenge to Shaller, who accepted it and disqualified himself, without allowing McNair to file opposition. The Court of Appeal then granted an order to show cause on McNair's writ petition seeking to reinstate Shaller as the trial judge.
Justice Richard Aldrich, writing for the Court of Appeal, said McNair was entitled to the writ.
The justice noted that the first sentence of §170.6(a)(2), permits a peremptory challenge following reversal on appeal of a "decision" or a "final judgment," while the second sentence permits the appellant to file a challenge following reversal of a "final judgment" and to do so "regardless of whether that party or side has previously done so."
Aldrich rejected the NCAA's argument that it was entitled to challenge Shaller after successfully challenging a portion of his "decision" to deny the anti-SLAPP motion. The statutory language, the justice said, unambiguously supports McNair's position, that while a party may bring its first peremptory challenge after appealing a decision or a final judgment, a party that has previously brought a §170.6 challenge may bring a second one only after winning an appeal from a final judgment.
"The reading advocated by the NCAA, allowing for a second peremptory challenge following reversal of an interim decision, incorrectly inserts absent words into sentence two and improperly renders that sentence redundant," the justice said, and would broaden the exception to the one-challenge rule, contrary to the principle that statutory exceptions to the general rule are to be strictly construed.
McNair v. Superior Court (National Collegiate Athletic Association), B275282, was argued in the Court of Appeal by Ann M. Wytsma of Loeb & Loeb for the NCAA and Stuart B. Esner of Esner, Chang & Boyer for McNair.
Copyright 2016, Metropolitan News Company