Thursday, September 29, 2016
Page 1
Retired Chief Justice Malcolm Lucas Dies at 89
By a MetNews Staff Writer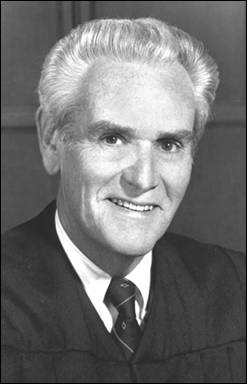 MALCOLM LUCAS
1927-2016
Retired California Chief Justice Malcolm Lucas had died at age 89.
Then-Gov. George Deukmejian appointed Lucas, who was then a federal district judge in Los Angeles, to the court in 1984 and elevated him to chief justice in 1987. Lucas stepped down in 1996.
The Sacramento Bee, online, quoted Deukmejian as saying:
"Malcolm was a wonderful colleague, a man of great integrity and principal, a wise judge, and a valued personal friend. I am deeply saddened by his loss."
Former Gov. Pete Wilson told the Bee that Lucas was "a fine man and a fine judge, greatly respected even by those who didn't always agree with him," adding:
"He was someone who I think took the role very seriously and felt that it was his responsibility as the chief to attempt to provide as collegial a setting as he could."
Court of Appeal Presiding Justice Paul A. Turner told the MetNews that Lucas "and his brother, the late Presiding Justice [Campbell] 'Sandy' Lucas, are two of the most distinguished jurists I have ever known."
He said of Malcolm Lucas:
"He was charming and witty yet deadly serious about his role as chief justice," adding:
"I remember how Malcolm would painfully recount the utter sadness of the day their mother was informed that Sandy was missing in action in the Battle of the Bulge. And I remember how moving Malcolm was as he explained the joy of learning that Sandy had escaped from Nazi prison custody and was coming home. Malcolm and Sandy were the real deal in war and in peace.
"Chief Justice Lucas, Governor Deukmejian, Attorney Van de Kamp and Speaker Brown were responsible for 1986 delay reduction act which revolutionized case resolution standards. He expected all judges to work hard and punctually resolve litigation, not in a rush to judgment, but in the prompt pursuit of justice.
Deukmejian, a former partner with Lucas in a Long Beach law firm, appointed him chief justice to succeed Rose Bird, who was chosen by Jerry Brown in his first stint as governor, and who was denied retention by voters in 1986. The campaign against Bird—and two associate justices who were also rejected—largely focused on the death penalty.
The reconstituted court upheld a large majority of the capital cases that came before it, and also tacked to the right on cases involving torts and business law.
"They were not run of the mill days for the court, nor the state," Wilson said. "[Lucas] was the peacemaker."
Copyright 2016, Metropolitan News Company