Tuesday, February 2, 2016
Page 1
Court of Appeal Upholds Defense Judgment for Singer Courtney Love in Libel Case
By a MetNews Staff Writer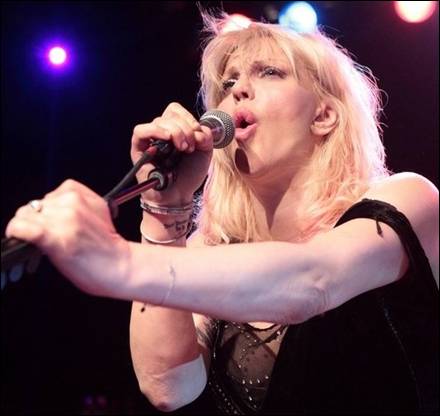 —AP
Love is seen performing at a concert in Philadelphia.
The Court of Appeal for this district yesterday affirmed a defense judgment in favor of singer/songwriter Courtney Love who was sued for libel after erroneously accusing her former lawyer of having been "bought off."
The allegation was made in a tweet to two persons Love described as "wannabe reporters." It was part of a dialogue concerning her belief that she, her daughter, and the estate of her late husband, Kurt Cobain of the rock band Nirvana, had been swindled out of millions of dollars.
Love had retained the services of San Diego attorney Rhonda J. Holmes of Gordon & Holmes to pursue an action against those she contended to have committed the fraud. Holmes participated in the preparation of a press release in which she was quoted as saying that she was able to "track down" $30 million, and that more money had been diverted.
The press release attributed to her this statement:
"We will be filing civil cases...within the next 30 days."
Information from the press release was published in the New York Post on April 7, 2009.
Holmes did not file any such action. In an email sent by Holmes to Love in May, 2009, she said: "I DID NOT QUIT" and did not communicate further with the celebrity.
It appeared from testimony that Holmes thought she had been fired, while Love believed the lawyer had deserted her after complaining of intimidation in the form of her computer being hacked, her phone tapped, money being stolen from her bank account, a former lawyer for Love threatening her, and being accosted in a parking lot.
A jury, in the courtroom of Los Angeles Superior Court Judge Michael M. Johnson, found that Love's statement was false and damaging, but that actual malice was not established. It was undisputed that Holmes is a public figure.
Justice Thomas Willhite of Div. Four wrote yesterday's unpublished opinion affirming the judgment. Although the defendant was sued as "Courtney Love," the opinion refers to her by her late husband's surname.
Willhite noted that after sending the 2009 email, "Holmes never sent a letter to Cobain confirming that she was no longer representing her." The jurist reasoned:
"Thus, although Cobain may not have known for certain whether "someone walked up and handed [Holmes] a bunch of cash," by 2010, Cobain firmly believed Holmes had been compromised or "gotten to" in some manner.  Under these circumstances it was not reckless for Cobain to believe that Holmes had been induced to stop representing her.  Given the context of the statement, substantial evidence supports the jury's finding that Holmes did not prove by clear and convincing evidence that Cobain knew her statement was false or had serious doubts as to its truth.
"The term 'bought off' is not as specific as 'bribe,' and…the evidence regarding the meaning of 'bought off' presented to the jury included not only the dictionary definition but also Cobain's testimony. Cobain testified that the statement was in response to the question whether she believed her attorney had been bought off.  Given the context—asked if she thought her lawyer was bought off—and the fact that the two people she thought she was writing to knew the circumstances—an objective reader would not necessarily understand that Cobain intended to say that Holmes had been bribed, but rather that Holmes had abandoned Cobain for an unknown reason."
  The case is Gordon & Holmes v. Love, B256367.
Copyright 2016, Metropolitan News Company