Monday, January 4, 2016
Page 1
Court of Appeal Holds:
Restraining Order Against Pastor's Detractors Was Too Broad
Epstein Says Mother, Son Can't Be Barred From Shouting Denunciations of Minister To Parishioners From Location Outside Church
By a MetNews Staff Writer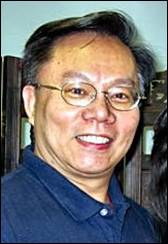 SHANG JEN LO
Pastor
A restraining order protecting the pastor of Cerritos' First Evangelical Community Church from harassment went too far in barring heckling from a nearby parking lot or the display of signs facing the parking lot, the Court of Appeal for this district has ruled.
The opinion, filed Wednesday, affirms other aspects of the order, issued by Los Angeles Superior Court Judge Thomas I. McKnew Jr., now retired.
Presiding Justice Norman Epstein of Div. Four wrote the opinion. Epstein also wrote a Dec. 4, 2013, opinion affirming in part, and reversing in part, a previous version of the order, also made by McKnew.
Battling the Reverend Shang Jen Lo are Shu Ping Chan and her son Jack Chen. Chan is upset with Lo in connection with a financial transaction, and has denigrated him to parishioners, engaged in disruptive conduct at services, disparaged him in an email to church leaders, distributed flyers in the church parking lot, and picketed on days when services were held.
Epstein said in the latest opinion that there was nothing in the 2013 decision that would preclude McKnew from inserting different provisions in a renewed order, based on new evidence.
However, he said, "the new provision prohibiting appellants from approaching, yelling out, or calling out to parishioners concerning respondent or other church officials from the Cerritos College parking lot on any day church services are held is, on its face, an impermissible content-based prior restraint of speech."
The gist of Chan's allegations is that the pastor is dishonest.
Can't Enjoin Defamation
"To the extent respondent suggests appellants have been defaming him," Epstein wrote, "we note that a civil harassment proceeding is not the proper vehicle for enjoining defamatory speech. Specific statements may be enjoined only after a trial and determination on the merits that they are indeed defamatory."
He went on to declare:
"To the extent the prohibition on signs facing a parking lot is a prohibition on signs visible from the parking lot, we cannot say that the restriction is not based on the content of the signs.  The provision is broader than necessary to prohibit proscribable speech, such as threats."
The church is on the south side of 166th Street, and the parking lot is on the north side, a half block to the west.
Epstein remarked:
"We understand petitioner's exasperation at appellants' behavior.  Nothing in our opinion prevents him from petitioning the trial court for appropriate orders restraining any harassing conduct that is not already covered by the existing stay-away orders, so long as any additional orders are content neutral and do not burden more speech than necessary.  To the extent petitioner seeks to enjoin appellants' speech directly, he may not obtain a proper remedy in a civil harassment proceeding, unless the speech is proscribable under the First Amendment."
The case is Lo v. Chan, B261883. David L. Prince and Miles L. Prince represented Lo; Chan and Chen were in pro per.
2013 Opinion
In 2013 opinion, Epstein wrote:
"Here, the orders burden more speech than necessary to achieve the government's interest. They preclude appellants from being present within 100 yards of the church, which presumably prohibits them from standing on the public sidewalk adjacent to the church. They also prohibit appellants from contacting any church members or leaders, for any reason at all. The broad sweep of this restraint restricts lawful as well as unlawful activity. Although the orders may have been intended only to prohibit conduct that concerns respondent, as written they could reach constitutionally protected speech, such as picketing on a public sidewalk and speaking with church members."
He pointed out:
"Restricting appellants' presence at the church during certain hours, and limiting contact with church members only with regards to harassing conduct, would have achieved the same result here."
Loan From Lo
Spawning Chan's antagonism toward the pastor were events surrounding a 2005 loan arrangement under which she executed a promissory note for $100,000, which was to be disbursed to her over time, with the note secured by a deed of trust to property she owned in Temple City. Interest was to be paid at 11 percent, per annum, on the full amount.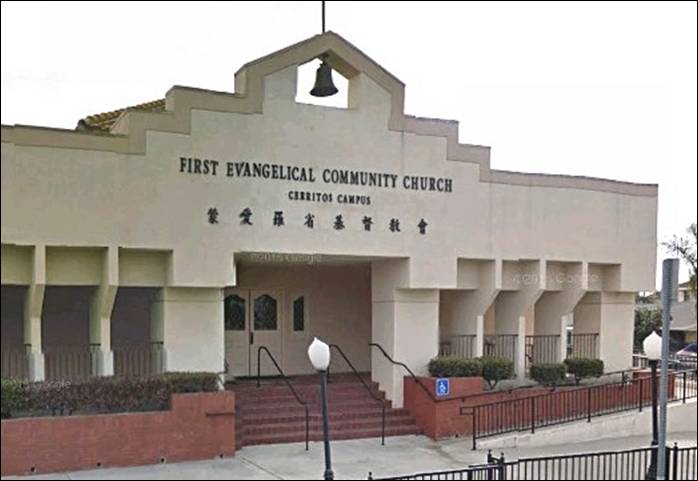 First Evangelical Community Church.
In 2009, when she was in financial difficulty, she had received only $75,000 of the agreed-upon amount. It was orally agreed that the deed of trust would be cancelled so that she could obtain a reverse mortgage and, after obtaining the money, would execute a new deed of trust for $100,000, and that the remaining $25,000 be delivered.
But it did not happen, and Chan sued, seeking declatory relief. The matter came before Los Angeles Superior Court Judge Dan Oki, who signed a judgment on Nov. 28, 2011, providing:
"The subject $100,000 Note secured by the subject Deed of Trust is declared to be $76,000. Plaintiff is to pay interest on the amount received from Defendants less all interest payments already made to date.  The interest accrued on the $76,000 received in period payments at 11% per annum from June 6, 2006 through September 30, 2011 is determined to be $44,416.79. The interest payments paid by Plaintiff to Defendants during the same period of time are determined to be $22,964.44. The balance on the interest owed by Plaintiff to Defendants is $21,452.35…."
No Attorney Fees
The judgment, apparently prepared by Lo's attorney, Prince, contained a provision for attorney fees, to be ascertained upon motion. Oki crossed that portion out, and Chan appealed.
The loan agreement contained a provision for attorney fees to the prevailing party.
In a July 9, 2013 opinion, affirming Oki, Court of Appeal Justice Sandy Kriegler of this district's Div. Five wrote:
"[T]he trial court's ruling is not an abuse of discretion. The trial court heard the entirety of the trial, granted some relief to Chan, but tempered that relief with a sizeable award of interest due to Lo. Chan's original complaint sought to cancel the deed of trust, but she did not prevail on this claim. The trial court could reasonably conclude that, under these circumstances, the declaratory judgment was not a 'simple, unqualified win' for Chan."
Chan also sued Lo and others over the alleged breach of the oral contract. On April 6, 2012, a jury found in favor of Lo (while Chan did obtain a $27,529 verdict against other defendants).
"Soon after the jury verdict," Epstein's 2013 opinion recited, Chen expressed concerns "about respondent's lack of integrity in making usurious loans." It was then that Chan's and Chen's campaign to discredit the minister commenced.
Copyright 2016, Metropolitan News Company