Monday, November 14, 2016
Page 3
Services Slated for Retired Commissioner Kohn
By a MetNews Staff Writer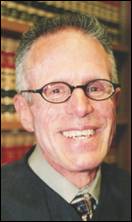 BARRY D. KOHN
1943-2016
Services are slated for Nov, 17 for retired Los Angeles Superior Court Commissioner Barry D. Kohn.
They will be held at 12:30 p.m. at Mount Sinai Memorial Parks and Mortuaries in Los Angeles.
Kohn's death was announced Thursday by Los Angeles Superior Court Presiding Judge Carolyn Kuhl in an email to colleagues.
She said he died Nov. 6.
"Commissioner Kohn will be sorely missed by those of us who knew him, drew strength from his courage and valued his friendship," Kuhl said, adding:
"He was a pillar of the Mosk courthouse community—no task was too small or too large for him to take on and accomplish with excellence and good cheer."
She noted:
"He was the beloved husband of Will Barry and the brother-in-law of our former colleague retired Judge Wendy Kohn."
Kohn received his undergraduate degree from UCLA and his law degree from USC. He was admitted to the State Bar in 1969. He was in private practice from 1969-81, as a sole practitioner for all but the first three years.
He became a bench officer when he was elected as a commissioner by the Los Angeles Municipal Court in 1981, and became a Superior Court commissioner in 2000 as the result of unification.
The jurist retired on Dec. 31, 2011.
Kohn was living in San Francisco at the time of his death. He was 73.
It was requested that in lieu of flowers, donations be made to the National AIDS Memorial Grove in San Francisco.
Copyright 2016, Metropolitan News Company