Monday, July 11, 2016
Page 1
Senate Judiciary Committee Set to Take Up Judge Koh's Nomination Wednesday
By a MetNews Staff Writer
The U.S. Senate Judiciary Committee is set to hold a hearing Wednesday on U.S. District Judge Lucy H. Koh's nomination to the Ninth U.S. Circuit Court of Appeals.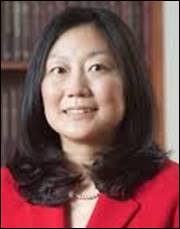 —AP
LUCY KOH
U.S. District Judge
A notice on the committee website says that the committee will take up Koh's nomination at 10 a.m. EDT, followed by those of Florence Pan to the U.S. District Court for the District of Columbia and Danny C. Reeves to the U.S. Sentencing Commission. Pan is a D.C. Superior Court judge and Reeves is a U.S. district judge in Lexington, Ky.
Koh, a U.S. district judge for the Northern District of California since 2010 and a Santa Clara Superior Court judge from 2008 to 2010, was nominated for the Ninth Circuit in February.
Koh was confirmed to her district court seat in a 90-0 vote, which made her the first Asian-American Article III judge to serve on the Northern District bench. Former Gov. Arnold Schwarzenegger, who appointed her to the state trial court, sent a letter backing her Ninth Circuit nomination to Sens. Charles Grassley, R-Iowa, and Patrick Leahy, D-Vermont, the chairman and ranking member of the Senate Judiciary Committee.
In a statement last month, Leahy called for his colleagues to take up Koh's nomination, calling the Ninth Circuit spot "an emergency vacancy" on "by far the busiest federal appeals court." He noted that she has the support of a number of conservatives, including former high-level Bush administration Justice Department appointee Viet Dinh.
The jurist, who is well known for presiding over the Apple v. Samsung patent feud and legal claims against Silicon Valley firms over illegal hiring practices, is also backed by Silicon Valley lawyers and leaders of national and local Asian bar groups pushing for more representation in the federal courts.
Koh is a graduate of Harvard University and Harvard Law School. She began her legal career as a Women's Law and Public Policy fellow for the Senate Judiciary Committee from 1993 to 1994.
Following her fellowship, she worked for the United States Department of Justice, serving first as special counsel in the Office of Legislative Affairs, from 1994 to 1996, and then as special assistant to the deputy attorney general, from 1996 to 1997.
From 1997 to 2000, Judge Koh served as an assistant U.S. attorney in the Central District of California. There, she was awarded, among several recognitions, the Federal Bureau of Investigation Director Louis J. Freeh Award for Demonstrated Excellence in Prosecuting a Major Criminal Case.
From 2000 to 2002, she worked as a senior associate in the Palo Alto office of Wilson Sonsini Goodrich & Rosati. From 2002 to 2008, she worked as a partner in the Palo Alto office of McDermott Will & Emery LLP, specializing in patent, trade secret, and commercial civil litigation.
Koh is married to California Supreme Court Justice Mariano-Florentino Cuéllar.
Copyright 2016, Metropolitan News Company