Friday, February 26, 2016
Page 3
President Nominates Koh to Ninth U.S. Circuit Court of Appeals
By a MetNews Staff Writer
President Obama yesterday nominated U.S. District Judge Lucy Haeran Koh to serve on the Ninth U.S. Circuit Court of Appeals.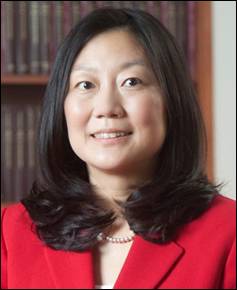 —AP
U.S. District Judge Lucy Koh.
"Judge Lucy Haeran Koh has distinguished herself as a first-rate jurist with unflagging integrity and evenhandedness," the president said in a statement. "I am grateful for her service to the state of California and look forward to adding her considerable wisdom and experience to the Ninth Circuit Court."
Koh, 47, has served as a U.S. district judge for the Northern District of California since 2010 and previously served as a Santa Clara Superior Court judge from 2008 to 2010.
Koh is a graduate of Harvard University and Harvard Law School. She began her legal career as a Women's Law and Public Policy fellow for the Senate Judiciary Committee from 1993 to 1994.
Following her fellowship, she worked for the United States Department of Justice, serving first as special counsel in the Office of Legislative Affairs, from 1994 to 1996, and then as special assistant to the deputy attorney general, from 1996 to 1997.
From 1997 to 2000, Judge Koh served as an assistant U.S. attorney in the Central District of California. There, she was awarded, among several recognitions, the Federal Bureau of Investigation Director Louis J. Freeh Award for Demonstrated Excellence in Prosecuting a Major Criminal Case.
From 2000 to 2002, she worked as a senior associate in the Palo Alto office of Wilson Sonsini Goodrich & Rosati. From 2002 to 2008, she worked as a partner in the Palo Alto office of McDermott Will & Emery LLP, specializing in patent, trade secret, and commercial civil litigation.
Koh is married to California Supreme Court Justice Mariano-Florentino Cuéllar.
The jurist is well known for presiding over the Apple v. Samsung patent feud and legal claims against Silicon Valley firms over illegal hiring practices.
The San Jose Mercury News, on its website yesterday, quoted Carl Tobias, a University of Richmond law professor, who put the odds at about "50-50" that Koh could be confirmed. "The machinations over the Scotus vacancy, generic Republican obstruction of Obama lower court nominees ... and the presidential election year make it difficult but not impossible," he said.
The newspaper also noted that her nomination, which had been expected for weeks, has been endorsed by Viet Dinh, a high-ranking Justice Department official during the Bush administration, as well as by Silicon Valley lawyers and leaders of national and local Asian bar groups pushing for more representation in the federal courts.
Sen. Dianne Feinstein issued a statement urging the Senate to move "quickly on her nomination." She called the nominee "a highly-respected member of the federal judiciary" and noted that she was unanimously confirmed to her present post, and also that she would be the first Korean-American woman to serve as a circuit judge.
Copyright 2016, Metropolitan News Company