Thursday, November 10, 2016
Page 3
Ninth Circuit Declares:
Hugging Employee, Kissing on Cheek, Can Give Rise to Lawsuit
Reverses Summary Judgment in Favor of Yolo County Sheriff
By a MetNews Staff Writer
The Ninth U.S. Circuit Court of Appeals yesterday reinstated a sexual harassment action against the sheriff of Yolo County, holding that the District Court erred in granting summary judgment to the defendant on the notion that hugs and kisses on the cheek are insufficient to support such an action.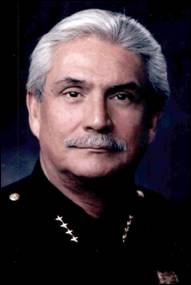 —Yolo County Sheriff's Office
EDWARD G. PRIETO
Yolo County Sheriff
The reversal, announced in a memorandum opinion, reinstates the lawsuit brought against Sheriff Edward G Prieto by county correctional officer Victoria Zetwick under Title VII of the Civil Rights Act of 1964 and the California Fair Employment and Housing Act.
Yesterday's opinion—signed by Circuit Judges Susan P. Graber  and Mary H. Murguia, as well as U.S. District Judge Mark W. Bennett of the Northern District of Iowa, sitting by designation—reverses the decision of Judge Troy L. Nunley of the Eastern District of California.
"We hold that a reasonable jury could conclude that the differences in hugging of men and women were not, as the defendants argue, just 'genuine but innocuous differences in the ways men and women routinely interact with members of the same sex and of the opposite sex.'," the opinion said, quoting language from a 1998 U.S. Supreme Court decision. It continued:
"Rather, a reasonable jury could find an objectively hostile or abusive environment, because of the nature, frequency, permanence, and cumulative effect of the conduct towards women in general and Zetwick in particular."
The panel declared that Nunley erred in inferring from past decisions a "rule" that hugging coworkers and  kissing them on the cheek are acceptable workplace behavior. It said:
This 'rule' was created from just a few non-binding district court decisions. One of those decisions was twenty years old and another was fourteen years old at the time of the district court's decision. Thus, those decisions likely do not reflect changing contemporary standards of socially acceptable conduct in the workplace—a decision more appropriately made by a jury. More importantly, in one of those decisions, the court explained that flirting, hugging, and even kissing in the workplace "are very ordinary things that people do and are not per se intimidating, hostile, humiliating, or offensive," but such conduct can, nevertheless, become unlawful when it 'is both unwelcome and pervasive.' "
The opinion also said that Nunley erred in assuming that Zetwick had a burden of showing that Prieto's conduct was both "severe and pervasive," explaining:
"The proper standard, however, is whether the defendant's conduct was 'severe or pervasive.' "
A third error was found. The panel said that Nunley applied "a sort of 'mathematically precise test' to determine that Zetwick's environment was not hostile, based on its calculation that Zetwick had been hugged only a few times a year for a few seconds each time."
The U.S. Supreme Court, the judges said, has rejected such a test. They added:
"Even if such a mathematical test were appropriate, there is a factual dispute as to its computation."
The case is Zetwick v. County of Yolo, 14-17341.
Copyright 2016, Metropolitan News Company