Tuesday, September 13, 2016
Page 1
Yelp Held Immune From Liability for Content Posted by Reviewers
By KENNETH OFGANG, Staff Writer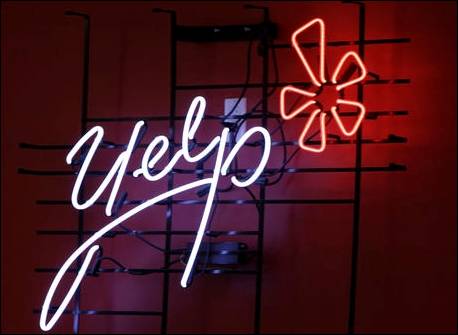 —AP
In this file photo, the logo of the online reviews website Yelp is shown in neon on a wall at the company's San Francisco office.
The operator of the Yelp website does not, by allowing viewers to rate its business reviews, become liable for defamatory content that the reviewers have posted, the Ninth U.S. Circuit Court of Appeals ruled yesterday.
Yelp's system, which allows viewers to rate reviews from one to five stars, does not convert those reviews into Yelp-created content, Judge M. Margaret McKeown wrote for the panel. Yelp, she said, is therefore an "information content provider" under §230 of the Communications Decency Act.
The statute provides in part that "[n]o provider or user of an interactive computer service shall be treated as the publisher or speaker of any information provided by another information content provider." It expressly preempts any conflicting state law.
A Washington state locksmith, Douglas Kimzey, sued after two negative reviews were posted.
Switch Claimed
Kimzey claimed the negative review about his business was actually about another business, and said Yelp transferred it to his business in an attempt to extort him to pay to advertise with the company. A person claiming to be the same reviewer posting a second review confirming that the first review was about Kimzey's business, Redmond Mobile Locksmith, and not about "Redmond Mobile," which Kimzey said was a "fraud operation."
U.S. District Judge Richard A. Jones of the Western District of Washington granted the defense motion to dismiss for failure to state a cause of action.
The district judge was correct, McKeown wrote, because Kimzey, who represented himself, could not plausibly plead around §230.
The appellate jurist said the rating system is based on users' input and is not content created by the company. Under federal law, the decision said, Yelp is not liable for content it gets from its users.
Negative Review
The ruling focused on the libel lawsuit filed by, the owner of a Washington state locksmith business that the court said received a negative review on Yelp in 2011.
She called Kimzey's allegations "threadbare" and said there were no facts to support his allegation Yelp fabricated content under a third party's identity, as the complaint alleged.
"We fail to see how Yelp's rating system, which is based on rating inputs from third parties and which reduces this information into a single, aggregate metric is anything other than user-generated data," McKeown said.
The panel also rejected Kimzey's claim that Yelp should be held liable for distributing reviews to search engines.
"To the extent Kimzey's complaint aims at alleged downstream distribution of the starred review, § 230's immunity defeats the claim…," McKeown wrote. "Just as Yelp is immune from liability under the CDA for posting user-generated content on its own website, Yelp is not liable for disseminating the same content in essentially the same format to a search engine, as this action does not change the origin of the third-party content….Simply put, proliferation and dissemination of content does not equal creation or development of content."
Senior Judge Michael Daly Hawkins and Fourth Circuit Senior Judge Andre M. Davis, sitting by designation, joined in the opinion.
Kimzey told The Associated Press he intends to seek en banc review in the case, Kimzey v. Yelp! Inc., 14-35487.
Copyright 2016, Metropolitan News Company