Monday, May 9, 2016
Page 8
JUDICIAL ELECTIONS: Los Angeles Superior Court Office No. 120
Judge Draws Challenge From a Candidate-in-Hiding
By ROGER M. GRACE, Editor
Los Angeles Superior Court Judge Ray Santana has drawn an election challenge from an obscure general practitioner, Eric O. Ibisi, who won't disclose why he's running.
Neither has been campaigning. Santana has been ill. Obisi will not respond to newspaper inquiries as to his campaign inactivity, or much of anything else.
In 2006, a candidate who had not practiced law in years and ran a bakery filed a declaration at the outset of the campaign that she would not spend more than $1,000. The Los Angeles Superior Court judge she challenged, Dzintra Janavs, was thereby lulled into a false sense of security, and staged but a token campaign. The challenger, "Bagel Lady" Lynn Olson, poured funds into the campaign right at the end, buying up slates, and trouncing the incumbent. The judge's foreign-sounding name was also generally believed to be a factor.
Two years ago, Los Angeles Superior Court Judge James Pierce, who did not have an unusual name, thought that incumbency would assure him victory, and did not campaign, spurning offers of campaign contributions. His challenger, then-Deputy District Attorney Carol Najera, did some last-minute spending on slate mailers, and won.
Whether Ibisi intends to follow the examples of Olson and Najera in making close-to-the-election expenditures, and whether he has the means by which to purchase slates (in light of past financial difficulties), are questions that loom. Whether he assumed that Santana had already sought a disability retirement (which he hasn't) and might be leaving the bench imminently, or targeted him for some other reason, are likewise unknown.
Obisi isn't talking.
Lawyer Won't Tell Why He Is Challenging Judge, Won't Be Interviewed
Eric Okwudili Ibisi initially claimed a ballot designation of "Attorney at Law." Then, he changed it to "Judge Pro Tem." A judge, who asked not to be identified, emailed the MetNews to point out that under the 1988 Court of Appeal case of Luke v. Superior Court, that was an "absolutely illegal ballot designation."
Under that decision, not even hired court commissioners or referees could use the word "judge" or "judicial" in a designation. Ibisi has been an unpaid, volunteer pro tem, serving on occasion, over a period of several years.
Ibisi was sent the judge's statement, and was asked for a comment.
He proceeded, in short order, to contact the Registrar-Recorder's Office and change the designation back to "Attorney at Law."
The lawyer's campaign manager telephoned the MetNews that day to report what had been done, and later Ibisi phoned. He said, at first, that he just might again change the designation to "Judge Pro Tem," but later in the conversation indicated he would keep it as it was, explaining: "I don't want issues."
He was asked—as he had been previously—why he had filed for the seat occupied by Santana, but said it was not the right time to discuss the matter, and indicated that he would explain his reasons to the newspaper at a later time.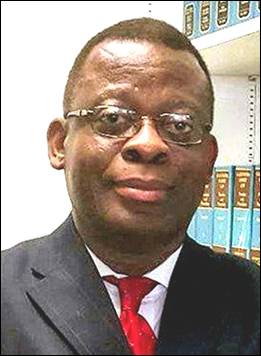 IBISI
With the June 7 election a month away, he has still not done so, and has not responded to invitations to be interviewed.
He has also been unavailable to the Los Angeles Times, the newspaper with the largest circulation in this county (and beyond). Robert Greene, a Times editorial writer, relates:
"I reached Mr. Ibisi by phone and told him that we were trying to schedule a meeting with him and had not heard back from him. He told me he'd have to call me back. He never did."
Ibisi has no campaign website and has not been electioneering to any meaningful extent. He did, however, bag the endorsement of the North Valley Democratic Club.
He's a mystery candidate.
21 Cases
A search on the Los Angeles County Bar Association website—which is hooked into the Superior Court's computer—reveals that between 1997 and 2013, Ibisi has represented parties (including himself once, as a plaintiff) in 21 cases in the categories of "Civil, Small Claims, Family Law, and Probate." It does not appear that he has handled a case of those sorts, which exclude criminal, in that court later than 2013.
Between 2008 and 2013, he handled four cases in the Court of Appeal, a search on Westlaw shows. One of the opinions was published.
The United States Courts Archives reflects one case having been handled by Ibisi in the U.S. District Court for the Central District of California. On Jan 14, 2013, he represented a man who pled guilty to conspiracy to bribe a public official and to defraud the United States.
A U.S. Attorney's Office press release says the defendant, while a transportation security officer at Los Angeles International Airport, accepted bribes to clear luggage containing marijuana.
A Yahoo search provides information that he represented a debtor in U.S. Bankruptcy Court for the Central District of California in 2014.
On his Lawyers Lookout webpage, Ibisi lists as practice areas "Criminal Law, Divorce, DUI & DWI, Family Law, Personal Injury." He states as an additional area: "Car Accidents."
Public Records
Public records found in the Westlaw database (which does always provide an accurate portrayal) and elsewhere supply further information on Ibisi, who is 55.
He received his JD from Pepperdine University School of Law in 1983 but was not admitted to the State Bar until Dec. 11, 1986. He has a Wilshire Boulevard office near MacArthur Park.
Dun & Bradstreet estimates annual billings by his firm to be $111,848.
Ibisi resides in a three-bedroom house he purchased in Baldwin Hills. The lawyer also owns vacant land in Siskiyou County and in Florida, as well as agricultural land in Hawaii.
The Los Angeles County tax collector in 1997 obtained a $87 judgment against Ibisi, and two years later obtained a judgment against him in the same amount. There was a 2009 county tax lien against him and his law firm for $166; in 2012 for $172; and another tax lien in 2013 for $174.
Ibisi was in arrears in 2006 on mortgage payments on a condominium in Long Beach—he owed $1,576.23—and was served with a notice of default, a precursor to a foreclosure proceeding. In 2012, Ibisi received a pair of notices of default pertaining to loans against two vacant lot in Siskiyou County; on each loan, $1,590.49 was past due.
He was sued in small claims court in 1999 for $500 for non-payment of a debt. The matter was settled prior to trial and dismissed.
Ibisi was sued in Orange Superior Court in 1995 for breach of contract. Information as to the outcome is not available online, and Ibisi is not available to answer questions from the press.
---
Judge Is Ill, but Declares He's Not Ill-Equipped to Continue Serving
Los Angeles Superior Court Judge Ray Santana expresses bewilderment as to why he is being challenged in the June 7 election.
He has been impeded in mounting a campaign, he notes, owing to ill health.
"I got hit with an illness at an inopportune time," the judge says.
Santana has been away from the court for several weeks. He has been diagnosed with Parkinson's disease, a progressive disorder of the nervous system.
Once the diagnosis was made, he relates, he was put on some newly-developed medications that inhibit symptoms of the disease.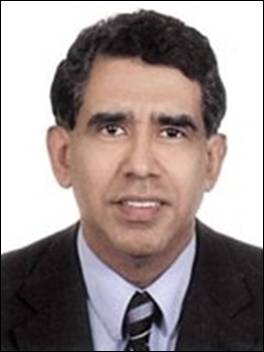 SANTANA
"I should be better in a few weeks," Santana says, indicating that he intends to go back to work, and has no plans to apply for a disability retirement.
His wife, Diane Santana, is a medical doctor. She explains that there are four stages of Parkinson's disease, and that her husband is in the earliest of those stages.
Enjoys His Job
"I like being on the bench," the judge remarks, saying that he enjoys "making tough decisions."
He vows:
"I will fight for my seat."
Santana reports that he has retained Cerrell Associates, Inc. to provide political consulting services.
"We've had fundraisers," he says, noting that more fundraisers are "coming up."
"We've bought some slates, already," he reports, declaring:
"I'm taking this challenge seriously."
Academic Degrees
The judge obtained his law degree from the University of California at Berkeley's Boalt Hall. He earlier earned a master's degree from Stanford.
It was at Stanford that he met his wife-to-be, then named Diane Castillo. He recounts, in an email, in response to an inquiry: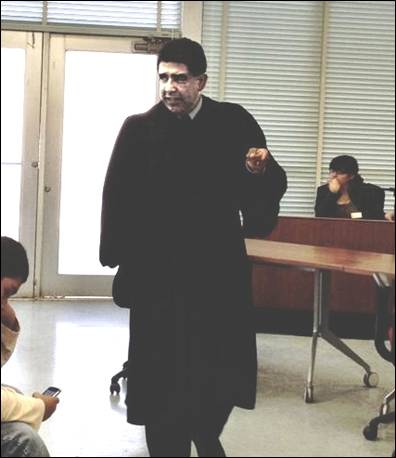 Andy Roman, Boyle Heights Beat. Reprinted by permission.
Los Angeles Superior Court Judge Ray Santa, who was born in East Los Angeles's Boyle Heights, graduated, with honors, in 1970 from that neighborhood's Roosevelt High School. He is seen here at his alma mater, where he has presided once or twice a month, depending on the school's schedule, over the Teen Court.
"I graduated from Stanford University in Communications and Political Science in 1973. My wife started Stanford as a biology major in autumn 1971 and graduated in 1975 with B.S. in Biological Science. I met my wife when she was a Junior at Stanford and I was a Graduate Student getting my Stanford masters degree in Education. We dated and later married after her first year at Stanford Medical School and my second year at Boalt Hall. We moved into married student housing and I completed my third year as a visiting student at Stanford. So this year we will have been married 40 years with two wonderful daughters, one who works in LAUSD and another who will be starting law school."
The future judge graduated from law school in 1977; his wife, destined to become a pediatrician, completed her studies two years later.
Santana worked for California Rural Legal Assistance in Gilroy, then at the San Fernando Legal Aid Office, before joining the Los Angeles County Public Defender's office in 1981.
During a spell in 1984, he worked in the state Attorney General's Office, soon returning to the PD's Office, as the deputy-in-charge at various offices.
From 1996-98, Santana was president of the Hollenbeck Police Business Council, and oversaw a $2 million dollar expansion and renovation of the Hollenbeck Youth Center.
He was appointed to the bench by Gov. Arnold Schwarzenegger in 2008, and two years later was elected, without opposition, to a six-year term.
Copyright 2016, Metropolitan News Company