Thursday, May 5, 2016
Page 8
JUDICIAL ELECTIONS: Los Angeles Superior Court Office No. 42
Aceves, Molina, Ribons, Zuzga Compete for Open Seat
By ROGER M. GRACE, Editor
Vying for Office No. 42 are Deputy District Attorney E. Matthew Aceves, attorney Michael P. Ribons, Immigration attorney Alicia Molina, and Los Angeles Superior Court Commissioner Cyndy Zuzga.
As the Los Angeles Dragnet blog sees the contest:
"Aceves and Zuzga have been campaigning since 2015, while Molina and Ribons are late entrants. Aceves and Zuzga have the strongest ballot titles and campaign warchests, and will likely face each other in a November runoff."
Molina was profiled yesterday. Today: the others.
E. MATTHEW ACEVES
Prosecutor Questions a Rival's Ballot Designation, Defends His Own
It was on Oct. 21 of last year that Los Angeles Deputy District Attorney Efrain Matthew Aceves—on his 47th birthday—launched his campaign for election to a superior court judgeship in this county. The kick-off event was a fundraiser at a home in Downey.
He's had subsequent fundraisers, the latest held last Friday at the Downey home of Deputy District Attorney Mario Trujillo, a past president of the Mexican American Bar Association (MABA) and the California La Raza Lawyer's Association. The invitation bore the MABA seal and the words: "The Mexican American Bar Association & Friends Invites you to come out and join us to support Aceves!"
Aceves, the 2007 MABA president (and the group's first leader coming from the ranks of deputy district attorneys) is the MABA-backed candidate, while immigration attorney Alicia Molina's rival bid is being promoted by the far smaller but potent Mexican American Bar Association-Political Action Committee.
Trujillo notes that the association and the PAC "have entirely separate and different boards and are autonomous." He suggests that the split of support with respect to Office No. 42 is merely a matter of each group showing loyalty to a past office-holder. Molina is a former vice president of the PAC.
Aceves—running as E. Matthew Aceves— says he is "somewhat familiar with" Molina, because he encountered her at UCLA; their years of undergraduate studies overlapped. He hasn't kept in contact with her, he mentions.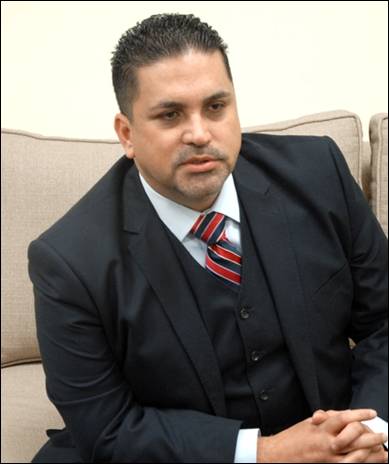 ACEVES
"It's my understanding she's an immigration attorney, with offices out of Huntington Park," he says.
Then, is her ballot designation as a "Domestic Violence Attorney" a legitimate one?
"It doesn't appear to me [to be]," he responds.
He opted, however, not to challenge her designation in a writ proceeding. He says he had to decide "how to best use my resources."
Aceves's Designation
His own ballot designation is "Child Molestation Prosecutor." Does that accurately describe what he does?
The day before he filed to run, Aceves says, he went over his cases with his supervisor and the supervisor's supervisor. He recounts that he wanted "to make sure there was no issue" as to his entitlement to that ballot designation.
"We calculated that over 82 percent of my active cases at the time involved child molestation charges, and I think it may be higher now," Aceves says.
He is assigned to the Victim Impact Program.
"The bulk of our cases are domestic violence or child molestation cases," he advises.
In 2012, as a probationary Grade IV deputy, he supervised Metropolitan Area preliminary hearing operations. His evaluation says:
"Mr. Aceves has performed at an outstanding level. He has been a great addition to our operation.
"I have no doubt that Mr. Aceves will maintain his high level of performance and strongly recommend his final appointment to Grade IV."
Aceves received the appointment.
Performance Evaluations
For the period of 2012-13, he was given a rating of "Exceeded Expectations (Very Good)" and for 2013-14 was found to have "Met Expectations (Competent)."
The 2013-14 report says:
"[T]here were times that Mr. Aceves acted as the Deputy in Charge in my absence. Mr. Aceves took careful consideration in making case offers and other decisions in my absence. Mr. Aceves is adept at handling his assignment with little supervision but seeks the advice of colleagues and supervisors in appropriate situations."
Aceves has been a deputy district attorney for more than 17 years and has handled, by his reckoning, 102 jury trials.
Prior to joining the District Attorney's Office in 1997—the year he was admitted to the State Bar—he was a law clerk at the United States Department of Justice in the District of Columbia and worked as a federal probation officer. He obtained his law degree at UCLA.
Among those supporting Aceves are 43 sitting Los Angeles Superior Court judges and four sitting commissioners, along with three retired judges of the court, and retired California Supreme Court Justice Carlos Moreno.
He is president of the Whittier School Board and has been an elected member of that body for 10 years.
MICHAEL P. RIBONS
Attorney for Two Decades Stages Campaign That Is Barely Visible
June 11 will mark 20 years since civil practitioner Michael P. Ribons became a member of the State Bar, turning his major attention from his real estate business (which he still maintains) to a fledgling law practice.
In the time since then, he says, he has handled "a handful" of jury trials. Most of the cases he deals with, generally related to real estate, are "suited more for bench trials," he says.
He has represented clients in "between 15 and 20 bench trials," Ribons relates. Most of the "hundreds" of cases in which he has represented a party, he says, have been disposed of in the "preliminary stages."
The candidate tells of having served as a judge pro nearly 300 times.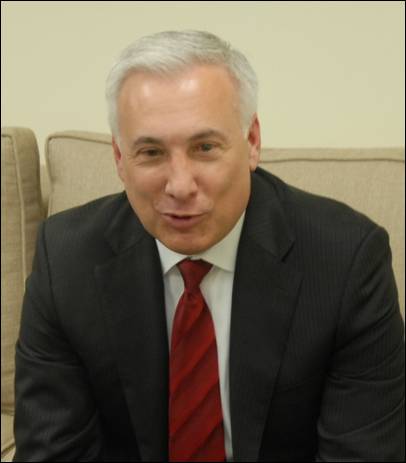 RIBONS
While he has set his sights on a judgeship, Ribons has not mounted an aggressive campaign. He has no campaign website. On the Voter's Edge website (successor to the League of Women Voter's Smart Voter site), he lists his endorsers: two former Superior Court judges (Robert Letteau and Gregory O'Brien) and a former mayor of Calabasas. He did not attend the bi-annual judicial candidates forum in Hacienda Heights.
Yet, he received favorable mention in the Los Angeles Times editorial endorsing Superior Court Commissioner Cyndy Zuzga.
While Efrain Aceves has the ballot designation of "Child Molestation Prosecutor"—which in 2012 and 2014 proved potent—Ribons, whose own designation is "Arbitrator/Attorney," questions whether the previously advantageous label will be effective this year. He reasons:
"I have a feeling that it may have changed just a little bit because of the public outcry in the last couple of years—not necessarily directed at prosecutors—but kind of directed at the establishment and, fairly or unfairly against police officers, and I think the general public kind of links prosecutors in with police and sheriffs, fairly or unfairly."
Does he believe that problems in the sheriff's jails will have an impact on the judicial elections? Ribons says:
"I think, public perception, I think it will."
Ribons, 53, has a law degree from Whittier College School of Law.
CYNDY ZUZGA
Superior Court Commissioner Is Sole Candidate With Judicial Experience
Los Angeles Superior Court Commissioner Cynthia A. Zuzga put in her application for appointment to a judgeship and, after four years, has heard nothing from the Governor's Office. She got tired of waiting.
"That's why I'm going through this process now," the candidate says. "I'm 61 years old.
"At least with this process, there's a beginning, a middle, and an end."
With the endorsement of the Los Angeles Times, and her willingness to put around $200,000 of her own money in the campaign coffers, the end of the process could be election to a judgeship. She faces the obstacle, however, of overcoming Deputy District Attorney Efrain Aceves's designation as a "Child Molestation Prosecutor," as well as Aceves also having a sizeable, perhaps larger, warchest.
She points out that Aceves "has 17—or whatever number—of years" of experience as a deputy, while she spent, before becoming a bench officer, "almost 22 years" in that role, noting:
"And I have prosecuted child molestation cases."
As a deputy, Zuzga recounts, she was "an expert on elder abuse." She says she had a hand in reorganizing the office's efforts in dealing with such cases, and wrote on the subject extensively.
She became a prosecutor in 1984 after graduating, cum laude, in 1982 from Detroit College of Law (now Michigan State University College of Law), passing the Michigan State Bar exam in July 1982, moving to California in late December of 1982, taking and passing the bar exam here, and practicing for about a year with Lawndale attorney Rudolph E. Harper, now deceased.
She was in general practice with Harper, "with a focus on business litigation and criminal defense," Zuzga relates, noting that she had "some of my own privately retained clients during that time."
Gains Bench Position
Zuzga was sworn in as a commissioner on Feb. 17, 2006.
"Bench experience," she says, is the "key" advantage she has over her over opponents, commenting:
"Having done the job for 10 years, I know how to manage a calendar. I know how to make decisions. I know how to look at a case from down the middle, being fair and impartial.
"I have writing experiences. Statements of decisions need to be done in cases where it's over an hour.
"I opened the first realignment court in the state, so I have administrative experience, as well."
Under AB 109, droves of convicts were shifted from state prisons to local jails or released early. In Zuzga's performance evaluation for 2014, prepared in 2015, her 2014 supervising judge, Victor H. Greenberg, is quoted as saying that the commissioner was "integral in the development of the practices and procedures" in the realignment court, adding:
"She attended numerous meetings, became an expert in an entirely new body of law, helped to formulate legal theory for areas requiring clarification, and worked with justice partners to ensure the smooth operation of those courts."
Judge Charlaine F. Olmedo says in the evaluation for 2012:
"Commissioner Zuzga has done an excellent job developing and overseeing a newly created calendar assignment under AB 109, She is definitely an asset to the Court."
Olmedo also observes in that evaluation that Zuzga "displays an excellent knowledge of the law," "displays the highest level of impartiality and integrity," "displays good judicial temperament and demeanor," and "is a diligent worker and a true team player."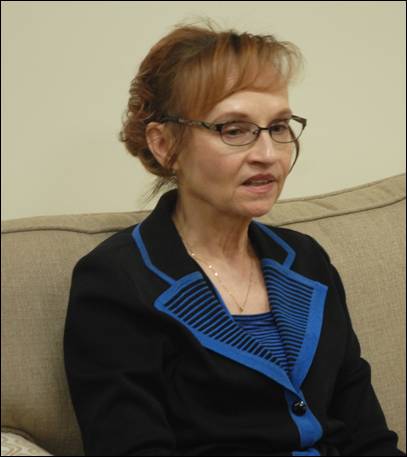 ZUZGA
In her 2009 evaluation, Judge Brian F. Gasdia declares, under the category of "Temperament and Demeanor":
"Excellent…bench officers and administration really, really like her. Very good colleague."
He also remarks that she "runs a very good courtroom."
Under six categories, the reviewing judge must check a box next to the words "Meets Expectations" or by the words "Needs Improvement." In none of the evaluations for 2009 through 2015 was the latter box checked.
Los Angeles Superior Court Judge Randolph Hammock remarks:
"There can be no reasonable doubt that Commisssioner. Zuzga is the most qualified candidate for any of the open seats in this election cycle, based upon her 20+ years as a deputy district attorney, and moreover, based upon her 10+ years as a commissioner of this court. It simply stretches one's credulity to suggest otherwise."
'Little Bit Impatient'
What criticism has she heard of her performance?
"That I'm a little bit impatient at times," she responds.
Zuzga acknowledges that she was "sometimes" impatient with prisoners at mass arraignments—though new procedures, she says, have rendered the process a more orderly one, reducing irksome behavior—and recognizes that she still can display irritation when pro pers produce a need for "repeating the same instruction over and over again."
She does not, however, evince impatience with attorneys, the commissioner says, explaining:
"The attorneys know the rules. Having worked with pro pers, I can tell you, I'm a big fan of attorneys."
If she has a problem with showing impatience, it is not reflected in the performance evaluations.
The bench officer is a member of the Women Lawyers of Los Angeles and the Women Lawyers of Long Beach. Unexpectedly, she is also a long-time member of the Japanese American Bar Association, belongs to the Mexican American Bar Association, and is a founding member of the Thai Bar Association.
She explains:
"I work with judicial officers who belong to those groups."
She is a member of some Democratic clubs and has as her campaign consultant Jill Barad, who only handles the campaigns of Democrats.
Zuzga is endorsed by 62 sitting judges, 14 current commissioners, and one retired judge, and was endorsed by one member of the court who recently died. She also has the support of a former presiding judge of the court, Court of Appeal Presiding Justice Lee Edmon of this district's Div. Three.
Copyright 2016, Metropolitan News Company