Thursday, April 28, 2016
Page 8
JUDICIAL ELECTIONS: Los Angeles Superior Court Office No. 84
Prosecutors Perez, Townsend, Yun, Along With Litigator Weissman, Compete
By ROGER M. GRACE
There are four candidates—three deputy district attorneys and one civil practitioner—in the race for Office No. 44, all of whom received a Los Angeles County Bar Association rating of "qualified."
The names and ballot designations of the candidates are Javier Perez, "Supervising Gang Prosecutor"; Susan Jung Townsend, "Criminal Fraud Prosecutor"; Aaron Weissman, "Small Business Attorney"; and Hubert Yun, "Gang Murder Prosecutor."
Townsend, who has the services of two political consultants—David Gould and Fred Huebscher—is waging the most intense campaign among the four. Her name will appear on numerous slates.
The Los Angeles Dragnet blog notes that Townsend has "campaign warchest strength," but observes that Perez "enjoys substantial backing" from the Mexican American Bar Association Political Action Committee. It comments that the "frontrunners here are Townsend and Perez" who "seem likely to face each other in a November runoff."
JAVIER PEREZ
Deputy District Attorney's Pursuit of Higher Education Was Inspired by His Father
If Deputy Los Angeles District Attorney Javier Perez gains election to the Los Angeles Superior Court, it might be that the person primarily responsible will have been his father, Jose Perez.
The candidate credits his father with having instilled in him a work ethic and a recognition of the need for higher education.
He says that his father "used to be a foreman at a sheet metal place in South Gate," and recounts that while in high school, "every summer, that's where I would go to work."
Javier Perez recalls that his father "used to put me on the assembly line, with sheet metal" and showed him "what hard physical labor was like."
Expressing, in retrospect, appreciation, not regret, he says his father "used to get me up at 5:30 in the morning when my friends were going to the beach."
He says his father would query of him, as to the work at the plant: 'Do you like this?"
And by "this," he meant the constant cuts into the skin caused by sheet metal, Perez says, explaining:
"You know how you get a little paper cut. Sheet metal is also thin but it cuts a little deeper."
Perez says his father told him he must get an education, or "otherwise, you'll be working like me."
The candidate reflects:
"He and my mom were immigrants from Mexico. He stopped going to school at the sixth grade, in Mexico, and my mom at second grade. They valued education.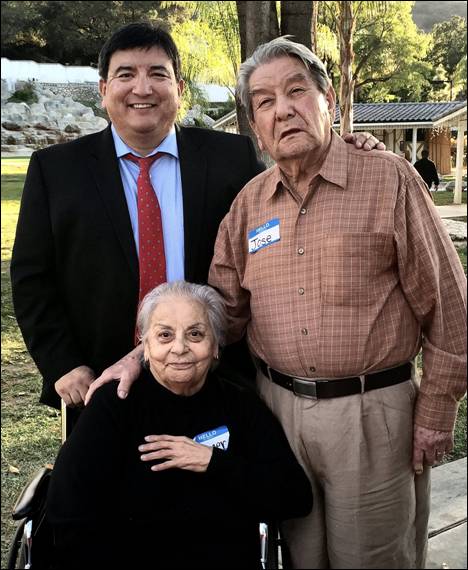 Deputy District Attorney Javier Perez, left, is seen with his parents, Carmen and Jose Perez.
"Not that he didn't value hard work, physical work, but at the same time, he wanted something better for me and my brothers and sisters."
Perez got the education his parents wanted him to have. He received his undergraduate degree from UCLA and his law degree from Whittier College School of Law.
After gaining admission to the State Bar in 1990, he became a deputy district attorney.
For several years, he was deputy-in-charge of the District Attorney's Office East Los Angeles, and since April 1, 2013, has been deputy-in-charge of the West Covina office. He is at Grade IV, the highest level below management.
Performance Evaluations
His latest annual performance evaluation, for 2014-15, says he "Exceeded Expectations (Very Good)." He received that rating in three of the four evaluations immediately preceding, with the 2012-13 evaluation finding he "Met Expectations (Competent)."
The most recent evaluation says: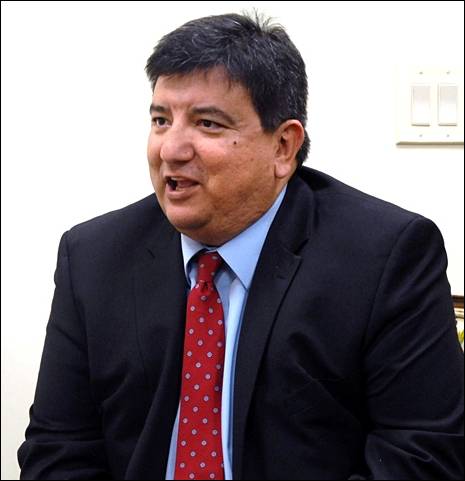 PEREZ
"Mr. Perez has performed exceptionally during his tenure as Deputy-ln-Charge of the West Covina Area Office. It is evident from both his daily activities and the many conversations had with him that Mr. Perez genuinely strives to cultivate a supervisory relationship that balances enthusiasm and growth with personal accountability He is skilled at achieving this with both novice attorneys and seasoned veterans, dispensing wisdom and practical tips throughout each work day. Mr. Perez' considerable experience and knowledge from his many years in the office are reflected In his decisive manner. He projects confidence, gives clear direction to his subordinates and does not hesitate to challenge judicial actions that run counter to fair play. Likewise, Mr. Perez is an independent thinker who stands firm against law enforcement Initiatives that do not meet appropriate evidentiary standards or otherwise satisfy office filing protocols. The West Covina office is one of the busiest in the county. More than a dozen police departments routinely file cases there. Mr. Perez oversees the activities of a dozen lawyers and five support personnel. In addition to his oversight responsibilities, Mr. Perez regularly undertakes other duties when occasioned by staff shortages, such as filing and courtroom attendance…."
MABA PAC's Backing
Perez, 53, applied for appointment to the Los Angeles Superior Court in 2005, but was not chosen by then-Gov. Arnold Schwarzenegger. Now asking to be chosen by the electorate, he has the strong backing of the Mexican American Bar Association Political Action Committee.
The sort of a judge he would seek not to be, he says, is one who tends to show up late, "who is disrespectful to the parties," is overbearing, and is "more concerned with having a long lunch than being concerned that justice is done," and who "is more concerned with being right than doing the right thing."
Perez says of such judges:
"I question their motives as to why they're bench officers."
He says he hopes to be a judicial officer who will "make sure that justice is done in court."
SUSAN JUNG TOWNSEND
Deputy District Attorney Would Pattern Conduct After That of Lomeli
It was when she was age 3—which would have been 43 years ago—that Deputy District Attorney Susan Jung Townsend had her first experience in a courtroom.
She didn't understand much of what was going on. But the person who made the impression on her was "the stoic, calm judge."
Her parents were suing over a car that was a "lemon." Immigrants from Korea, they did not speak English, and had a translator. They and the car dealer were animated.
"The judge was really the only person who reined it all in, and made sure that everybody spoke not out of turn, that it was orderly," she says.
Young Susan thought the judge was somewhat "intimidating," but her mother explained:
"He's there to make sure everybody was treated right."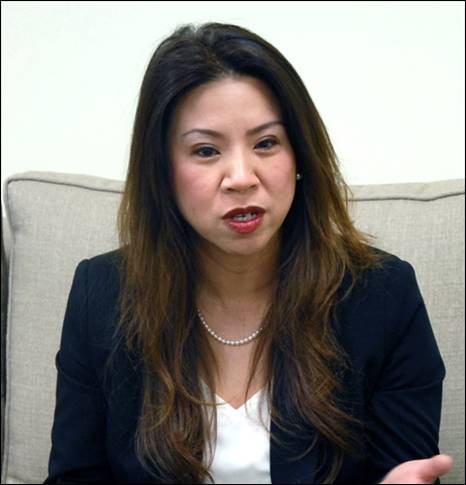 TOWNSEND
Her family, she brings to mind, was "really happy" with the outcome, noting:
"We got a new car."
Praises Lomeli
Now, Townsend wants to be a judge—a judge like the one she encountered in the 1970s, whose name she was much too young to have taken note of, or a judge like George Lomeli, who presently sits in the Clara Shortridge Foltz Criminal Justice Center.
She says of Lomeli:
"He is the consummate professional. He is very fair to both sides.
"He exudes that calm experience, balanced temperament, that both sides, whether they're defense or prosecution, would want in a judge."
Townsend says she would emulate him, and try to avoid resembling a judge "who rules from arrogance," fails to show respect to those in the courtroom, and "does not read the motions."
Candidate's Qualifications
Her credentials for office include graduating with honors from Loyola Law School; having been a deputy district attorney for more than 17 years; and having tried more than 50 cases before juries, and handling thousands of preliminary hearings. She has attained a level of Grade IV.
In her last three annual performance evaluations, she was found to have "Met Expectations," which is defined as "Competent" and would be tantamount to a grade of "C."
One Los Angeles Superior Court judge says of her:
"She's good," elaborating:
"She's hard-working, has a good reputation."
Another describes her as "knowledgeable, hard-working, always very pleasant."
A third judge remarks:
"I think she'll be a fine judge. She won't do anything crazy."
The jurist adds:
"She won't do anything impressive. She'll kind of lie in the lower half."
AARON J. WEISSMAN
Private Practitioner Has Background of Handling Cases as Pro Tem
Business law attorney Aaron J. Weissman says he is running a "grass roots" campaign. That description is often used by candidates whose efforts are underfunded, and their bids for office are nearly always ill-starred.
Weissman says he intends to "get out there, get known." But in a county the size of Los Angeles, door-to-door campaigning and attending community picnics is not generally considered efficacious.
While his campaign appears feeble, he can boast of something that the others in the race can't: judicial experience. The breadth of his service as a volunteer Superior Court judge pro tem in Glendale and Burbank, two decades past, apparently transcends that of today's lawyers participating in the court's pro tem program.
Weissman says he will seek to "make it known, somehow, the years I spent as a judge pro tem doing things that no judge pro tems do anymore, nor have they in many, many years."
Weissman says that "Glendale and Burbank had a completely unique program where a group of about a half dozen of us would cover some of the judges on the civil side who were on vacation."
The candidate recounts that one Friday, after he had won a summary judgment motion, then-Los Angeles Superior Court Judge S. James Otero (now a judge of the U.S. District Court for the Central District of California) called him into chambers, and invited him to provide back-up for him.
Weissman said he "was thrilled at the thought" and immediately accepted.
He then began covering for several other judges in the Glendale and Burbank courthouses, on any day of the week he was needed and available, handling "basically anything on the civil/probate side that came up, short of trials."
His service spanned a period of about eight years.
Letters of Recommendation
Largely based on his bench experience, Weissman has a mound of letters, going back to 1993, from prominent jurists and others, urging his appointment to a judgeship. Yet, for whatever reason, an appointment never came. He says his name was never sent to the Commission on Judicial Nominees Evaluation.
When he first started his quest for appointment, he says, he was told he was "too young," recalling:
"That was back when Jim Rogan had just gone to the Assembly."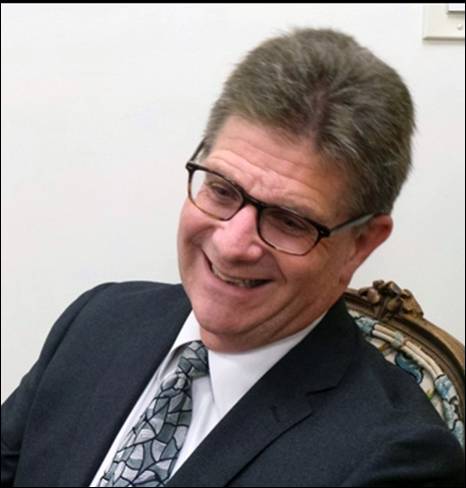 WEISSMAN
Weissman, now 59, was 38 when newly-elected Assemblyman James E. Rogan, a former presiding judge of the Glendale Municipal Court, wrote in 1995 to then-Gov. Pete Wilson, saying:
"As you know, I am a strong supporter of the application of Aaron Weissman's appointment to the bench.
"As we have previously discussed, Aaron has compiled an impressive resume of public service in my district. While presiding as judge pro tempore of our local superior court, his work met with universal praise from both bench and bar. Aaron's legal expertise and dedication to public service make him a solid addition to the bench."
(As a member of the House of Representatives, Rogan led the successful effort to gain the impeachment of President Bill Clinton. He is now an Orange Superior Court judge.)
Otero said in a 1993 letter to Wilson:
"Mr. Weissman is a highly qualified individual with significant civil litigation experience. His legal background includes private sector experience with the distinguished Spray, Gould & Bowers and Liebman, Reiner & McNeil firms. Moreover, Mr. Weissman's expertise in appellate matters will surely be welcomed in the Superior and Appellate Courts.
"I have known Aaron through his judge pro tem volunteer work with the Los Angeles Superior Court where I have had the opportunity to personally evaluate his work product and calendar management abilities. I know him to be dedicated to fairness and upholding the law of the State. He is a man of high integrity and ethical standards."
Then-Los Angeles Superior Court Presiding Judge Gary Klausner (now a colleague of Otero on the District Court) said in a 1995 letter to Wilson that Weissman "has been universally praised for his performance on the bench by members of the bar as well as court staff," adding:
"[S]ince the inception of our mandatory mediation program in 1994, Aaron has served as a volunteer mediator, attempting to settle civil matters and further relieve our crowded dockets. I am confident that Aaron would be a tremendous asset to the judiciary and an appointee you could proudly point to for years to come."
Other Supporters
Among others urging Wilson to put Wiessman on the bench were retired Court of Appeal Presiding Justice Richard Schauer, Sheriff Sherman Block (since deceased), attorney Stanley K. Jacobs (a past president of the California Trial Lawyers Association), then-attorney (now retired) Henry J. Bogust of the now-dissolved firm of Chase, Rotchford, Drukker & Bogust, attorney John J. Collins (who was to become a Los Angeles County Bar Association president, and is now deceased), then-Los Angeles Superior Court Judges Robert M. Letteau and Raymond D. Mireles (now retired) and Culver Municipal Court Judge Harold I. Cherness (who died last month).
Letters were also sent in support of Weissman's bids for appointment by Governors Gray Davis and Arnold Schwarzenegger.
While he did a bit of job-hopping in his younger years, Weissman has been with his present firm, Novian & Novian, for more than 20 years, representing small- and medium-sized businesses.
He says he realizes that voters have a propensity for electing as judges prosecutors with "sexy" ballot designations, but entered the race, nonetheless, "because I'm not going to my grave with a 'What if…?'
HUBERT YUN
Prosecutor Enters Race Near Deadline, Stages Listless Campaign
Deputy Los Angeles Deputy District Attorney Hubert Yun is a last-minute contender. Townsend has been campaigning for more than a year. How is he going to catch up? He responds:
"I don't know if I'm going to be able to, quite frankly. I don't know Ms. Townsend well. I hear good things about her. People have mentioned that she's got a lot of backing.
"I don't think I'll be able to, but we're going to try our best to, and get a good campaign out there."
He later clarifies that his concession of an inability to catch up refers only to fundraising. Yun proclaims that the amount of money in campaign coffers is not the only indicator of the prospect for success, pointing to his ballot designation as a "Gang Murder Prosecutor," and saying he's been told that a strong designation is "possibly the most important thing in a race."
If Yun does have the resolve to try to sprint ahead, his campaign, so far, provides little evidence of it, other than campaign placards being affixed to fences and poles in the San Gabriel Valley. He is one of only two candidates—out of 17—in races for open seats without a campaign website, though scant reference is made on his Facebook page to his candidacy.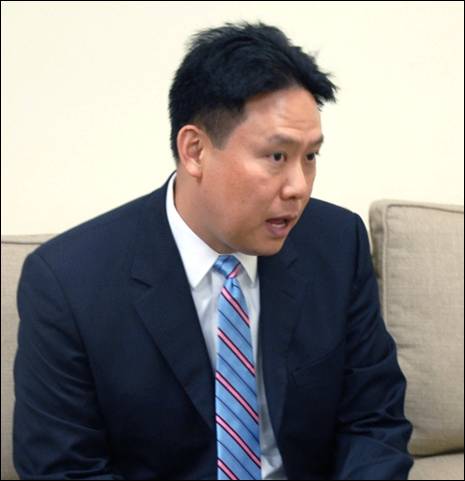 YUN
The only endorsement he speaks of is that of District Attorney Jackie Lacey. She also endorses the other deputies in the race, Susan Townsend and Javier Perez.
The biannual judicial candidate forum in Hacienda Heights, staged since 1994 by community leaders Charles and Martha House, was held on April 17; Yun was absent, while his three opponents were present.
Family Man
His nonappearance might be explained by Yun's recitation in an interview that his father worked such long hours in his job that he had little time to spend with his family, and that it became his own resolve that "if I had kids, I'm going to make them my priority."
Married, with children, he's not a member of any voluntary bar association or any other volunteer group.
"It's work and family for me, these days," he says.
If he were elected, would he start going to bar meetings?
"To me, my family is the most important thing," Yun declares.
(His wife, Linda Kwon, is also a deputy district attorney.)
He says he would attend a bar meeting if it were "required" of him.
10-Year Prosecutor
Yun graduated from the law school at Loyola University, after first attending Western State College of Law. Admitted to the State Bar in November, 2003, he was counsel to two lending companies, until 2006, when he became a deputy district attorney.
He's handled 62 felony trials and 10 misdemeanor trials, to verdict, and is a Grade III deputy.
Yun, 40, says that "if you ask around," it would be ascertained that those with whom he has dealt, including criminal defense attorneys, find him to be a "pretty likeable guy" who is "easy to work with" and a "fair individual." He adds:
"Most importantly, everyone you talk to on the defense side will tell you that I'm an ethical prosecutor."
Detractor Comments
One person who has observed Yun, and does not find him "likeable," comments in a email:
"He has a bad reputation in the office (although I don't think anyone will admit to it). He is rude, feels entitled to everything and condescending.
"He is always looking at what cases other people have and comparing them to his own. He'll complain and throw a stink if others get cases he wants, instead of concentrating on his own.
"He is a gossip. He ingratiates his way—somehow—into elite units. Very competitive and not in a good way. He is super arrogant and condescending.
"A black robe will only make him more arrogant. He is simply a jerk—personally and in court. He has a short temper and a bad disposition, yet plays nice to his superiors and 'those who matter' to get what he wants.
"Very poor candidate."
A Los Angeles Superior Court judge who is a former deputy district attorney sees Yun differently, saying:
"I am not aware of any improper conduct by Mr. Yun. I knew him to be a diligent and effective member of the Hardcore Gang Division. I believe he has the most significant litigation and trial experience of the candidates in his race."
On each of his last three annual performance evaluations, he was rated, "Exceeded Expectations (Very Good)." The latest evaluation says:
"During the rating period, Mr. Yun consistently and frequently managed extremely complex cases and/or projects in an effective manner."
Yun says that if elected, he would be a judge who is "stern but fair."
Copyright 2016, Metropolitan News Company