Monday, April 4, 2016
Page 8
JUDICIAL ELECTIONS: Los Angeles Superior Court Office No. 60
Alcoholic Beverage Distributor Challenges Veteran Superior Court Judge
By ROGER M. GRACE, Editor
This race presents the irony that a Lebanese-Armenian American, who in 1975 emigrated with his family to the United States from Lebanon, is seeking to unseat the only Lebanese American judge on the Los Angeles Superior Court. The challenger claims he knew nothing about the incumbent before he filed for the seat, and both men say they have no recollection of ever having met the other. Challenger Stepan W. Baghdassarian, a Van Nuys wine, beer, and liquor wholesaler who has not practiced law in more than a decade, is challenging Los Angeles Superior Court Judge James Kaddo, who was in law practice for 25 years and has been on the bench for 27 years. Baghdassarian has no campaign consultant; Kaddo is represented by Cerrell Associates, Inc. which guided his 1998 campaign for the Superior Court to victory when Kaddo was a Los Angeles Municipal Court judge.
Non-Practicing Lawyer Who Is Wholesaler of Wines, Liquor Wants Judgeship
Why did alcoholic beverage merchant Stepan W. Baghdassarian target Los Angeles Superior Court Judge James Kaddo when he chose which judicial office to seek in the June 7 primary?
It's because, Baghdassarian explains, he wants to sit, as a judge, "someplace in the Van Nuys area," and Kaddo "just happened to be there."
He says it's his "understanding" that if he defeats Kaddo, he'll automatically be assigned to the Van Nuys courthouse.
(Kaddo points out: "There's no guarantee, when you're elected on a county-wide basis, that you're going to get to sit where you want to sit….We're like soldiers….We go where we're assigned.)
Pictured here is Baghdassarian's place of business.
It was not until after he entered the race, Baghdassarian notes, that he garnered information about Kaddo. He says there are accounts of the judge having once been "threatening" toward his "son-in-law or his daughter's boyfriend or husband, or something like that" and reports that "his courtroom demeanor, or his courtroom behavior, is not very well received by parties."
Baghdassarian, 54, is a graduate of Whittier College School of Law. He was admitted to practice in 1989; went on inactive status in 2007; and returned to active status last Dec. 23, 12 days before taking out an election form.
He acknowledges that "100 per cent" of his time is spent on his business—he imports wines and is a wholesaler of wine, beer and liquor—and that it has been "well over 10 years" since he's practiced law.
No Jury Trials
How many jury trials has he handled?
"Zero," he responds.
But, Baghdassarian adds, he's handled "over a hundred" bench trials. Pressed, he concedes that most of the proceedings were immigration hearings.
He estimates that he's represented clients in "around 10" Los Angeles Superior Court cases.
BAGHDASSARIAN
The candidate has a barebones campaign website on which no endorsements are listed. How many endorsements does he have?
"So far, none," he admits.
Baghdassarian says he is not participating in the rating process of the Los Angeles County Bar Association, explaining that he balked at filling out the questionnaire because "there was a long list of requirements that they wanted me to submit." He cited the time factor and remarked:
"I just didn't think it was that important."
He reports he is not a member of LACBA, or any other organization.
Judges' Names
Though an aspirant for a seat on the Los Angeles Superior Court, he does not know who the presiding judge of that court is, cannot name the chief justice of California, or, for that matter, any Court of Appeal presiding justice or associate justice.
Which judges would he emulate?
"The good ones," he says.
Can he name a good judge?
"Not off the top of my head, right now, no."
Asked whether he has ever been arrested, he pauses for several seconds, then answers: "I don't believe so."
Queried as to whether he was ever arrested, with the record later expunged, he remarks:
"I don't see the relevance of that."
Question: "Then, you're refusing to state?"
Answer: "Correct."
Veteran Jurist Addresses Controversies Involving Him From Years Ago
If the words "judge james kaddo" are typed in a Google search box, the first two hits are links to newspaper articles from years past: "Man Seeks Court's Protection After Judge's Threat," published in the Los Angeles Times on Oct. 20, 2002, and "EDITORIAL: Judge James Kaddo—Stealing the Shoes of Another Judge," which appeared in the MetNews on March 2, 1998.
Kaddo, who is being challenged at the polls on June 7, now addresses these matters from the past.
The Times report begins:
"A 41-year-old man is asking the court for protection from his girlfriend's father, a Los Angeles County Superior Court judge who testified during a bitter child custody hearing that he would kill him. Judge James A. Kaddo testified in April that he would kill Fadi Nora because he didn't want the man near his three young grandchildren—a remark the judge now says he regrets."
Nora was living with Kaddo's daughter, Nadia Yammine. At the April 2002 hearing, Yammine was seeking to have the court scrap a stipulation allowing her ex-husband to raise their three children in Lebanon, and Kaddo opposed his bid for custody.
The Times article recounts:
Kaddo testified that he told Yammine: "I can't stand to have that psycho around my grand kids. I'm going to do what I have to do to save my grandchildren," according to a transcript of the hearing.
On cross-examination, Yammine's attorney, Wendy A. Herzog, asked Kaddo what he had meant.
"If it means killing him, I will do it," the judge responded.
"Killing who?" Herzog asked.
"Mr. Nora," Kaddo answered.
"Is there anything else that it could have meant?" she asked.
"That's what I had in mind," Kaddo said.
That's where the exchange ends in the court transcript. But Nora, Yammine and Herzog contend the court reporter did not capture Kaddo's final words on the subject. They assert in court documents, that Kaddo also said, "And I would do it with my bare hands if I had to."
In October, then-Los Angeles Superior Court Commissioner Ann Dobbs (now retired) granted Nora's request for a restraining order and, because Kaddo's lawyer orally asked her to, granted a restraining order against Nora, also. The Court of Appeal, on March 11, 2004. reversed the order against Kaddo because Dobbs had refused to hear live testimony, and reversed the one against Nora because Kaddo had not filed a cross complaint.
Painful Episode
Kaddo said of the dispute:
"It was one of the most painful segments of my life. My daughter got involved with the wrong guy while she was still married to somebody else. She had three children, with whom I am totally in love with.
"And the young man she got involved with was not fit to have children around him because I knew his first wife, and he was under court order not to see his children without a security guard. He abandoned his children, didn't pay any support, feigned a disability to collect Social Security…, and never took care of his children. This is the guy she wanted to have around my grandchildren. It didn't sit very well."
He says of what was perceived to be a threat by him to kill Nora:
"It was taken out of context. The question was posed to me: what did I mean [by saying that] I would do anything to protect my grandchildren? And I said, as any grandfather, 'I would kill to protect my grandchildren.' And only a grandfather would understand that."
Kaddo continues:
"As you get to be a grandparent, you see the end of the road. You know that there's no immortality, and you know there is mortality….We see [grandchildren] as a touch of immortality. They carry your genes, they carry your blood—and they're going to go on. You may die, but you will go on through them.
"That's my explanation for why grandparents become so attached."
He recalls that he "took a lot of heat" over the fray.
The judge says the matter did not draw the attention of the Commission on Judicial Performance, but acknowledges he did receive private discipline in 1998, while a Municipal Court judge. His offense was for participating in unpaid arbitration in the case of spouses, each a member of a prominent Lebanese family, who were going through a divorce. Kaddo says that unknown to him was that a canon prohibits a sitting judge from engaging in private arbitration, and reflects:
"I received a private reprimand, which I deserved because of my ignorance."
Canon 4F, as it read in 1998, says: "A judge shall not act as an arbitrator or mediator or otherwise perform judicial functions in a private capacity unless expressly authorized by law."
Editorial Criticism
The 1998 MetNews editorial reads, in part:
Kaddo last year became a "Cerrell candidate," that is, he secured representation by the political consulting firm of Cerrell Associates, Inc., which specializes in handling judicial campaigns. Owing to the expertise of that firm, representation by it is a significant factor in judicial elections. Kaddo would not have gained that representation had he not agreed to conditions. The firm already had a candidate in number one position: Los Angeles Municipal Court Judge John Harris, who started campaigning in 1996. It was understood that if there were only one open seat, Harris would be the Cerrell candidate for that seat. In number two position was Los Angeles Municipal Court Judge Abe Khan, who had been running nearly as long as Harris. He would run for the second open seat.
Kaddo secured the third position. Other would-be candidates came to be in line behind Kaddo.
As it turned out, there were two sure open seats this year: those being vacated by Los Angeles Superior Court Judges Ricardo Torres and Ernest George Williams.
Harris declared his candidacy for Torres' seat.
Kaddo declared his candidacy for Williams' seat.
...Wait a minute! Khan was next in line.
Kaddo had joined a team, then refused to play by team rules. In declaring his candidacy for the second open seat, the judge displayed the mentality and ethics of a schoolyard brat in need of a spanking.
The editorial went on to say:
"Had Kaddo bolted from the Cerrell camp and run against Khan, that would have been his prerogative. He didn't do that. He wound up running for the number two spot and keeping Cerrell. In essence, he stepped into Khan's shoes after stealing the shoes."
Kaddo, at the time, proffered the excuse that Khan was younger than he, and would have future chances of gaining a Superior Court seat. (Kaddo, now 82, was 64 then, and Khan was 48.) He pointed out that it was his intention, from the start, to seek Williams' seat.
Now, 18 years later, Kaddo provides an explanation he withheld in 1998. He says:
"Joe [Cerrell] knew that I was number three. Abe was number two. But there was a third factor that nobody knew about.
"And that was that I was running for Superior Court seat No. 69. The judge in seat No. 69 was Ernest George Williams, who happened to be of Lebanese descent, who was my mentor, who helped me when I was a new lawyer, my icon, and my model. Judge Williams told Cerrell that he will not retire 'except if Jimmy runs for my seat.' "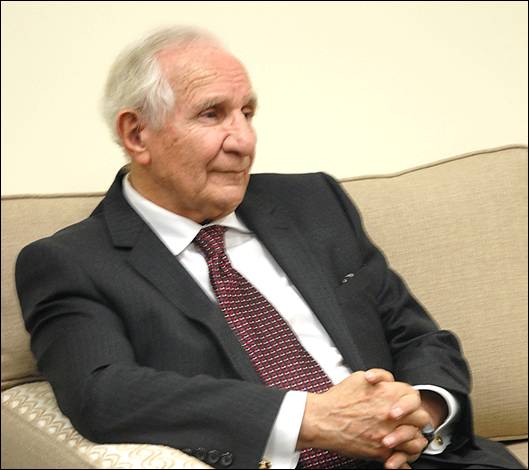 KADDO
He goes on to say:
"There would not have been two seats if Ernie did not retire."
(Actually, a third open seat did develop, but Khan chose not to compete for it; he would have been up against a popular former presiding judge of the Los Angeles Municipal Court, Alban I. Niles, who did win election.)
Kaddo insists:
"I heard Ernie say it, more than once, that 'unless Jimmy runs for my seat, I'm not retiring.'…I know that that was told to me by Ernie, on more than one occasion, in front of people."
Asked why he did not provide in 1998 the explanation he now offers, Kaddo says:
"I don't know. I thought Judge Williams had explained it. I knew Cerrell knew about it.
"And I didn't know that Cerrell didn't tell Abe Khan."
Pointing to his closeness with Williams (now deceased), Kaddo recites that while he was still a lawyer, he and Williams, along with U.S. District Court Judge Edward Rafeedie (also deceased), founded the Arab American Lawyers Association of Southern California. (He mentions that he's now the "godfather" of the organization).
The judge says that he and Khan are now friends, and points out that while he spent between $50,000-$60,000 on getting elected to the Superior Court in 1998, Khan was likewise elevated two years later through unification —"and it cost him zero."
Kudos for Kaddo
Los Angeles Superior Court Judge William D. Stewart says, in a letter to the MetNews, that he is endorsing Kaddo, explaining:
"I have known Jimmy Kaddo professionally for more than forty years, both in practice and as a judge. In practice, he was a well known litigation attorney, spending many years as law partner with Richard Voorhies. Jimmy Kaddo brought calm and balance to the team, leading to a successful practice.
"His reputation in the court is as a fair, unbiased, diligent and hard-working judge in the civil courts, presently assigned to a dedicated trial court. His breadth of experience plainly is a huge benefit in helping achieve many settlements.
"It would be a very large loss to the courts if Judge Kaddo were to lose his re-election bid. His temperament, knowledge and experience are a valuable asset."
Los Angeles Superior Court Presiding Judge Carolyn Kuhl hails Kaddo as a "highly respected, extremely well-qualified and hard-working" judge who is "integral to our work as a court."
Veteran San Fernando Valley attorney John L. Moriarity remarks:
"I have been before Judge Kaddo on several occasions including trial. He can sometimes be a little gruff but he is even handed and of those current Van Nuys judges that I have appeared before, any defense or plaintiff [personal injury] attorney should be happy to be assigned to him."
A judge says Kaddo is "loved by his colleagues," "comes to work every day on time," and is "a wonderful guy."
Criminal defense attorney Myles Berman says Kaddo is "an excellent judge," specifying:
"He's a straight shooter, fair, and runs an efficient courtroom."
Victor W. Santochi, a partner in Lewis Brisbois, comments:
"I like James Kaddo. Practical and not afraid to make tough calls."
Anonymous Postings
A civil practitioner posted this comment on The Robing Room:
"Old and not terribly bright. That equals stubborn, and you don't want to be on the wrong side of stubborn."
This description of the judge appears on RobeProbe.com:
"Gadhafi in a black robe with a tenuous link to reality."
However, this favorable posting from Jan. 17, 2004, is on underdoglaw.com:
"Kaddo is one of those Judges who walks to the beat of his own drum. No BS, rulings sometimes come both from the seat of his pants and off of his cuff. He seems to get the correct result. He is very good at determining who is lying."
Describes His Demeanor
The judge tells of his own perception of his demeanor on the bench, setting forth:
"I'm not cantankerous. Sometimes I'm uneasy about attorneys who are not competent, who are not prepared, who are not protecting the best interests of their client….
"I'm relaxed on the bench. I can honestly say that attorneys look forward to coming to my courtroom.
"I do, within the limits, point out errors and inadequacies—things that a judge has to point out. I rely on logic, not on temperament."
Kaddo says there are limits to anyone's patience, and points to what wears his thin: "When I sustain an objection or overrule an objection, and an attorney continues to argue."
He relates that he will admonish:
"Counsel, that's not proper conduct. I've made my ruling, let's go on to the next."
Yet, he notes, they will sometimes persist in arguing further.
He says he is "very proud" that he gives lawyers "a level playing field," adding:
"I give them time, the attention, and the legal experience, and grounds for my rulings."
Kaddo expresses the view that "the worst thing that a judge can do is to come into court unprepared—and that, I've never done."
He says he's been reversed in "one or two cases in 25 years." The judge later acknowledges he might have forgotten some. Actually, so far as published Court of Appeal decisions are concerned, he's been reversed only once, in 2014. However, in looking at Court of Appeal opinions that were not certified for publication, he suffered outright reversals 16 times, and on 10 occasions was affirmed in part, and reversed in part.
County Bar Rating
With respect to the candidate rating he expects to receive from the Los Angeles County Bar Association, Kaddo says:
"I would not accept anything less than 'well qualified.' "
Why would he not anticipate the top rating of "exceptionally well qualified"?
"I'm being modest," he responds.
Turning to the matter of the campaign, Kaddo says:
"The most difficult part of this campaign is taking [Baghdassarian] seriously."
He observes that the challenger has never appeared before him and has no grudge against him.
Noting that Baghdassarian has not practiced law in years, Kaddo queries, rhetorically:
"Where are the qualifications?"
Despite his opponent's weakness, Kaddo says he will be campaigning, though he will "try" to avoid spending more than $50,000 of his own funds.
He declares:
"I love what I'm doing. I'm going to fight to get reelected.
"I've earned it. I've put in the hard work. I have the experience."
Copyright 2016, Metropolitan News Company