Wednesday, March 30, 2016
Page 8
JUDICIAL ELECTIONS: Los Angeles Superior Court Office No. 11
Three Prosecutors, One Civil Practitioner, Fight Over Judgeship
By ROGER M. GRACE, Editor
Competing for this open seat are Los Angeles Deputy District Attorneys Debra R. Archuleta, Paul Kim, and Steven Schreiner, along with civil practitioner Jonathan Alexan Malek.
Archuleta says she would be "shocked" if the Los Angeles County Bar Association does not rate her "exceptionally well qualified" to bea judge. Since LACBA added that rating in 2006—previously, "well qualified" was the highest grade—only two non-incumbents have received it. (They are Judy Meyer, in 2006, then a deputy district attorney and now a judge; and Lance Winters, 2008, then a deputy state attorney general, now senior assistant attorney general.)
Kim declares: "I believe that I should get a 'well qualified' based on the body of work that I've accomplished, the reputation that I've developed within the community, the fact that I listed more defense attorneys and judges [among his references] than I listed DAs."
Schreiner says he's hoping for a "well qualified" rating. Two years ago, LACBA branded him "qualified." He says that attention drawn during the campaign to a single address of his to a jury (discussed below) hurt him "quite a bit" so far as the rating, and comments: "I'm hoping that the passage of time, and other cases that have been tried since then, will alleviate that to some extent."
Malek relates that he expects to be viewed as "qualified."
Archuleta has a law degree from Western State University College of Law; Kim matriculated at the University of California at Davis School of Law; Schreiner was taught at the University of Santa Clara School of Law; and Malek studied at the USC Law School.
Archuleta was profiled yesterday; today, a look at the others.
Candidate Says He Would Be a 'Strong' Judge but Not Overly Controlling
Los Angeles Deputy District Attorney Paul Kim says he would pattern himself after judges who are firmly in control of the courtroom, without being despotic.
Among the Superior Court judges he hails is Sam Ohta.
"He knows how to run a courtroom," Kim says. "There's not going to be some lawyer who's going to play games with him. When he tells a lawyer to do something, the lawyer's going to obey his command because he's a strong judge.
"But he's also a fair judge."
He goes on to say, of judges:
"I don't like someone's who's just smart, because smart can only take you certain places. I like someone who's tough—not just tough with criminals, someone who commands respect of his courtroom because he's one of the hardest working people there."
That doesn't mean, Kim adds, that judges should over-use their powers.
"There's a difference between having command of a courtroom and being a tyrant," he remarks.
The prosecutor observes that there are judges who "would describe themselves as being tough," but whom lawyers who have appeared before them would brand "imperious."
"Humility," he says, "is the sign of a true judge."
Comparison With Schreiner
Comparing himself to Deputy District Attorney Steven Schreiner, a rival candidate, Kim, who has handled 81 jury trials, says:
"I'm conceding that he's done more trials. I'm confident that my jury trial conviction rate is higher than his.
"If you want to talk just numbers, I'm at a disadvantage. He's been in the office much longer than I have."
0He declares:
"Look at my conviction rate. I have a 95.5 percent conviction rate—and that says something."
He is unable to state, however, what Schreiner's success rate is.
Schreiner advises that of the 81 murder cases he's handled, he's lost three times—which is a 96.3 percent conviction rate. He says he doesn't know, off hand, how many convictions he secured in his 219 felony prosecutions, but it would be in the "same ballpark" as Kim's ratio of wins and losses.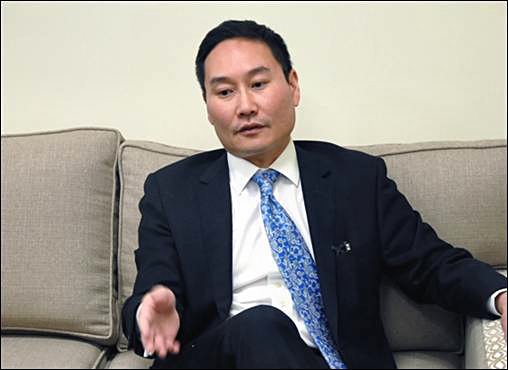 KIM
Kim's 2013-14 office rating was "Met Expectations (Competent)." In 2014, he was found to be worthy of permanent status as a Grade IV deputy. His 2011-2012 rating was "Exceeded Expectations (Very Good)."
Outside Activities
Kim, 44, notes that he is a founding member of the Korean American Prosecutors Association. He acknowledges, however, that he is not currently a member of it, or any other bar association.
He reports that he is on the Law Enforcement Advisory Board for the Anti-Defamation League, and is a member of the Board of Advisors for Fremont College.
One judge describes him as "plain vanilla—but nice."

JONATHAN ALEXAN MALEK
Private Practitioner, 36, Seeks Office Though Lacking Campaign Structure
Jonathan Alexan Malek is 36.
"Voters should not be concerned about my age," he asserts.
Yet, he does not present a list of such stunning accomplishments as to deflect attention from his youth.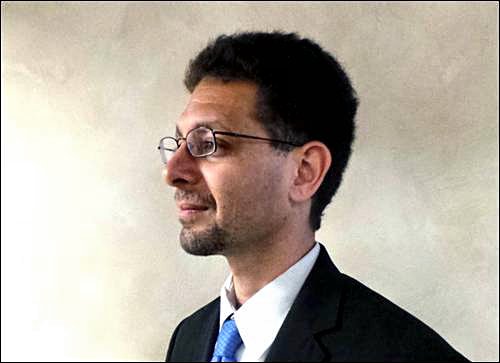 MALEK
He works for a Thousand Oaks (Ventura County) law firm; has been a lawyer for 11 years; has handled one jury trial; belongs to no voluntary bar association, no community organization, no political party.
Malek has no endorsements, no political consultant, no campaign website, and has purchased space on no slate mailer.
He says he's willing to spend $30,000-$40,000 on his bid for office, admitting he "under-funded."
The lawyer says he will seek votes through "social media" and "reaching out to the public."
With three competitors who are prosecutors, he says he has an advantage:
"As a civil litigator, I stand out."
He explains why he is running: "I want to be a judge."

STEVEN SCHREINER
Prosecutor Makes His Second Run for Judicial Office
Two years ago, Deputy District Attorney Steven Schreiner came in last in a three-way race in the primary. This year, he's determined to win, even if it means exhausting his life savings.
"I'm willing to spend over $200,000," he says. "That's basically everything I've got"
Schreiner, 59, reflects:
"I'm coming up on 29 years with the DA's Office, now….It's something you can't do forever….I think I'm just ready to make a transition at this point."
The prosecutor recently completed his 81st murder trial. In all, he has handled 219 felony jury trials.
Re-Argument to Jury
His otherwise stellar record in the office was marred by one short episode, to which attention was drawn in the 2014 election. Following a six-week trial, the jury was deadlocked, and the judge permited each side to present further argument. Schreiner tried to give jurors a jolt, employing the words "bullshit" and "crap."
He acknowledges:
"I probably used some words that I would not use again, in retrospect."
Schreiner says his "demeanor in court tends to be fairly low key," but that in this unusual circumstance, he was under pressure to "get everything out that I could" in a 10-minute "torrent," resulting in his "uncharacteristic" approach.
The prosecutor contests the legitimacy of the issue in the 2014 campaign, saying:
"I've thought about this a lot….I've probably done about 450 arguments before juries. To have a single one portrayed as 'This is who I am' seems unfair."
Recalling that he was "raked over the coals," he remarks:
"It was a humbling experience to go through that….All I can do is to move on, and to learn from it the best I can."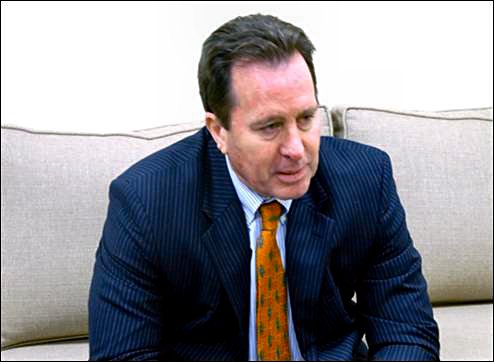 SCHREINER
A Superior Court judge confirms that from his observation, Schreiner "became humbled by that experience."
The candidate says he anticipates that the matter will again be brought up in this year's election.
Hails Disciplined Judge
A surprise comes in his statement, when asked in an interview as to which judges he would emulate, that "[f]rom the standpoint of legal knowledge and running a trial, Joan Cassani, who's now retired, is probably the best I've ever seen."
Joan Comparet-Cassani, who retired in 2011, received discipline on three occasions from the Commission on Judicial Performance.
Earlier that year, it imposed a public admonishment on her based on stripping a criminal defendant of pro per privileges based on her assumption that he had received the help of a lawyer in drafting a motion, also citing her having spoken to him "harshly" and bullying him. In its decision, the commission recited, as factors in aggravation:
"In 2000, the judge was privately admonished, in part, for ordering a sheriff's deputy to activate an electronic stun belt being worn by a pro per criminal defendant that was designed to deliver a 50,000 volt electric shock for approximately eight seconds. The judge ordered the belt activated during a hearing not to prevent courtroom violence, but because of the defendant's verbal interruptions. The admonishment also included two prior incidents, one involving the defendant who was shocked and one involving another defendant, in which the judge threatened the use of the belt as a means of controlling non-violent courtroom behavior. In 2006, the judge received an advisory letter for making demeaning remarks in open court to a criminal defense attorney in the presence of the attorney's client. The judge questioned the attorney about where and when she went to law school, when she passed the bar, and whether she was 'up to' handling the case."
The stun-belt incident attracted world-wide attention, including a denunciation by Amnesty International, and resulted in a $275,000 settlement from the county to the defendant.
Candidate Elaborates
Asked for an elaboration on his remark concerning Comparet-Cassani, Schreiner says in an email:
"I am only aware of one incident including the use of a react belt that Judge Cassani was criticized for. I tried at least a half-dozen murders; including two death penalty cases in her court. Based upon my own experience, Judge Cassani is far and away the greatest legal scholar I have ever appeared in front of. She was an excellent trial judge and always understood issues as they arose.
"Judge Cassani ran her courtroom efficiently and was always gracious to all parties; yet still demanded lawyers be ethical and prepared. I always appreciated that she did not inject herself into the case and let the lawyers try the case. Two of the cases I tried in her court were People v. Halvorsen and People v. Martinez; both Death Penalty cases. Judge Cassani knew capital case procedures better than any other judge I know."
Schreiner's latest performance evaluation, for 2014-15, says he "Exceeded Expectations (Very Good)." In the previous two years, a rater found he "Met Expectations (Competent)."
Copyright 2016, Metropolitan News Company