Thursday, June 9, 2016
Page 1
Three Judicial Incumbents Win Easily, Four Open Seats Go to Runoffs
By KENNETH OFGANG, Staff Writer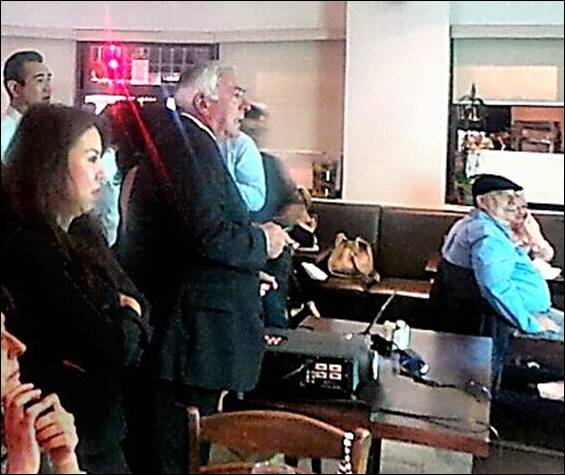 Deputy District Attorneys Susan Jung Townsend and David Berger view election returns projected on a screen at their election night party. Both candidates, in their respective races, are in a run-off in the November election.
All three of the Los Angeles Superior Court judges challenged in Tuesday's primary were reelected easily, as the four contests for open seats went to runoffs.
Judges James Kaddo, Ray Santana, and Kathryn Solorzano polled 76, 78, and 74 percent, respectively. All three outspent their opponents, according to filed reports covering the period ending May 21.
Kaddo defeated Stepan W. Baghdassarian, a sole practitioner and liquor distributor. Kaddo spent more than $35,000, and—as a result of a large personal loan to the campaign—had more than $85,000 remaining in his account. Any expenditure of those funds would not have to be reported until Aug. 1.
Baghdassarian did not file an electronic report. A candidate who did not raise or spend $25,000 or more is not required to file one.
Incumbents' Spending
Santana reported spending more than $16,000 and having about $20,000 on hand, compared to $6,000 in spending and no cash on hand for opponent Eric Ibisi. Solorzano, who hired consultant David Gould, was clearly the big spender among the incumbents, spending $140,000 and having a little over $1,500 on hand.
Her opponent, Tami L. Warren, had spent less than $32,000 and had a little over $5,000 left in the bank at the end of the pre-election reporting period.
In the open seat contests:
•Deputy District Attorneys Debra Archuleta and Steven Schreiner will face each other in November after Deputy District Attorney Paul Kim and civil litigator Jonathan A. Malek were eliminated. Archuleta and Schreiner both spent heavily, and Archuleta was expected to do well as the only woman in the contest.
Schreiner was endorsed by the Los Angeles Times and the MetNews.
•Alicia Molina, an immigration lawyer designated as "Domestic Violence Attorney" on the ballot, and Deputy District Attorney Efrian Matthew Aceves will apparently do battle in the general election, although there is some chance that could change once all of the ballots have been counted.
Aceves finished more than 21,000 votes ahead of Superior Court Commissioner Cyndy Zuzga, who had the Times and MetNews endorsements, with sole practitioner Michael Ribons a distant fourth. Officials said yesterday that about 570,000 ballots remained to be counted.
Those include more than 240,000 provisional ballots, more than 125,000 vote-by-mail ballots received at the polls, and more than 204,000 ballots received Tuesday in the mail. The total will likely go higher, due to a new law that allows officials to count any ballot that was postmarked by 8 p.m. Tuesday and is received no later than tomorrow.
It is unknown how many of those ballots included votes for judicial candidates, and historically, votes counted late do not deliver results significantly different than those counted on election night.
Surprising Showing
Observers attributed Molina's surprisingly strong showing—both Aceves and Zuzga outspent her considerably—to her ballot designation, and said she also benefited from her gender and Spanish surname.
Campaign consultant Fred Huebscher, who did not have a client in the race, said that once data becomes available, "it is likely we will discover that Latino turnout was much higher than usual." The fact that Aceves came in second, and that Deputy District Attorney Fred Mesropi failed to make a runoff in another open seat contest, suggests that the ballot title used by the two—"Child Molestation Prosecutor"—wasn't as valuable as in previous elections, the consultant added.
Huebscher also surmised that candidates who spent heavily on slate mail, like Aceves and Zuzga—may have gotten weaker-than-expected results because slate mail only went out to about half the county, while voters in other areas didn't receive slates because those regions lacked high-intensity contests for other offices.
•Deputy District Attorneys Susan Jung Townsend and Javier Perez will oppose each other in November, after Deputy District Attorney Hubert S. Yun and business attorney Aaron J. Weissman, of the Century City firm of Novian & Novian, were eliminated. The Times and MetNews endorsed Townsend.
•Deputy Attorney General Kim L. Nguyen and Deputy District Attorney David A. Berger advanced to the runoff, eliminating Mesropi, sole practitioner Naser Khoury, and Deputy City Attorney Onica Valle Cole. The Times and MetNews endorsed Berger.
Copyright 2016, Metropolitan News Company