Tuesday, March 22, 2016
Page 1
2012 Judicial Candidate Admits Source of Funds Was Concealed
Judge J.D. Lord Arranged for $50,000 Donation to Candidate Hughey, Who Listed Money as Coming From Personal Funds
By a MetNews Staff Writer
An unsuccessful 2012 challenger to an incumbent judge has been fined after admitting that he failed to disclose the actual source of a campaign donation, and it has emerged that Los Angeles Superior Court Judge J.D. Lord played a central role in the transaction.
The Fair Political Practices Commission on Thursday approved a stipulation under which Manhattan Beach attorney Kenneth Hughey, 83, and his committee, Hughey 4 Judge 2012, are fined $4,500 for failing to report the true source of a campaign contribution. The donor of $50,000, Harbor Financial Services, Inc. ("HFS"), a Wyoming real estate investment company—over which Lord has at least partial control—is fined $2,000 for failing to file a major donor campaign statement.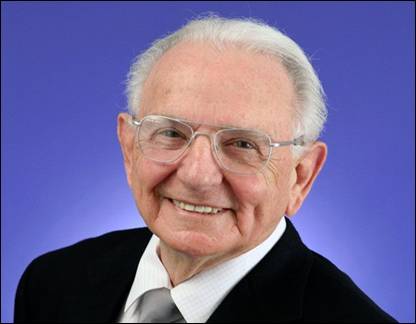 KENNETH HUGHEY
Attorney
Payments of those sums had been made earlier, subject to refund if the stipulation had been rejected and further proceedings ordered.
Hughey mounted a challenge in the June 5 primary to Los Angeles Superior Court Judge James Otto, then the supervising judge in Long Beach. Lord—who had received an unfavorable assignment by Otto—was a campaign spokesperson for the attorney (resulting in ostracism of him by other judges).
According to a report prepared by FPPC staff, attached to the stipulation as an exhibit, it was Lord who provided the $50,000 loan from HFS.
(The report notes that under Government Code §84216, a loan to a campaign is deemed a donation unless it comes from a financial institution or is for non-political purposes.)
Factual Recitations
These facts are set forth:
"Hughey was critical of Otto's mismanagement of the courts in multiple respects. In part because Hughey disagreed with Otto's handling of a personnel matter involving Lord, Hughey decided to run as a candidate against Otto….
"To help with the campaign, Lord made arrangements for Hughey to receive a loan in the amount of $50,000 for political purposes; the loan was in the form of a cashier's check dated March 1, 2012 from Harbor Financial Services, Inc. (HFS).
"….Lord maintains that HFS was owned and controlled by his brother, but his brother had not resided in the United States for many years. Lord has power of attorney to conduct some of the affairs of HFS. This includes signature authority for the Wells Fargo HFS bank account."
Campaign Filing
The summary tells of Lord giving a cashier's check to Hughey, made payable to him, personally; Hughey signing a promissory note for the sum, and depositing the check in his business account; and Hughey then writing a $50,000 check from that account to his campaign. He reported the loan as coming from himself, and HFS did not file a "major donors" report, required where a contribution is made of $10,000 or more.
In a similar case, involving a race for the Alameda Superior Court, a $1,500 fine was imposed on the donor, the FPPC staff report notes. It continues:
"In the current case, a higher penalty in the amount of $2,000 is recommended…because Lord, who was acting for HFS, was a judge—not a layperson—which means HFS/Lord had less reason to be unfamiliar with the law."
The recommendation of a $4,500 fine on Hughey was the same as that imposed on the Alameda judicial candidate, the report says, commenting:
"In both cases, the candidate was an attorney who should have been familiar with the law."
Reasons for Leniency
HFS and Hughey each faced a potential fine of $5,000. An explanation is provided in the report as to why a higher penalty was not sought:
 "…Hughey and HFS cooperated with the Enforcement Division by providing all requested documents and information, taking steps to correct their filing deficiencies, and by agreeing to an early settlement of this matter. Also, they do not have a history of prior violations of the Act. Additionally, they maintain they were under the mistaken impression that the loan to Hughey could be treated as Hughey's personal funds which Hughey thereafter could contribute to his own committee, without reporting HFS as the source of funds. This mistaken belief is consistent with the fact that Hughey and Lord lacked experience dealing with the Act's campaign filing requirements."
The matter was on the commission's consent calendar Thursday, which was unanimously approved.
Hughey repaid $42,702 to HFS, before Lord forgave the remaining debt of principal and interest, according to the FPPC report. Lord admitted that he did so without consulting his brother.
Neither Lord nor Hughey responded yesterday afternoon to a request for comment.
Each faces the prospect of discipline—Lord by the Commission on Judicial Performance and Hughey by the State Bar—based on a violation of Canon 5 of the Code of Judicial Ethics which provides, in part:
"Judges and candidates for judicial office shall comply with all applicable election, election campaign, and election campaign fundraising laws and regulations."
Copyright 2016, Metropolitan News Company