Wednesday, March 9, 2016
Page 1
Services Scheduled for Retired Judge Hugh Gardner
By a MetNews Staff Writer
Services are scheduled March 19 for retired Los Angeles Superior Court Judge Hugh C. Gardner III, who died Feb. 25 at the age of 73.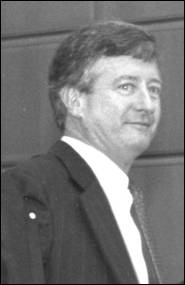 HUGH C. GARDNER
1943-2016
Presiding Judge Carolyn Kuhl informed the court's judicial officers and staff of Gardner's death in an email yesterday.
Gardner was appointed to the court by then-Gov. Pete Wilson in 1992 and took disability retirement in 2006.
Long Beach Native
The Long Beach native earned an associate's degree at Long Beach City College while working fulltime, and graduated from what was then San Jose State College in 1968, and from Stanford University Law School in 1971. He also served in the National Guard in the 1960s and saw active duty during the 1965 civil unrest in Watts.
He worked from 1972 to 1988 at McCutchen, Black, Verleger & Shea in Los Angeles, first as an associate and then as partner. He was a partner in the Los Angeles office of Sidley & Austin from 1988 to 1992.
As an attorney, Gardner—whose father and grandfather were pharmacists—specialized in pharmaceutical litigation.
As a trial judge, his assignments included small claims appeals downtown, criminal cases in Torrance, and civil motions, and later traffic court, in Santa Monica.
Felled by Stroke
Just five months after joining the court, Gardner suffered a stroke while exercising at his local gym. He was absent from work for two years, then returned part-time while continuing his rehabilitation.
When the Commission on Judicial Performance questioned his fitness to continue as a judge, Gardner and his attorney, Ephraim Margolin, argued that he was entitled to reasonable accommodation under the Americans with Disabilities Act, which had been enacted just a few years earlier.
The proceedings were dismissed by the CJP in 1997, although Gardner remained partially paralyzed and admitted in a 2001 interview that he sometimes had difficulty verbally communicating what was on his mind.
Survivors include his wife, Kathleen Gardner, longtime marketing director at Pepperdine Law School.
Gardner's March 19 funeral mass is scheduled for 12 noon at American Martyrs Church, 624 Fifteenth Street in Manhattan Beach.
The family asked that any memorial gifts be sent to Union Rescue Mission, 545 South San Pedro Street, Los Angeles, CA 90013.
Copyright 2016, Metropolitan News Company