Monday, May 16, 2016
Page 1
Espinoza to Leave Court for Mental Health Post
By a MetNews Staff Writer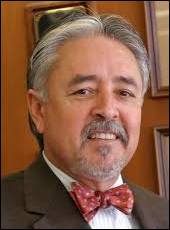 —AP
PETER ESPINOZA
Superior Court Judge
Los Angeles Superior Court Judge Peter Espinoza will be leaving the court to become director of the Los Angeles County Office of Diversion and Reentry, a county spokesperson confirmed Friday.
The spokesperson said Dr. Mitchell Katz, head of the county's Department of Health Services, had chosen Espinoza, 63, as the first permanent head of the agency, which was created last year and has been jointly overseen by DHS and District Attorney's Office officials.
The agency, which is to be funded at the rate of $10 million annually, was created pursuant to a motion by Supervisors Mark Ridley-Thomas and Sheila Kuehl, who credited a report by District Attorney Jackie Lacey that addressed the challenges of releasing mentally ill low-level offenders from jail and placing them in treatment.
The supervisors estimated that at least 40 percent of the funds will be allocated towards housing and 50 percent for the cost of expanding existing successful or promising diversion and anti-recidivism programs, especially those that are community based.
Espinoza could not be reached for comment Friday, but a court clerk confirmed that this will be his last week on the bench.
He has been judge since 1994, when then-Gov. Pete Wilson appointed him to the Los Angeles Municipal Court. He was elevated to the Superior Court by Wilson in 1997.
A graduate of San Francisco State University, where he majored in social work while assisting poor Spanish-speaking clients of the Legal Community Legal Defense Office as a volunteer, Espinoza earned his law degree from UCLA in 1980. While in law school, he chaired the Chicano Law Students Association. After graduation from law school, he obtained a Reginald Heber Smith fellowship and worked for San Fernando Valley Neighborhood Legal Services.
He then joined that Orange County Public Defender's Office, where he worked from 1981 to 1983. He was in private practice in Los Angeles and then Downey between 1984 and 1990, mostly handling public interest, juvenile, and dependency cases.
He was named a commissioner of the Los Angeles Superior Court in 1990 and served in that role until Wilson appointed him a judge.
During his 22-year judicial career, he has served in a variety of leadership roles, including supervising judge of the Southeast District and later of the criminal courts; member of the court Executive Committee, and member of the search committee that recommended candidates for the Clerk/Court Executive Officer position when it last became vacant.
Copyright 2016, Metropolitan News Company