Monday, May 2, 2016
Page 1
Los Angeles Superior Court Judge Emilie Elias to Retire
By KENNETH OFGANG, Staff Writer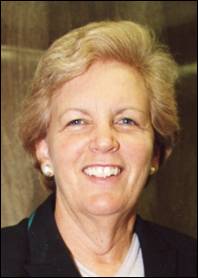 EMILIE ELIAS
Los Angeles Superior Court Judge
Los Angeles Superior Court Judge Emilie Elias is retiring.
The 70-year-old jurist's last day of work at Central Civil West was Friday, and her retirement becomes official next Monday
A member of the Judicial Council of California from 2012 until earlier this year, she is a former supervising judge of the Complex Civil Litigation Panel.
She joined the court in 1989 as a commissioner. Elias was appointed a judge in 2000 by then-Gov. Gray Davis, and was considered for appointment to the Court of Appeal by both Davis and successor Arnold Schwarzenegger during his tenure as governor.
The jurist has been active in state court administration, having served on the Judicial Council's CJER Governing Committee from 2002 to 2008 and as a member of the Civil and Small Claims Advisory Committee for several years after that.
She also served as coordination judge in suits brought against the Roman Catholic dioceses of San Diego, San Bernardino and Monterey regarding claims of sexual abuse of minors by members of the clergy. Among the actions she handled on the complex litigation panel was a consolidated suit by about 100 passengers and railroad workers and their survivors, against the Southern California Regional Rail Authority—Metrolink—over a Jan. 26, 2005 derailment.
The plaintiffs claimed that various acts or omissions by the agency were contributing factors in the derailment, which occurred after Juan Manuel Alvarez drove his Jeep Grand Cherokee onto the tracks and doused it with gasoline. The claims were largely settled in 2009.
She also presided over a 2003 lawsuit in which a former candidate for Los Angeles Municipal Court judge, Vicki Roberts, sued the Los Angeles County Bar Association, claiming that it had treated her unfairly and violated its own rules during the candidate evaluation process, which resulted in her being deemed "Not Qualified" for election.
Roberts made it into a runoff, but lost to David Mintz, then a deputy district attorney, in the last election ever held for the court. Mintz, who died in 2008, was rated "Well Qualified."
Elias ruled that Roberts could not sue for injunctive relief, but that her claim for damages could go forward. The Court of Appeal disagreed, saying the action implicated LACBA's free speech rights and had to be stricken under the anti-SLAPP statute.
Elias has also served as a faculty member for numerous judicial education programs, including the B.E. Witkin Judicial College and the New Judge Orientation. She joined the court's Judicial Education Program in 2005, and served as chair in 2010.
She is a former member of the executive boards of the California Judges Association, which she served as secretary-treasurer in 2002-2003; the Los Angeles Chapter of the Association of Business Trial Advocates; and the Los Angeles County Bar Association's Litigation Section.
Elias previously served as an adjunct professor at Loyola Law School as well.
In 2002, she received the Trial Judge of the Year Award from the Consumer Attorneys of Los Angeles. In 2011, the American Board of Trial Advocates honored her with the William J. Rea Jurist of the Year Award.
Elias graduated from UC Berkeley before attending law school at USC, where she served as an associate editor of the Southern California Law Review. She was admitted to the State Bar in 1971 and practiced in Rolling Hills Estates until becoming a commissioner.
Copyright 2016, Metropolitan News Company