Thursday, February 4, 2016
Page 1
Judge Michelle Rosenblatt Says She Will Not Run for New Term
By KENNETH OFGANG, Staff Writer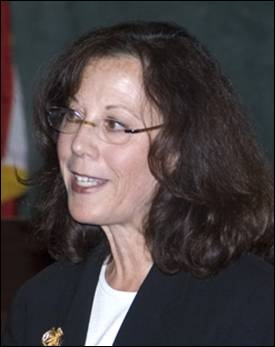 MICHELLE ROSENBLATT
Los Angeles Superior Court Judge
Los Angeles Superior Court Judge Michelle Rosenblatt said yesterday she will not be a candidate for election to a new term.
Rosenblatt issued a statement through the court, saying she would be leaving the bench "to pursue new adventures—both law-related and personal." She said she has not set a retirement date and described her judicial service as "the greatest honor of [my] professional life."
The judge, who turns 63 next month, was appointed to the Los Angeles Municipal Court by then-Gov. Pete Wilson in 1993 and elevated to the Superior Court by Wilson in 1997.
Former Prosecutor
A graduate of UCLA and Southwestern Law School, Rosenblatt was in private law practice from 1977 to 1980, then joined the District Attorney's Office, where she worked until her appointment to the bench.
In other news, Deputy District Attorney Efrain Aceves filed his declaration of intent to run in what is shaping up to be a crowded race for the seat of Judge Ray Santana, who is not expected to seek reelection. Also in that contest are Deputy District Attorney Fred Mesropi, Superior Court Commissioner Cynthia Zuzga, and sole practitioner Eric Ibisi.
Aceves and Zuzga are both currently represented by consultant David Gould, and Zuzga suggested she may be filing in a different race once Gould "works his magic." Gould—who has a long list of clients looking to run in potential open seats—could not be reached for comment.
Aborted Candidacy
Aceves launched a brief candidacy for the court two years ago, but dropped out when former state legislator Charles M. Calderon entered the race for the same seat. At the time, he accused Calderon of "seeking to come in and buy a race," and said a judicial contest "should be above all these types of politics."
Calderon ultimately lost to then-Deputy District Attorney Carol Rose.
Aceves was more subdued yesterday, saying that a contest with Calderon would have been awkward because they are neighbors in Whittier, where Aceves has been a school board member for the past 10 years. He is currently president of the board.
Aceves said yesterday he is committed to running this time, regardless of the opposition, and has banked more than $250,000 for the race. He is an 18-year prosecutor and has also served as president of La Raza Lawyers of California and as political endorsements chair of the Mexican American Bar Association.
Copyright 2016, Metropolitan News Company