Monday, July 18, 2016
Page 1
Superior Court Judge Ralph Dau Dies at 78
By a MetNews Staff Writer
Services were pending Friday for Los Angeles Superior Court Judge Ralph Dau, who died Thursday at age 78.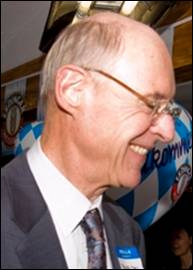 RALPH DAU
1938-2016
Assistant Presiding Judge Daniel Buckley informed the court's staff members and judicial officers by email Friday that Dau had died Thursday of complications related to hip surgery.
Judge Rolf Treu, who had a courtroom across the hall from Dau for 12 years, described him as "a meticulous craftsman, dedicated to his work." Dau, who was known as "Bud" to friends and colleagues, had "a wry sense of humor," Treu said, who was held in "high standing among our colleagues" for his abilities, as well as for his willingness to share ideas and research.
Dau, who occasionally drew criticism from lawyers who saw him as gruff and overbearing in the courtroom, and reportedly missed out on a Court of Appeal appointment in 2000 because of his temperament, was "a gentleman of the highest order," Treu said.
The Milwaukee, Wisc. native grew up in Dallas, Texas where his family moved when he was four years old. He decided to go to law school after taking an undergraduate class in constitutional law at the University of Texas, he once told a reporter.
After graduating in 1959 and spending four years as an officer in the U.S. Navy on a destroyer, including a stint in the Tonkin Gulf as part of the first task force in the Vietnam War, he returned to his alma mater and earned a law degree with honors in 1966.
Dau and his wife Marilyn—whom he met while stationed in the Navy in California—moved to Los Angeles, where he took a job as an associate with the firm of O'Melveny & Myers, in 1966. He was elevated to partner at the firm in 1974, and remained there until his 1995 appointment to the bench by then-Gov. Pete Wilson.
During his time at the firm, he handled litigation involving airport noise, class actions, insurance coverage issues and environmental law, and headed the firm's environmental law practice group from 1991 until he left.
Superior Court Judge Brian Currey, who practiced with Dau at O'Melveny, said he was "revered" at the firm "for his intellect, fine writing and strategic instincts and loved for his robust sense of humor and devotion to family and colleagues." He was very much interested in mentoring the firm's associates, Currey said, which was "something I benefited from immensely."
Later, "as his partner and friend, I enjoyed many a lunch with Bud at Langers' and other local spots, where I could count on a good sandwich, great fun, and wise advice," Currey added.
"When Bud decided to leave law practice for the bench, he told me he wanted to 'write more broadly on the page,'" Currey recalled. "He did that, and more, and we can all be very proud of his many contributions and accomplishments. I am so sorry that he left us too soon."
Dau drew an election challenge in 2008 from Redondo Beach trial attorney Sydnee Singer. Alluding to the questions about the judge's temperament, but declining to criticize him directly, Singer justified the challenge by saying she believed "in respecting counsel and in being candid."
The campaign was an expensive one, with each candidate spending $126,000 for a statement in the sample ballot booklet, in addition to what they spent on mailings and paraphernalia. Dau also hired a campaign consultant, Fred Huebscher.
At an age when most judges are retired or close to retiring, Dau fought a vigorous campaign to hold onto his job because "he loved being a judge," Huebscher recalled Friday. The consultant said that numerous lawyers, on both the plaintiff and defense sides, aided the campaign with donations and otherwise, because of their respect for Dau.
"They called him the go-to guy for complex litigation," Huebscher said.
Dau won the contest by a margin of just under 2 to 1.
Copyright 2016, Metropolitan News Company